Text messages among Apple users are sent via iMessage and appear in blue. They are sent via the internet (Wi-fi or cellular data) as opposed to regular text messages which are sent via cell data and appear in green on the iPhone.
To turn off iMessage, simply go to your settings > "Messages" and toggle it off on your device.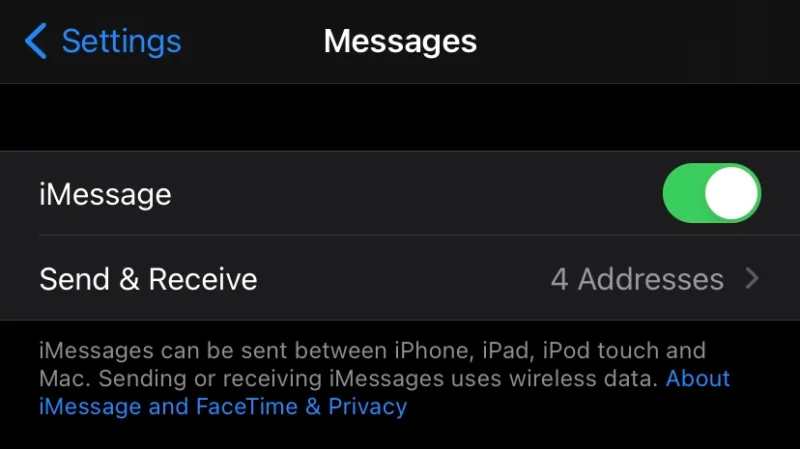 What are the consequences of turning off iMessage? Can you still send and get messages through other channels?
Can I still receive messages after turning off iMessage?
You will no longer receive iMessages on the device where you turned them off. If this is your only Apple device registered with the same iCloud address, you will no longer receive any iMessage at all.
If however, iMessage is still turned on your other devices – iPad, Macbook etc, messages will continue to be delivered to these other devices.
So if you have an iPhone and an iPad, and you switch off iMessage on your iPhone, you will continue to receive iMessages on your iPad but not on your iPhone.
As long as there is a device registered with an Apple ID, messages from another Apple user will be delivered to that device as iMessages.
Turn off iMessage and use text messaging
If you turn iMessages off on all of your devices, messages will be sent as regular text messages (appearing in green) instead of iMessages to your iPhone.
If this doesn't work and you prefer to receive text messages instead of iMessages, you may have to break the association between your Apple ID and your phone number.
To do so, go to Settings > Messages and click on "Send & Receive. There you can see all the email addresses that you are currently receiving iMessages from as well as your phone number.
At the very bottom of the page, your Apple ID is displayed in the form "Apple ID: name@me.com". Clicking on it then select "Sign out" to break the association between your Apple ID and phone number.
See also: iMessage is not showing Delivered
Will turning off iMessage delete my messages?
Turning off iMessage will NOT delete your messages. You're simply turning off your Apple messaging service. All your existing iMessages will remain stored on the devices where they were received – your iPhone, iPad, and/or Macbook.
Also, if you are storing your iMessages on your iCloud, they will stay there and will be retrieved by any new Apple device once you sign in to your iCloud account.
To check if you're signed in on a given device, open Settings and click on your Apple ID at the top. After that, go to iCloud and make sure "Messages" is toggled on.
If iMessage is turned off on ALL your devices, messages will be received as regular sms text messages (green). You will not receive any iMessages even if you turn on iMessage later.
If iMessage is turned off on some but not all of your devices, once you turn iMessages back on you will receive the messages sent to you provided you have iCloud > Messages toggled on.
Turn off iMessage for a single contact
It is not currently possible to turn off iMessage for one contact only if both parties have iMessage enabled. As long as an iMessage is "deliverable", it will be delivered as an iMessage.
To send a text message instead, you would have to momentarily turn off iMessage as described above. Once the SMS text message is sent to your contact, you can turn iMessage back on again.
How to disable iMessage for a contact who no longer has an iPhone
As mentioned above, you iMessage can't be disabled for a single contact. However, your iPhone will automatically know if a contact is no longer an iPhone or iMessage user.
If this isn't detected by your iPhone, try deleting the contact and adding it again as a new contact .
To find out if someone has turned off their iMessage, simply send them a message. If the message gets delivered and appears in blue, then you know they have iMessage turned on. Otherwise, your message will be sent as a text message and appear in green.
Turning off iMessage on iCloud
If you turn off iMessage on iCloud, your device will revert to storing messages on your device. If that's the case, if you lose your device or get a new one, you will not be able to retrieve your old messages as they will be stored only on the old device.
Also, your iMessages will no longer sync across your Apple devices. For example, if you have iCloud on and you delete a message on your iPad, the message will also get deleted on your iPhone. This will no longer happen if iCloud is turned off.
See also: Why are old messages showing up on my iPhone?
How to block someone on iMessage
You can easily block iMessages for a given contact. Be aware this will also block any other messages from this contact, including regular text messages and calls.
To do this, launch the Messages app, tap on the conversation with the person you wish to block, and tap on their name or number at the top of the screen. Then choose "Info", scroll down and tap "Block this Caller". Confirm by tapping "Block Contact".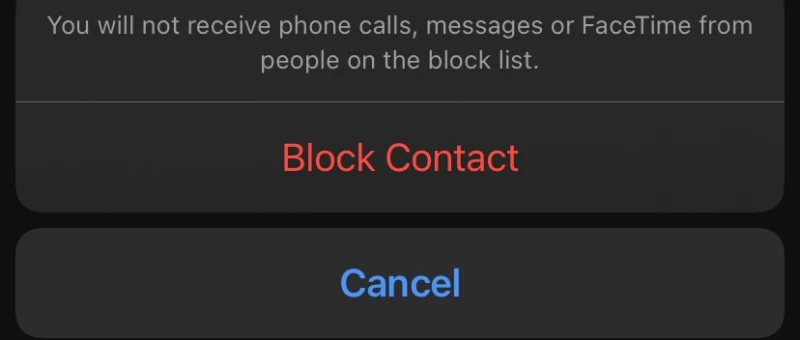 A less radical alternative is to simply mute the conversation. This will let you continue to receive messages and calls from your contact, but you will no longer get notifications when they send you messages.
To do this, launch the Messages app, slide the conversation you want to mute to the left, and tap on the bell button.

See also: Why am I getting text messages from a blocked number
If you want to completely stop receiving messages on your iPhone, go to your Settings > Messages and turn off iMessage as well as "Send as SMS".

If you're not receiving texts from iPhone users, it's because Apple devices automatically default to sending iMessages between Apple users. You can turn off iMessages on your device to force messages to arrive and get sent as regular SMS texts.
See also: Why is my iMessage not working with only one person?
Deleting a message on iMessage
Whether deleting an iMessage on one device also deletes it on your other Apple devices depends on whether you are storing your messages in iCloud. If that's the case, deleted messages will be deleted across all your devices. Otherwise, the message will only be deleted on the device it is currently stored on.
Moreover, deleting an iMessage does not delete it for anybody other than the person who deleted it. For a more in-depth discussion, see does deleting a text or iMessage also delete it for the other person?
You can't delete an iMessage you've already sent to a contact. Each device has its own copy of the message, so the message received by the user can only be deleted by them.