Samsung Email and Gmail are both feature-rich email apps used by millions of people. Which of the two should you choose?
While Samsung Email has a more attractive user interface, some users prefer Gmail's UI cleaner. Both support multiple email accounts and switching between them. Samsung Email offers cool features like split view and more sync options, while Gmail has things like Undo Send and Smart Compose/Reply.
There's a lot more to comparing the two so keep reading!
See also:
Google Messages vs Samsung Messages
Samsung Galaxy Store vs Google Play Store
Samsung Account vs Google Account
Samsung Keyboard vs Gboard
Samsung Email overview
Samsung Email is an email client app that comes with Galaxy devices. It allows you to access email from various email service providers, including Gmail, Yahoo, Microsoft (Hotmail, Outlook, Exchange, and Office365), and others.
You add multiple personal or work email accounts in the app. The app's features include:
Personalized user experience and customizable email notifications
Email sync options such as email sync period
Encryption and digital signing of emails using the widely recognized S/MIME (Secure/Multipurpose Internet Mail Extensions) protocol
Better management of email folders and spam addresses
Support for IMAP and POP3 for personal email accounts
Thread and conversation view for emails
Samsung Galaxy devices generally include both the Gmail app and the Samsung Email app. Many people use the Gmail app which is the default on Android devices.
In Samsung's latest Galaxy devices, you will also find the Microsoft Outlook email client app pre-installed along with Gmail.
If you glance through the app settings on your phone, the option to set the default email app is not there. That said, you can always move your favorite email app to your Home screen for quick access.
Gmail vs Samsung Email
Gmail is Google's official email client app preloaded on Android devices. The following table highlights some key differences between the Gmail app and Samsung Email:
| | | |
| --- | --- | --- |
| | Gmail app | Samsung Email app |
| Email Sync Settings | Syncs email based on number of days e.g. 30 days | Provides more options such as syncing email based on size, period, and schedule (such as every 15 minutes) |
| Writing suggestions and suggested replies | Has Smart Compose and Smart Reply features | Doesn't have these features |
| Email sorting | Doesn't have a sorting feature by default to sort emails in different ways | Email can be sorted by various criteria such as date (most recent and oldest) |
| Ads display | Ads can appear in the Social and Promotions email categories. | The app doesn't show ads in any category of emails. |
| Signature in emails | The app only supports plain text signature. | The app supports a customized signature which can include images and formatted text. |
Gmail app highlighs
Has an Undo Send feature that can be used after an email has been sent.
Supports multiple accounts and switching between them.
Supports dark mode.
You can start and join video calls in Gmail app through the Meet tab.
Doesn't show the number of unread emails when the app is opened. Unread emails are highlighted in bold only.
You can choose only one action when swiping left or right on an email, e.g. delete.
You can only reply to and archive emails through the app's notification.
Samsung Email highlights
Supports multiple accounts and switching between them.
Shows the number of unread emails when the app is opened.
Supports dark mode
Has an enhanced scroll bar to scroll up and down by date.
Has a split view for viewing the emails in landscape mode when you rotate the screen.
Through the app notification, you can mark an email as read, reply or delete it
You can choose one of 4 actions when swiping left or right on an email.
Doesn't support Undo after an email has been sent.
Email notifications may take longer to appear as compared to the Gmail app.
Has full MS exchange support, also syncs Exchange calendar.
Easy to backup to PC with Samsung Smart Switch (if you don't trust cloud services).
Has simple manual data manipulation, exporting importing etc
Integrates with the Samsung ecosystem which gives more control to the user than Google in terms of data and privacy
Samsung Email: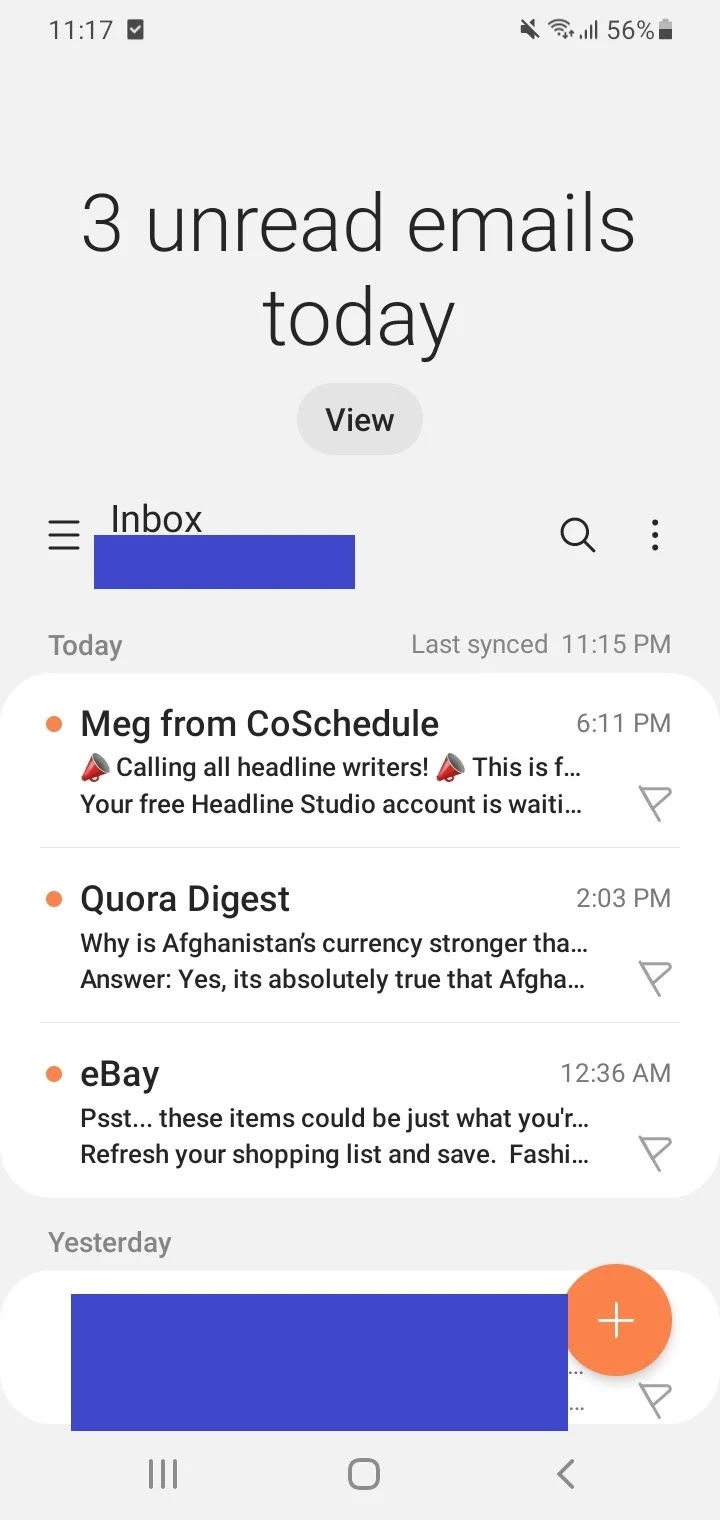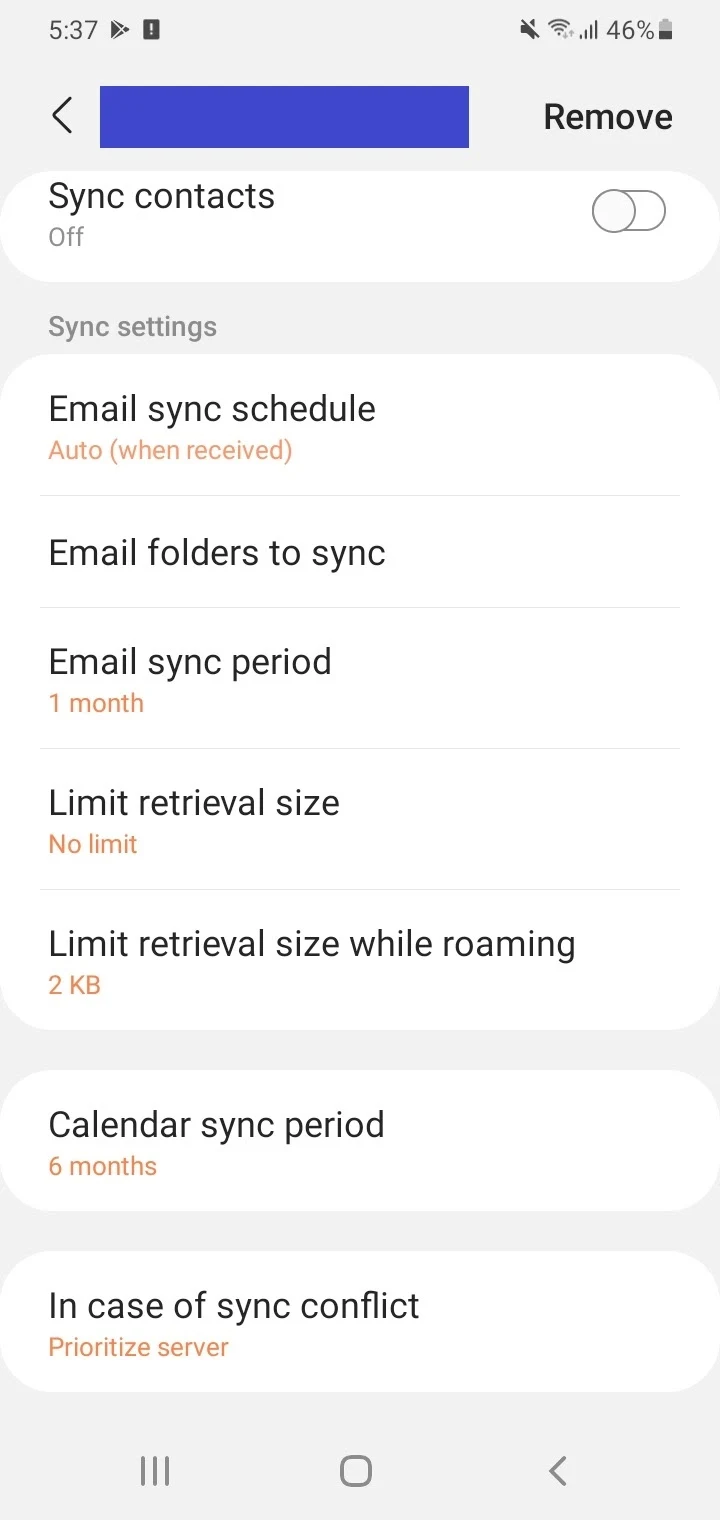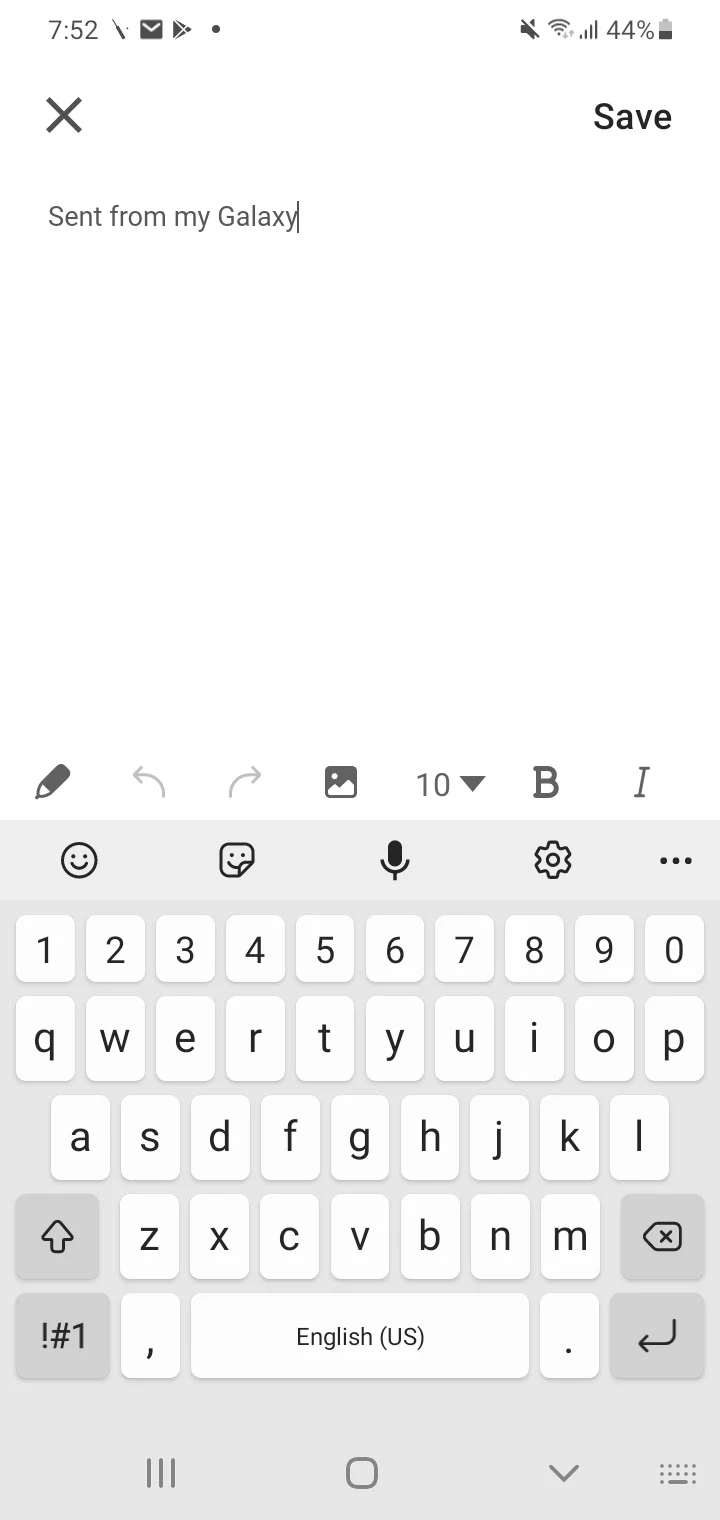 Gmail: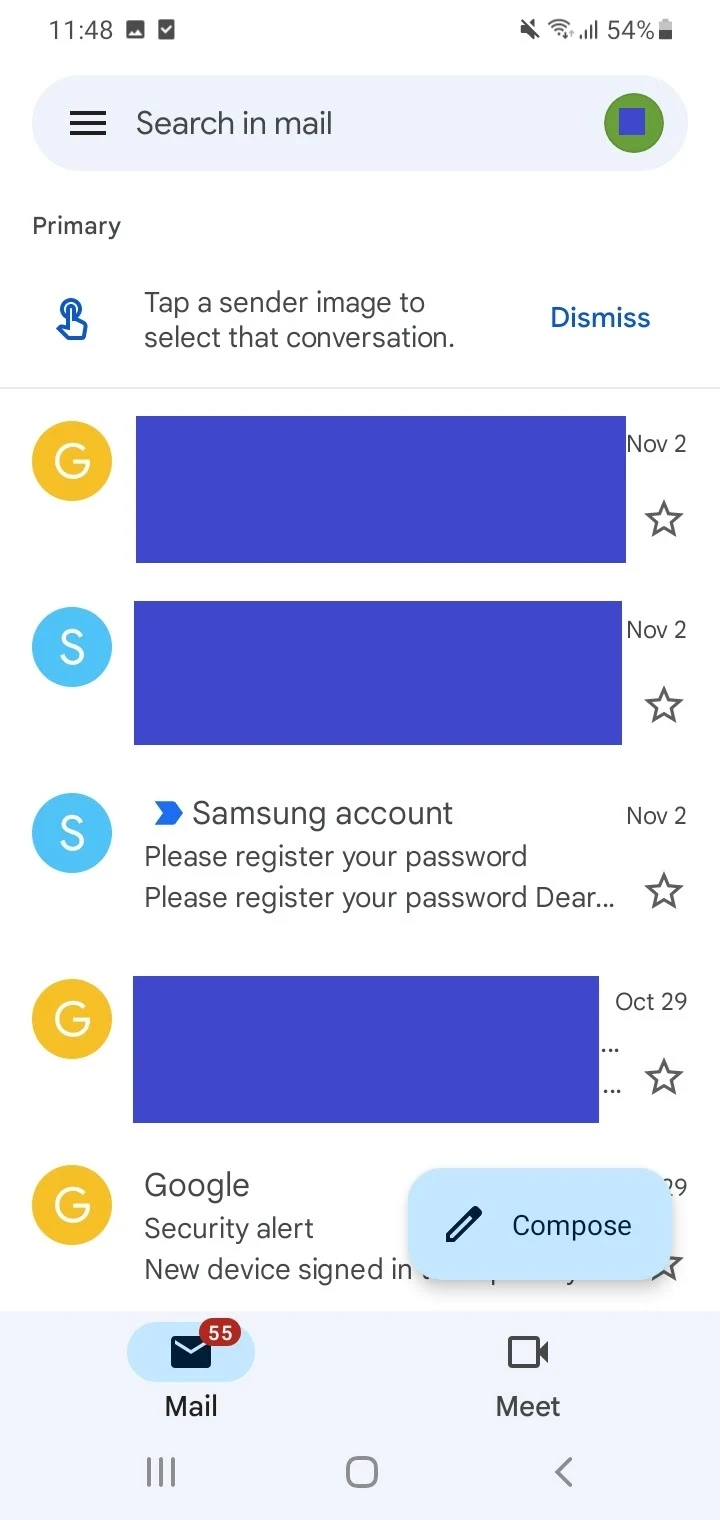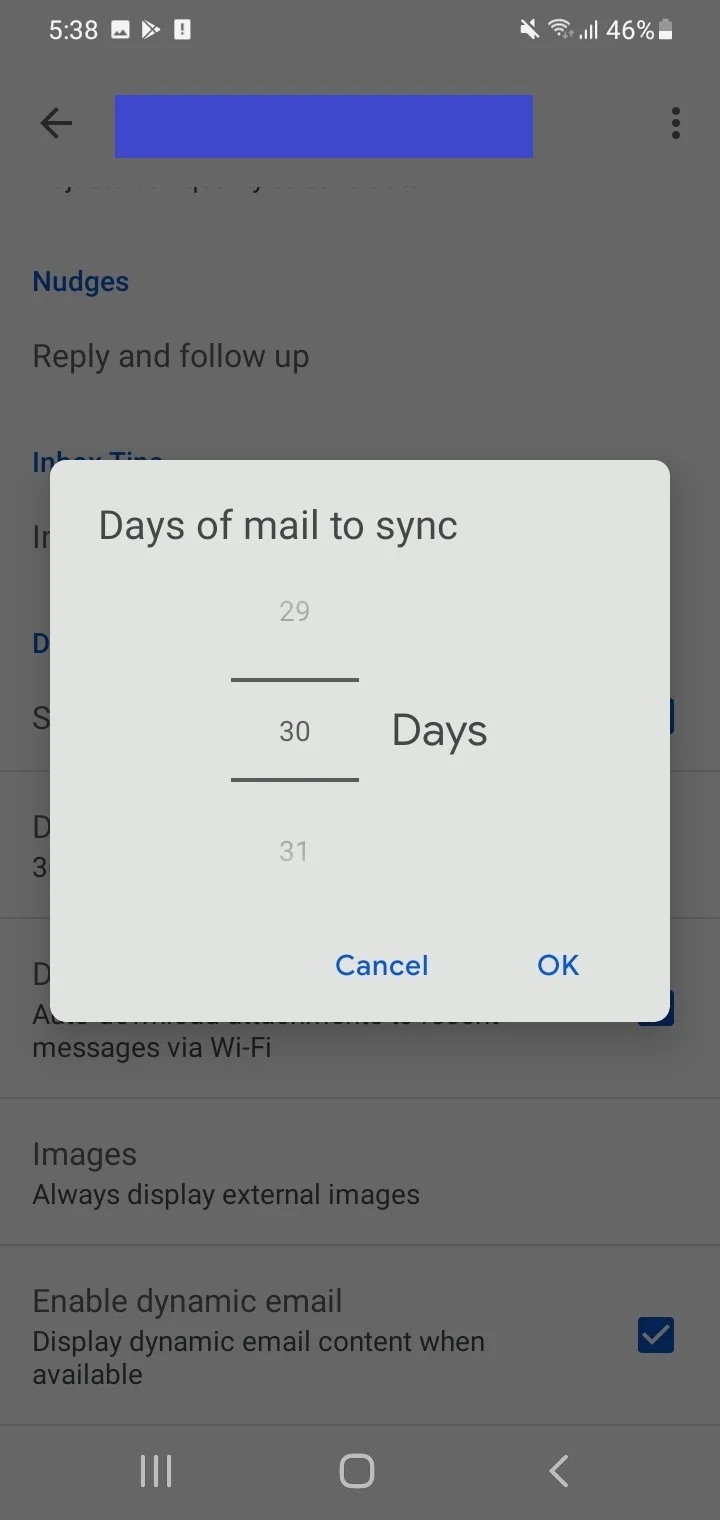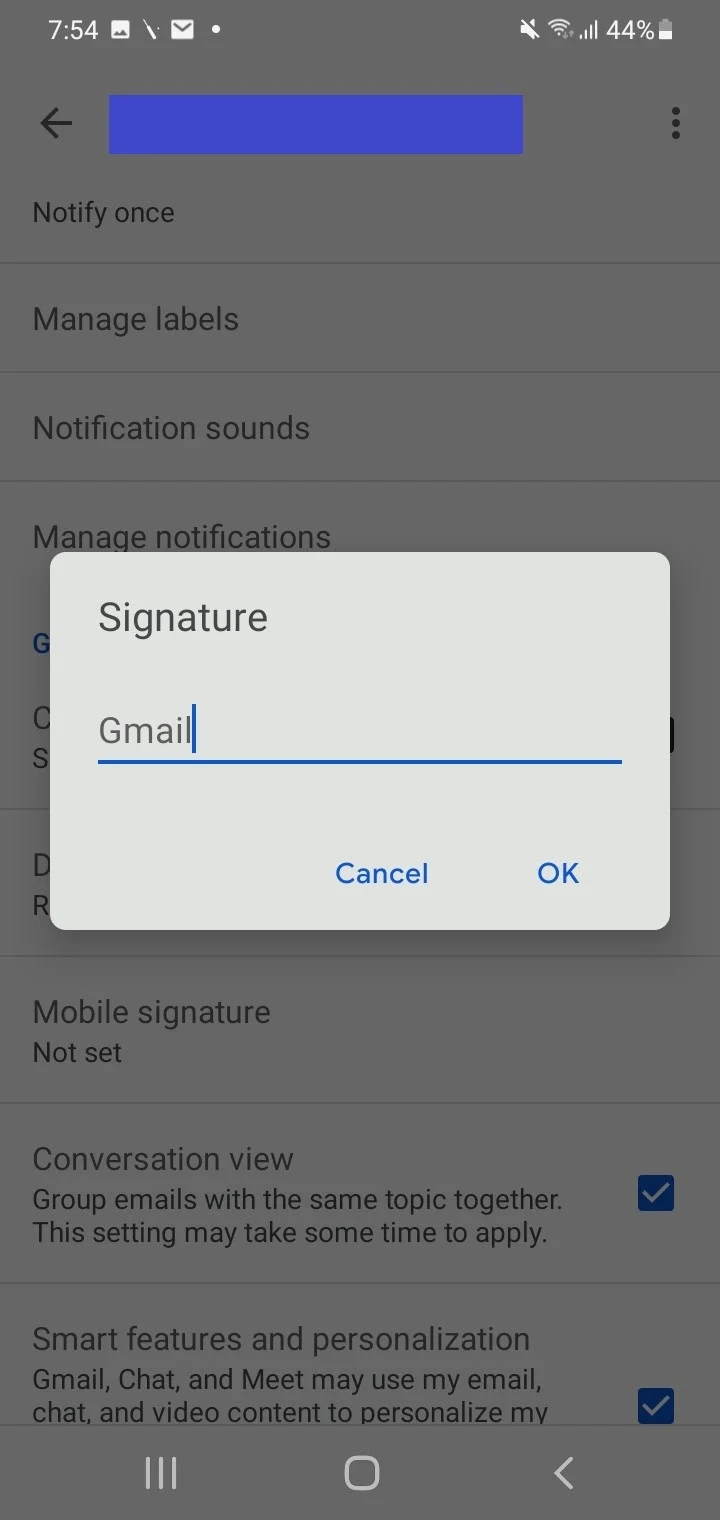 Allowing Samsung email to access Gmail
The Samsung Email app needs permission to access your Gmail account after entering your Google account credentials. Without this, you won't be able to send, receive and delete emails in your Gmail account using the Samsung Email app.
Therefore, you should allow access if you want to use Samsung Email to access your Gmail messages.
You can verify that you are using Gmail in Samsung Email through the following method in a computer browser while you are logged in to your Google account.
Click on your account initials or profile picture and go to Manage your Google Account.
Click on Security > scroll to the section "Third-party apps with account access".
The Samsung Email app should be listed here. If you no longer trust or use it, you can remove its access here.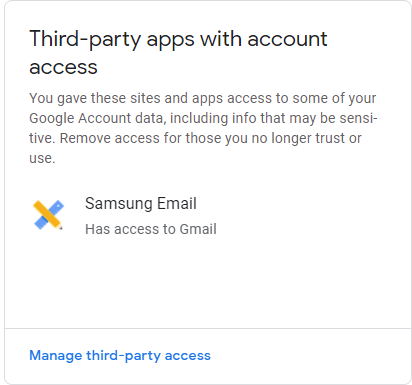 As stated above, you can use the Samsung Email app to log in and access your emails from different service providers including Gmail.
In 2019, users of the Gmail app received an auto-generated email from Google that led to widespread confusion. The message stated "Samsung Email was granted access to your Google Account".
The reason for this message was that Google had made changes to its authentication policy and brought a new security protocol into effect. Samsung subsequently updated its email client information with Google servers to fix the authentication issues.
Meanwhile, many Gmail app users thought their accounts were compromised. Today, the issue has been fixed and Samsung Email can be granted access to Gmail if necessary without issue.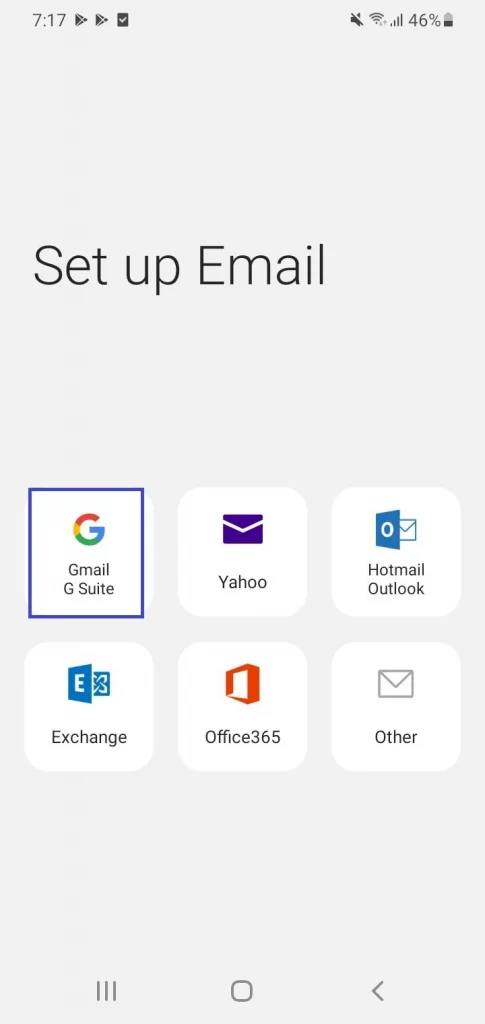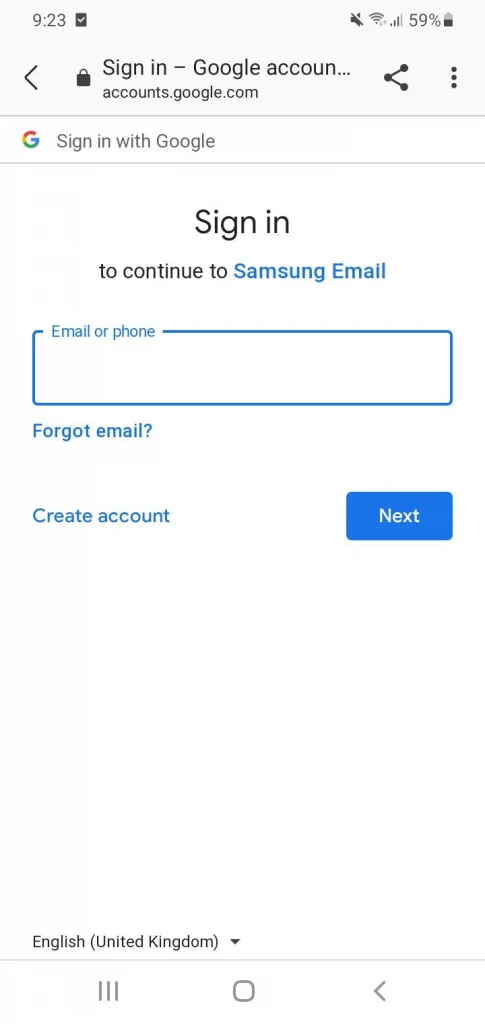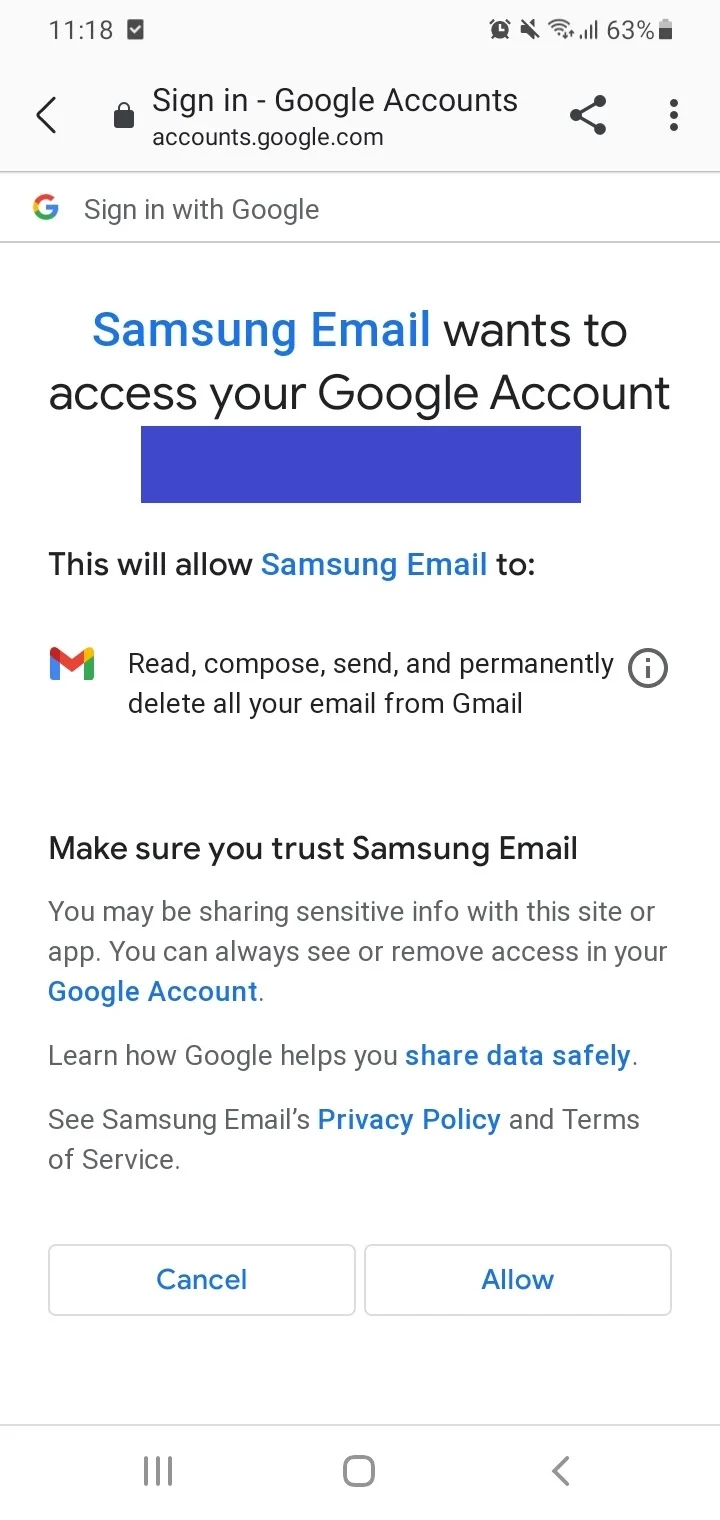 Deleting the Samsung Email app
You can uninstall the Samsung Email app on most Samsung smartphones like you would for a normal Play Store or Samsung Galaxy store app. It is not a system app on those devices and can be uninstalled.
That said, not all Samsung devices let you uninstall the Samsung Email app since on some devices it's a system app.
If you device allows it, you can uninstall Samsung Email as follows: go to Settings > Apps and select "Email" in the list of apps. On the app page, tap Uninstall. The app will be removed as well as the app data.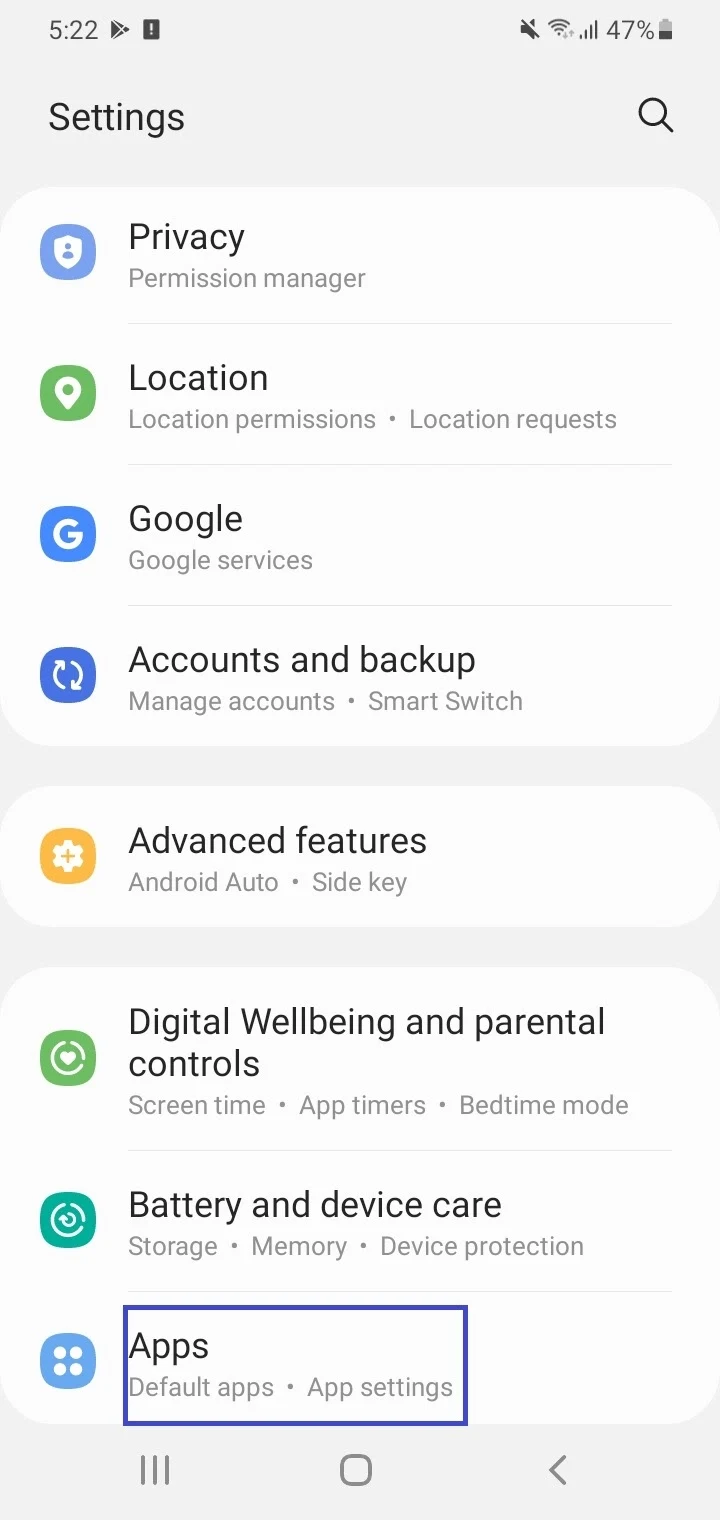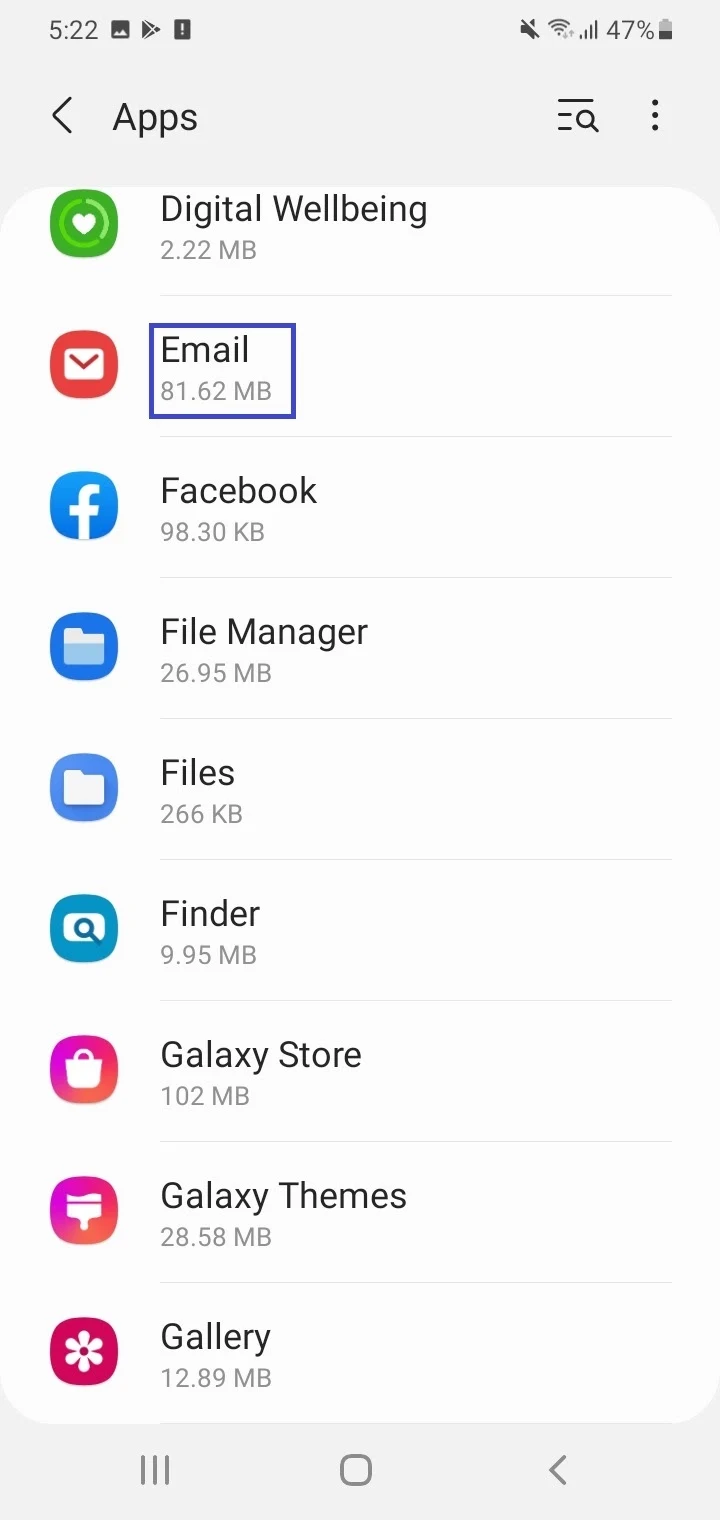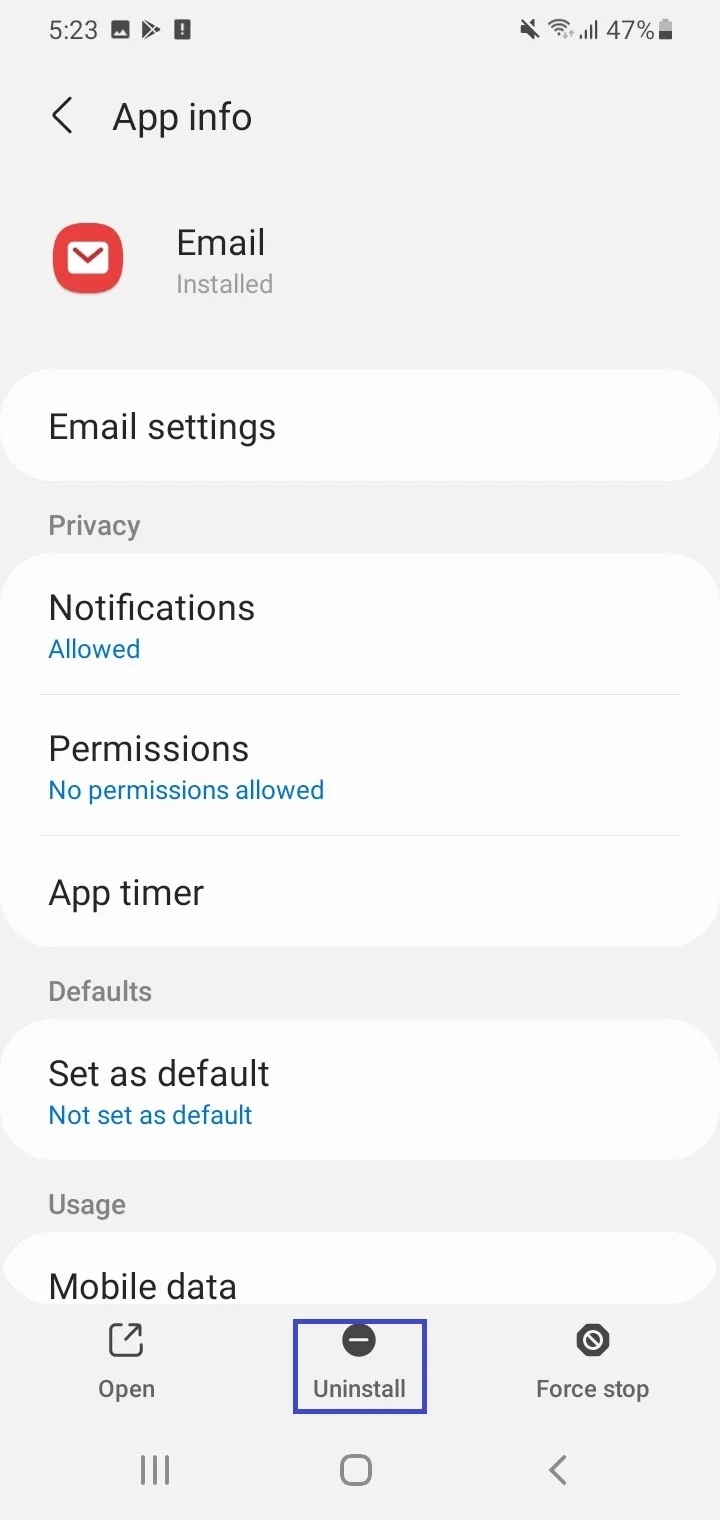 Another way to get rid of Samsung Email is to open Play Store or Galaxy Store on your device, search for "Samsung Email" in the search bar and select Uninstall.
If the option to uninstall Samsung Email is not available, you can "Disable" or "Force stop" the app. Go to Settings > Apps > Email, then choose Disable or Force Stop at the bottom.
To shut down the app completely, you need to select "Disable" as it will also delete app data, uninstalls its updates, and will remove the app from the app drawer. To use the app again at a later stage, you will have to enable the app again in app settings.
If the Disable option is greyed out, you are left with the Force stop option which prevents the app from running in the background until you open it again.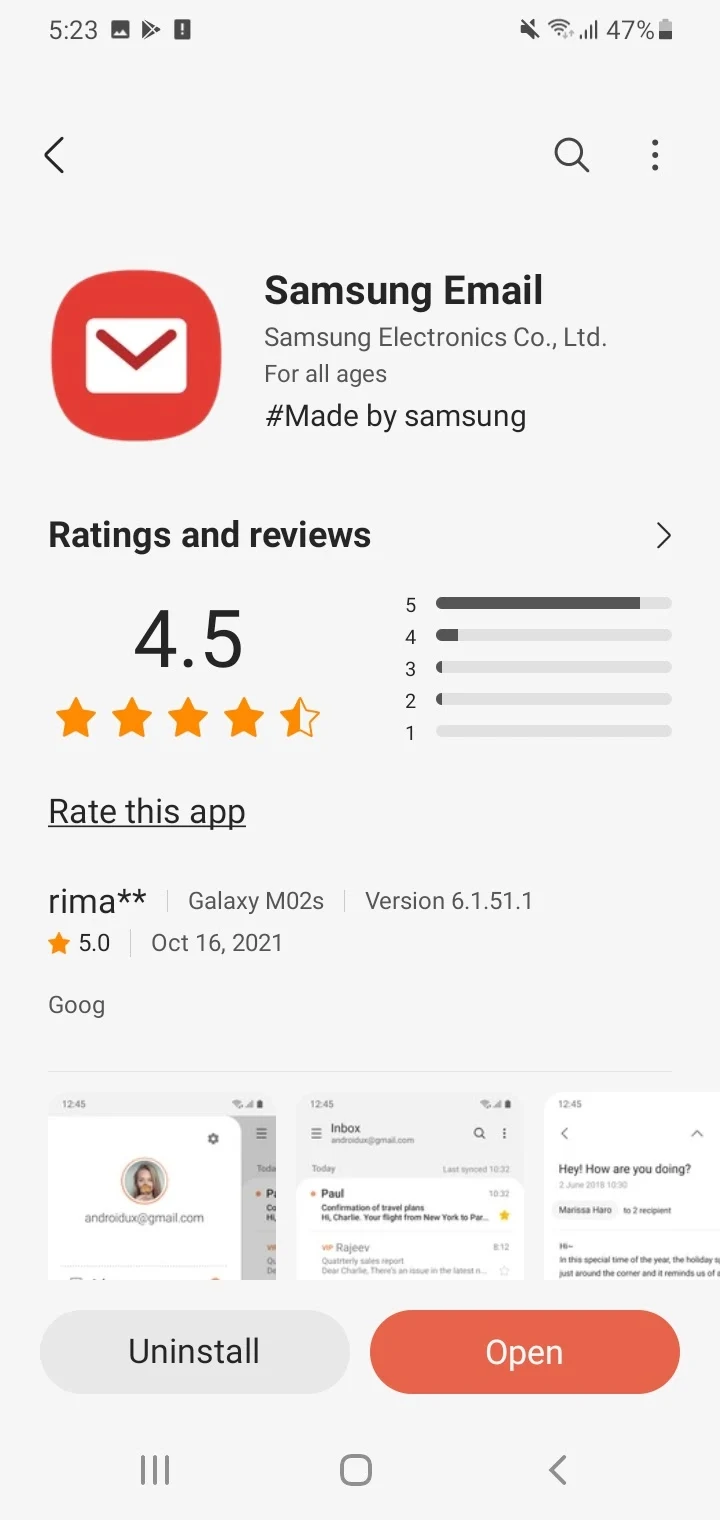 See also: Can You Disable Samsung Internet ?
Can you use Gmail instead of Samsung Email?
You can certainly use the Gmail app instead of Samsung Email. Some users favor the Gmail app while some find the Samsung Email app better.
Whichever app you use, you should generally stick with one app for an email account to get the most out of its features.
If you are logged into your email account in the Samsung Email app, you can switch to Gmail in the following way:
In the main screen of Samsung Email, tap the hamburger menu > select Settings.
Choose your email account, then select Remove, then confirm Remove.
Open the Gmail app and tap on your account initials if you are already signed in to another email account.
Tap on Add another account.
Choose your email service provider and follow the on-screen instructions. You will be required to enter your email and password that you were using in the Samsung Email app.
If you have many work-related or personal email accounts, one option is to use Gmail for personal accounts and Samsung Email for work accounts, for example. This allows you to manage personal and office emails in a separate way.
Do you need a Google account for Samsung Email?
Samsung Email is an email client through which you can connect to email accounts from different email service providers. You only need a Google account if you want to use your Samsung app to access Gmail.
If you don't use Gmail, you can use the Samsung Email app to access other email accounts such as Yahoo, Microsoft, or email accounts provided by your web host for example. In this case, you don't need a Google account.
Obviously, you'll need a Microsoft or Yahoo account to use Hotmail or Yahoo mail on your Samsung email client.
Can't find Samsung Email app
Some Samsung Galaxy phones don't have the Samsung Email app pre-installed. You can download it from either the Play Store and Samsung Galaxy Store.
If you get an error saying the app is not compatible with your device, try downloading the Samsung Email apk file from a reputable apk download site (e.g. APKMirror), and install it manually on your Samsung device.