Google Messages is Google's official app for SMS, MMS, and RCS for Android devices while Samsung Messages is the stock messaging app found in Samsung devices. How do these two apps compare?
With features like scheduled messaging, custom notifications and initial RCS support, Samsung Messages outweighed Google Messages. Google then leveled up with wide RCS rollout and useful features e.g. Messages for web. Both have a clean interface but Google Messages tends to drain battery more.
See also:
Samsung Email vs Gmail
Samsung Galaxy Store vs Google Play Store
Samsung Account vs Google Account
Samsung Keyboard vs Gboard
Google vs Samsung Messages: RCS
RCS (Rich Communication Services, aka Chat) is a messaging protocol that goes beyond the standard SMS and MMS on Android devices.
It allows users to send multimedia files and incorporates many features (e.g. read receipts) found on other messaging apps like WhatsApp or Apple's iMessage.
Do Google and Samsung Messages use RCS?
Google Messages is Google's official app for RCS available to users worldwide. Users can install it and set it as the default messaging app. Google rolled out RCS through Google Messages on Android devices.
Google Messages is still the primary means to get RCS on an Android-powered phone. However, RCS is now also available in Samsung Messages as a result of collaboration between Google and Samsung.
Samsung Messages initially supported RCS, but it was not properly implemented due to many carriers not supporting the protocol throughout the world.
With Google's efforts, many carriers now adopted RCS in addition to the apps supporting it.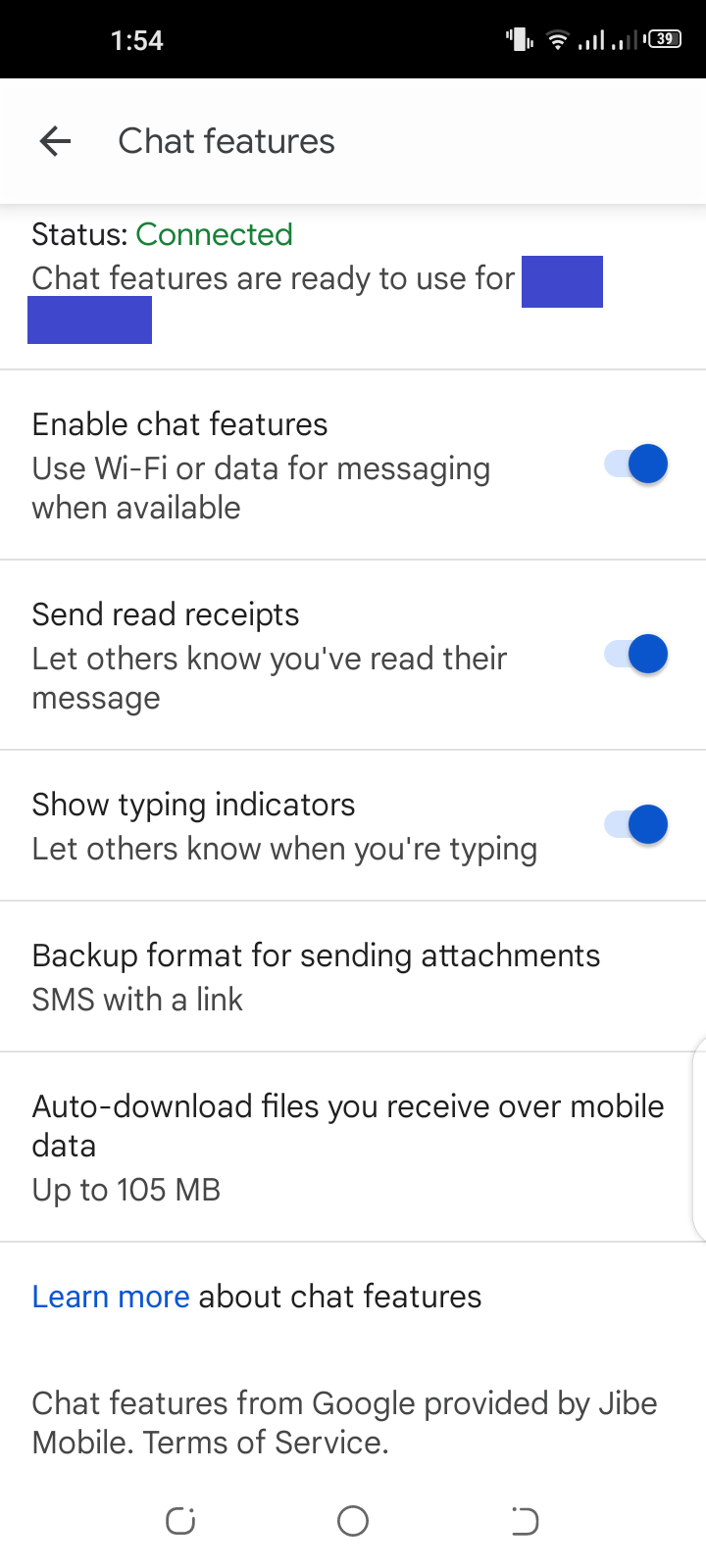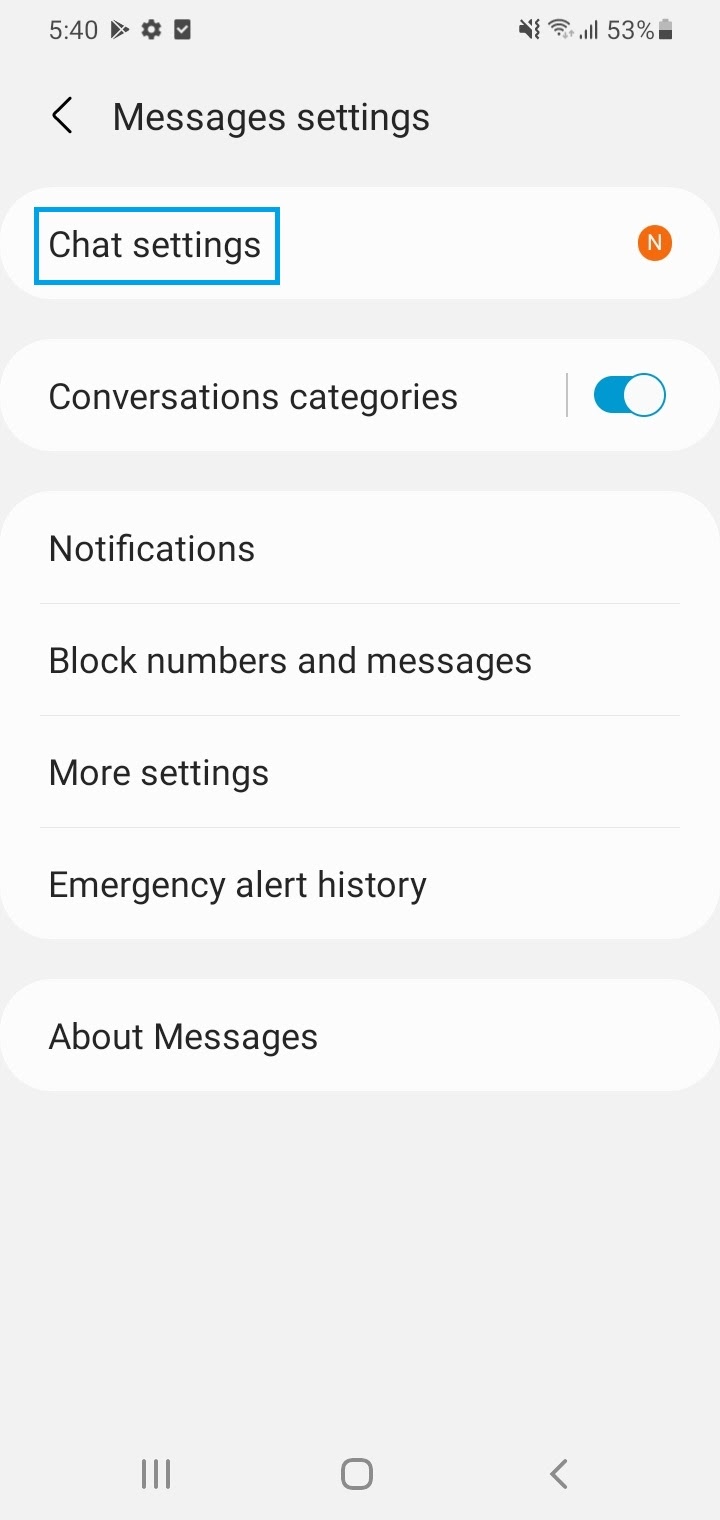 Google Messages Samsung Messages
See also: How To Remove Default Messaging App On Android?
Can you RCS between Google and Samsung Messages?
Provided your carrier supports it, you can use RCS features between Google Messages and Samsung Messages without any problems. This has been made possible through a partnership between Google and Samsung.
See also: What is Samsung Call And Text On Other Devices?
Do Google or Samsung messages send regular texts when necessary?
You can use RCS with another person who is also using RCS on their Android phone. If you have RCS enabled on your phone but the other person doesn't, however, the Chat (RCS) messages are converted to SMS/MMS.
This is true on both Google Messages and Samsung Messages.
See also: What Is The Difference Between MMS And Group Messaging?
Google vs Samsung messages: number verification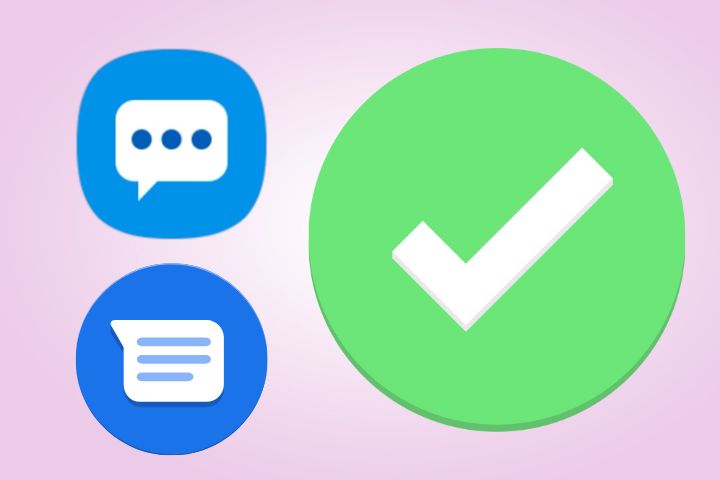 When it comes to verifying the phone number to enable RCS, the process is easier in Samsung Messages as compared to Google Messages. Let's look at both apps:
Google Messages number verification
The process of enabling RCS in Google Messages is a bit long because you need to set the app as the default messaging app, and verify your phone number through the app's Settings.
Once the verification is complete, the Chat features will be enabled, and you will see a Connected status in the Chat settings.
However, glitches have been reported in the phone verification process (e.g the status stuck on setting up) which has led users to try several workarounds to solve the problem. One of them is uninstalling updates to Google's Carrier Services app.
Samsung Messages number verification
Once your carrier has activated the RCS messaging services for the stock Samsung Messages app, you simply need to open the settings of the app and enable Rich Communication Settings. Thus, the verification process is a lot easier.
Google vs Samsung Messages: battery consumption
Google Messages is known to cause more battery drain than Samsung Messages.
Many users report a very high battery usage percentage in Google Messages, e.g. 40%, vs a much lower percentage (e.g. 2-3%) when switching to Samsung Messages.
While the reason for high usage could be device-specific, Google Messages definitely comes with many features that consume resources.
Users have also reported a lot more battery drain when using RCS (Chat features) vs when chat is off. While many users utilize this feature, it's also possible to get high battery consumption even when not using RCS.
Samsung has improved the stock messaging app in its devices in terms of battery usage, which users find to be significantly lower than Google Messages even with RCS enabled.
Google vs Samsung Messages: conversations
The following table compares features of the two apps related to sending and receiving messages and organizing conversations:
| | | |
| --- | --- | --- |
| | Google Messages | Samsung Messages |
| Reactions to make messages more visually appealing | Yes | No |
| Smart Reply (reply suggestions based on the last message received) | Yes | No |
| Quick responses (predefined texts to reply) | No | Yes |
| Pin conversations to the top | Yes | Yes |
| Swipe to archive conversations | Yes | No |
| Manual Conversation Categories | No | Yes |
| Automatic Conversation Categories | Yes (Available for users in India only) | No |
| Spam detection | Yes | Yes |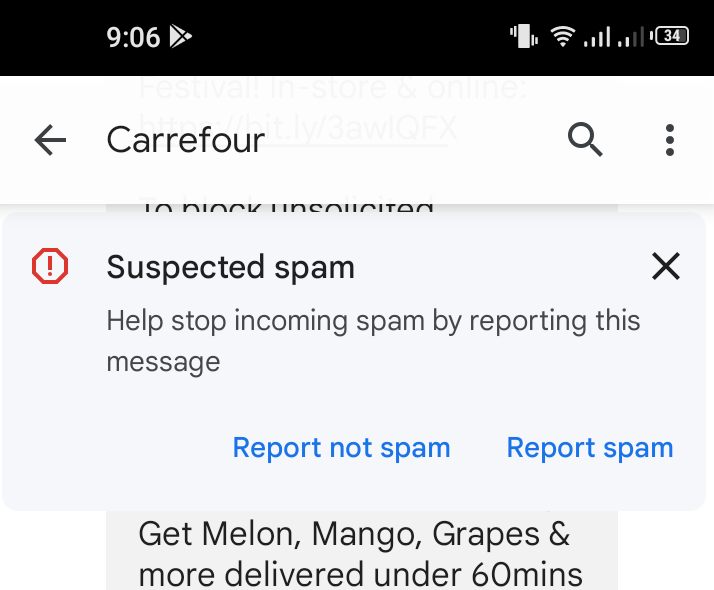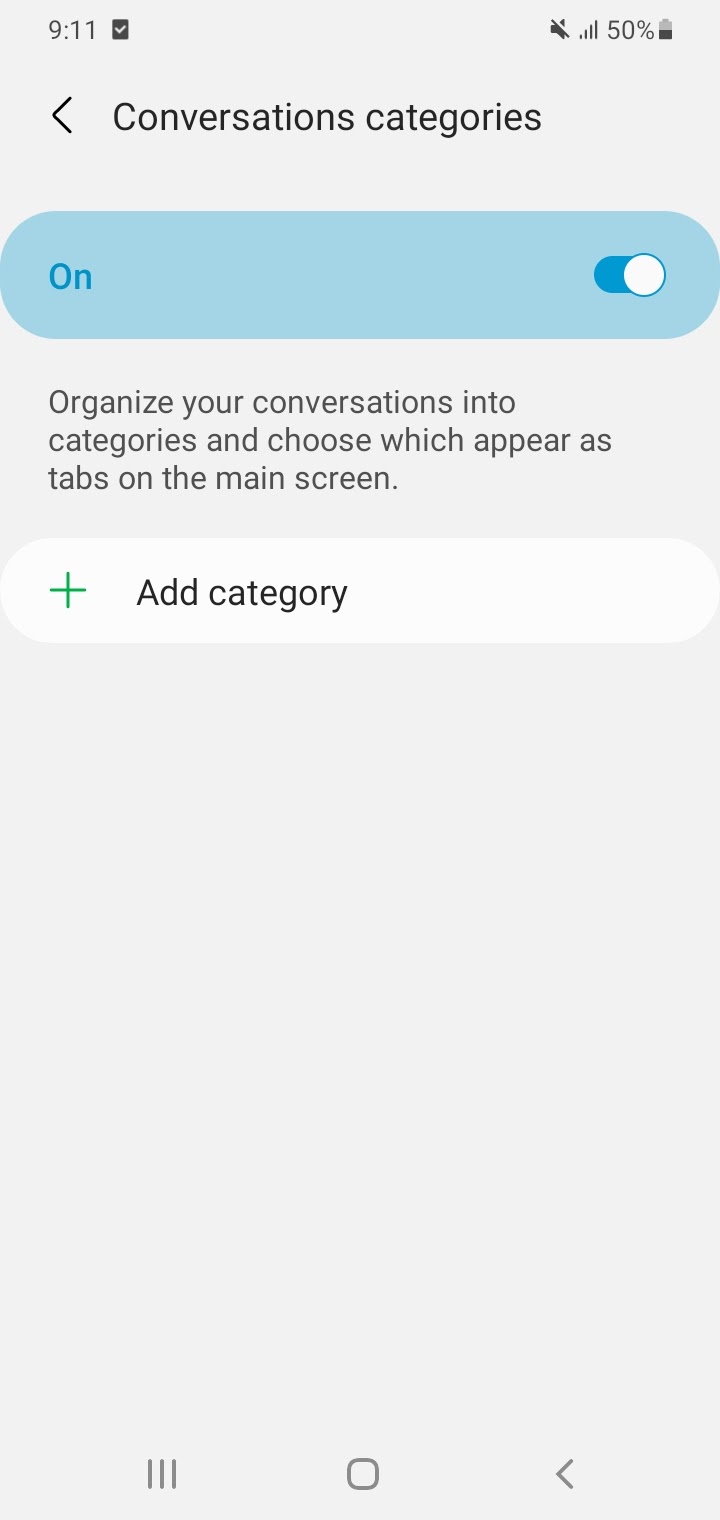 Google Messages Samsung Messages
Google vs Samsung Messages: overall UI
Both Google Messages and Samsung Messages have a clean user interface. The following highlight some important UI characteristics of both apps:
Google Messages
It has a search bar along with the menu (the three dots) on the top while messages are displayed beneath them.
The Start Chat button sits at the bottom right and scales down in size as you scroll down.
Unread messages are highlighted in bold with 3 lines of preview while read messages have one line of preview. All the messages can also be marked as read at once through an option in the menu.
There is a dark theme option that can be applied irrespective of the system-wide dark mode on your device. The font size can also be changed in conversations.
The interface supports dual sims. It also supports audio, images, videos, and more.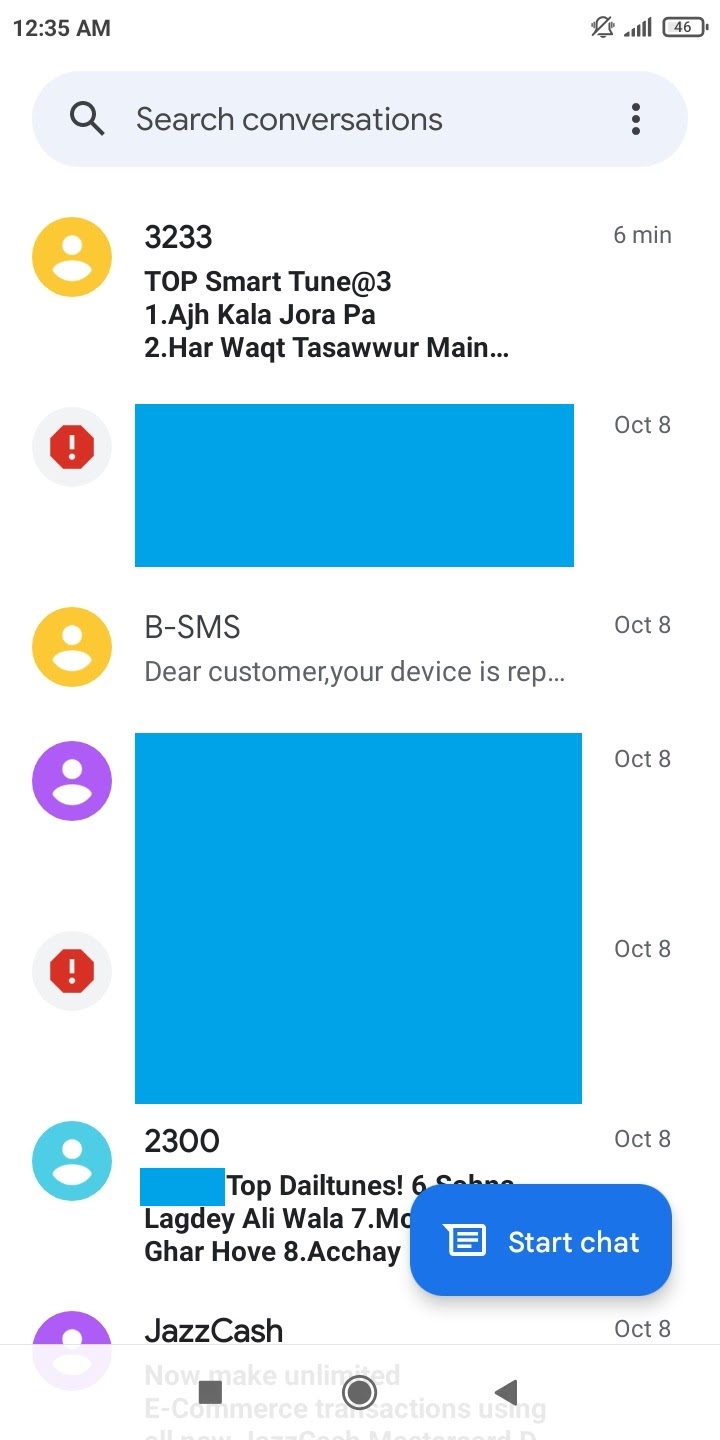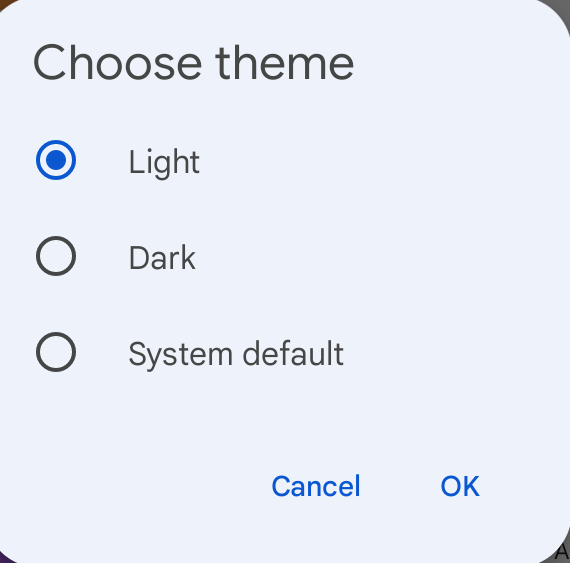 Samsung Messages
The number of unread messages is displayed at the top with the search option and menu beneath it. There is also a Contacts option on the bottom right.
Two preview lines are shown on the conversations and the number of unread messages is shown with each of them. There is an option to mark all messages as read in the menu.
The dark theme is linked to the device being in dark mode.
You can increase or decrease the font size in the text messages; there's an option to have a custom background on conversations.
There's also support for notification bubbles in Samsung One UI 3.0 and later. This makes a text message appear in a bubble, which can be dragged onto the phone's screen and tapped to reply.
The app supports dual sim as well as images, audio, videos, and more.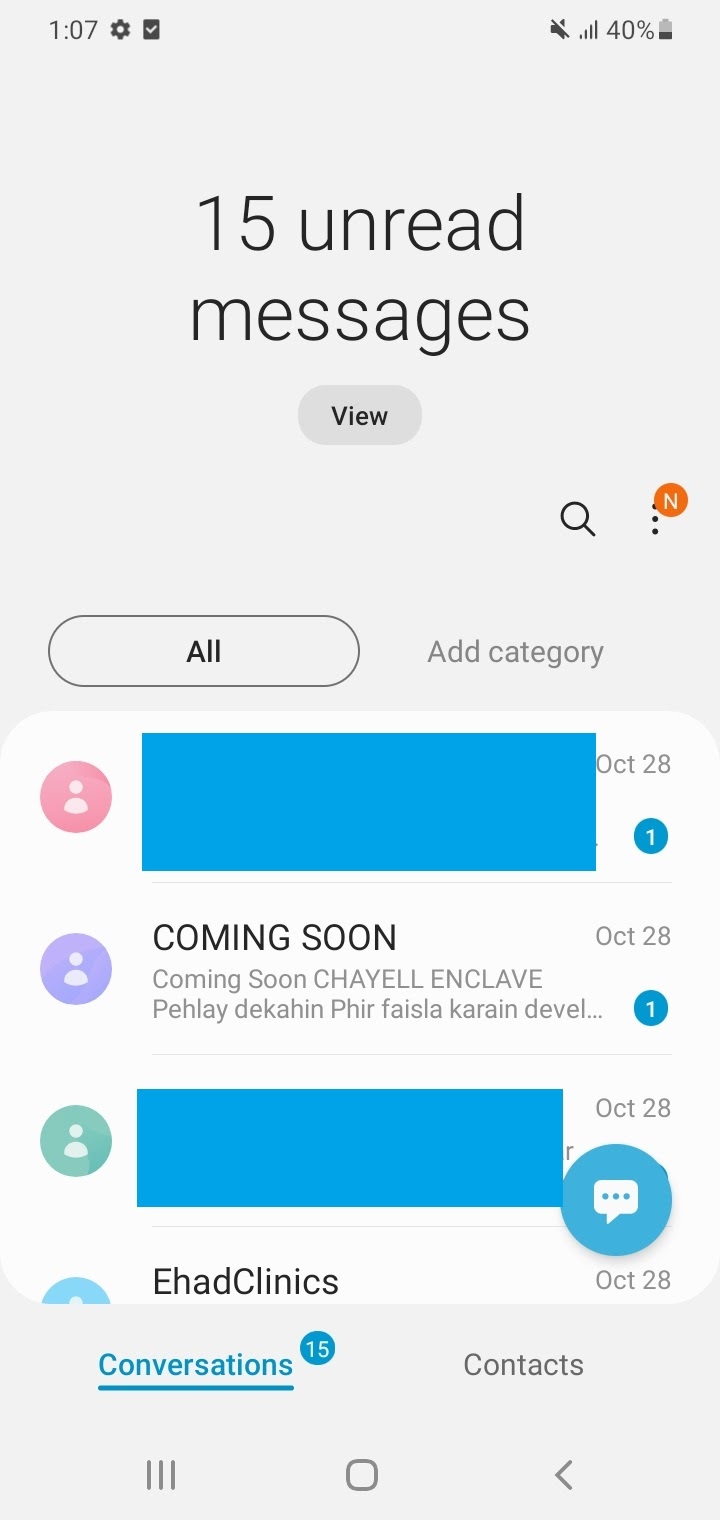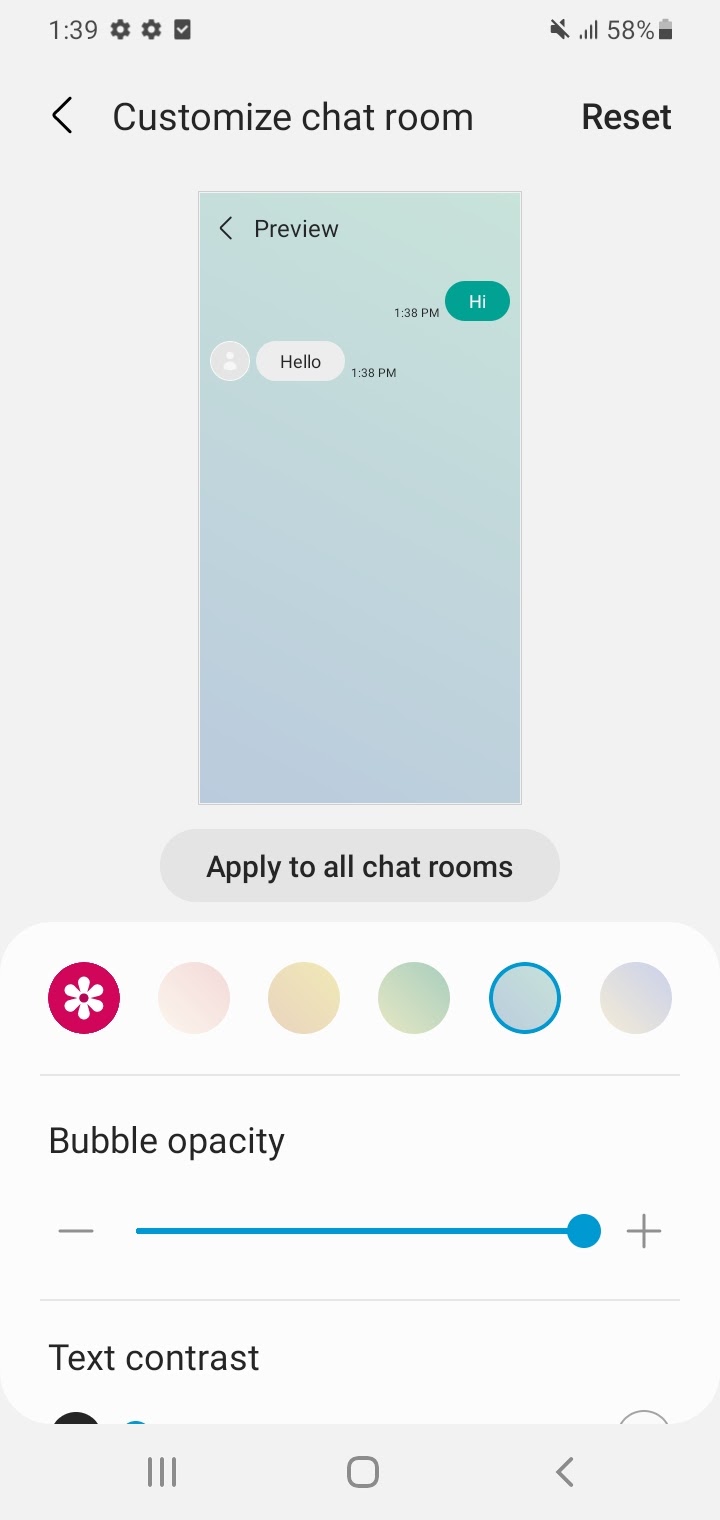 Which has a better interface?
Both Google Messages and Samsung Messages have a nice interface that users like.
Google Messages appears native to the vast number of Android-powered phones out there.
Samsung's app is particularly well-suited for devices with large screens and for one-handed use. This adds to a good messaging experience.
Google vs Samsung Messages: scheduled messaging
Scheduled messaging is a very useful feature that lets users schedule sending their message at a later time vs sending it immediately.
For instance, using the feature you can send someone a birthday message at a specific date in the future.
This feature was first available in Samsung Messages, but Google Messages has now caught up. Note that in Google Messages, the feature requires Wi-Fi or mobile data connectivity.
Here's a quick comparison of scheduled messaging in Google Messages vs Samsung Messages.
| | | |
| --- | --- | --- |
| | Google Messages | Samsung Messages |
| Preset Times to schedule | Yes | No |
| Selection of your own date and time | Yes | Yes |
| Minimum time after which you can schedule a message | 0 minutes | 6 minutes |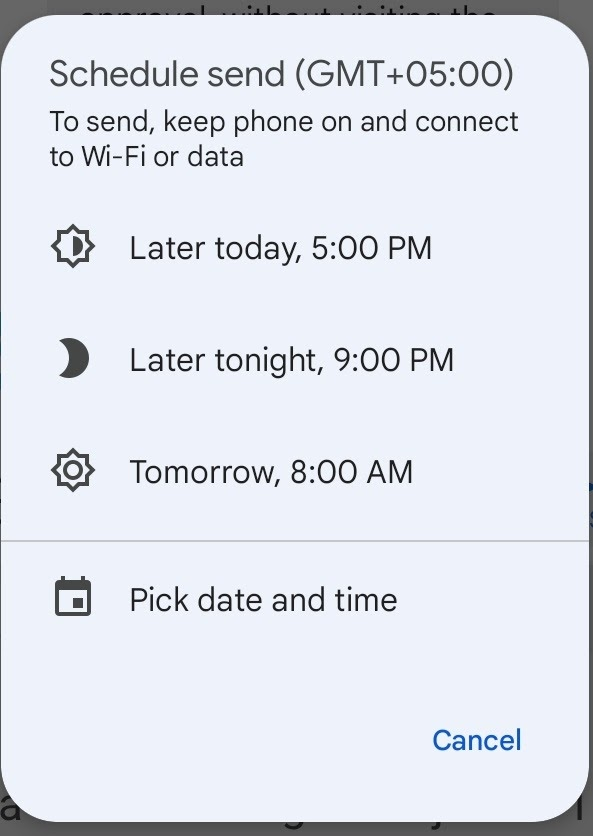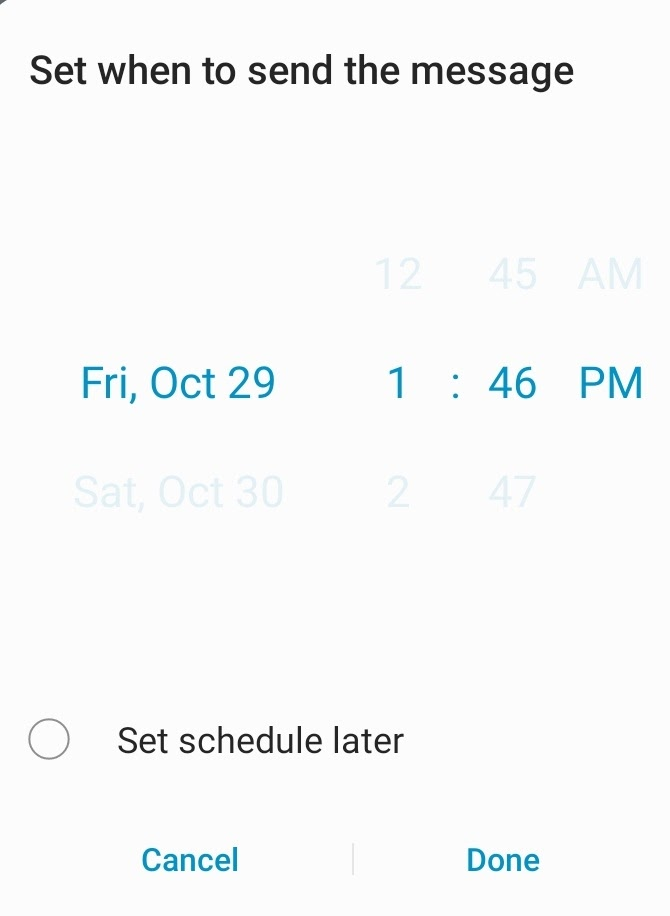 Google vs Samsung Messages: user lock-in
Many users find it very annoying that carriers tend to lock in a specific messaging app and force them to use that app.
For instance, a deal between Samsung and Verizon forced users to use Verizon's app for messaging. This also led people not to trust Samsung apps, including Samsung Messages.
This is one of the reasons some users prefer to use Google Messages. Google Messages also gives users the ability to communicate with other RCS users outside of their network, which may not be possible with your carrier's locked-in messaging app.
Google vs Samsung Messages: Galaxy Watch and PC integration
Integration of messaging apps with other devices and wearables (e.g. a Samsung Galaxy Watch) is an important feature for some users.
Galaxy Watch integration
Google Messages is not available as a full standalone app on Galaxy Watch 3. This means you can only see the message in preview form and not all the conversations.
Also, you can't perform other functions such as replying to a message, and there is no support for RCS in Galaxy Watch 3 – only SMS and MMS.
Google Messages is available for Galaxy Watch 4, however, and can be used in place of Samsung Messages.
Samsung Messages is the default messaging app in Galaxy Watch 3, and comes pre-installed on Samsung Galaxy Watch 4. As of now, however, there seems to be no RCS feature implemented on Galaxy Watch 4.
PC integration
The Google Messages app can be used on a PC through Messages for Web. This feature allows you to send and receive messages in a web browser on your computer.
All your messages in the Google Messages app on your Android device sync with your PC. The interface in the browser on a PC is similar to the Google Messages app.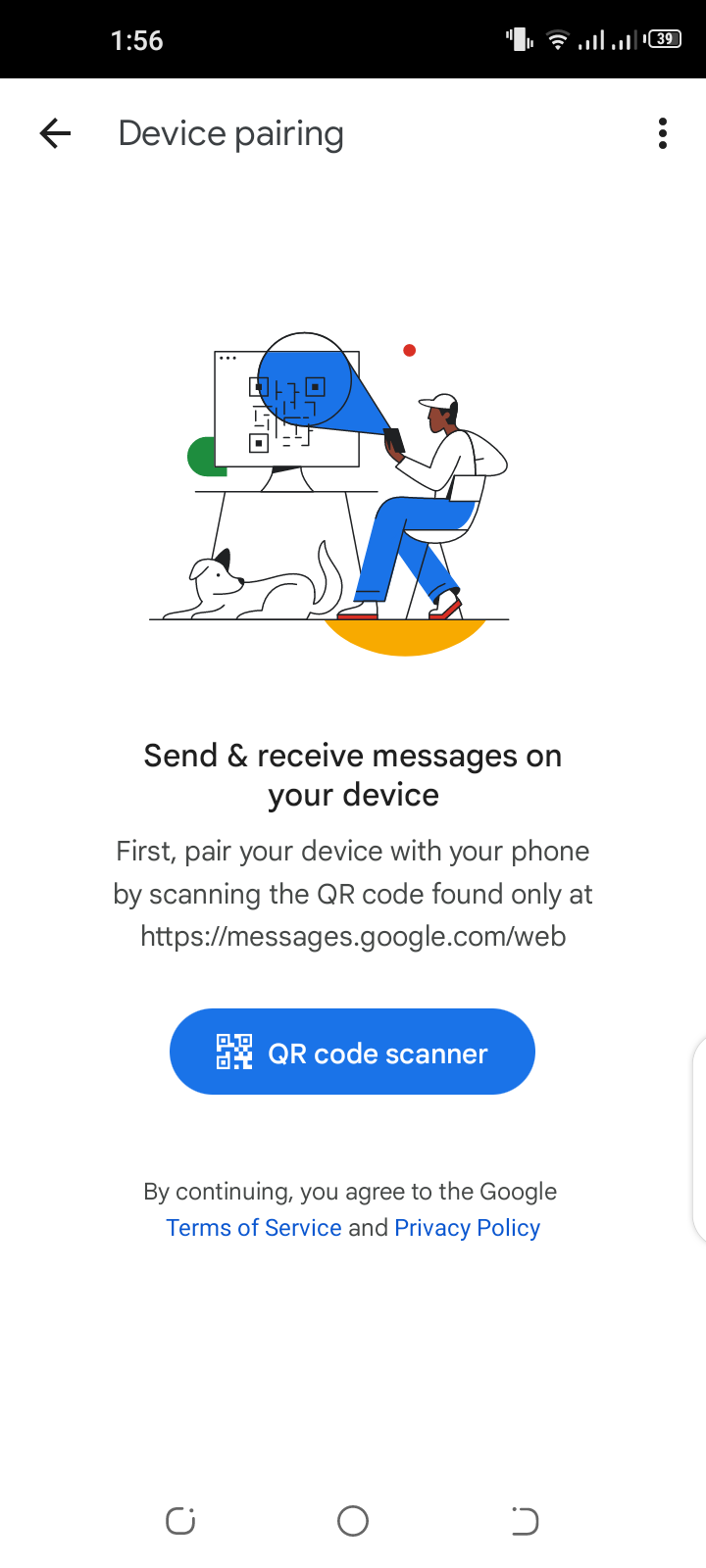 There is no dedicated web interface for the Samsung Messages app. However, you can link your Samsung Galaxy smartphone to a Windows PC through Microsoft Your Phone Companion app (also called Link to Windows).
Once this app is installed on your PC and phone, you can view and send Samsung text messages directly on the PC.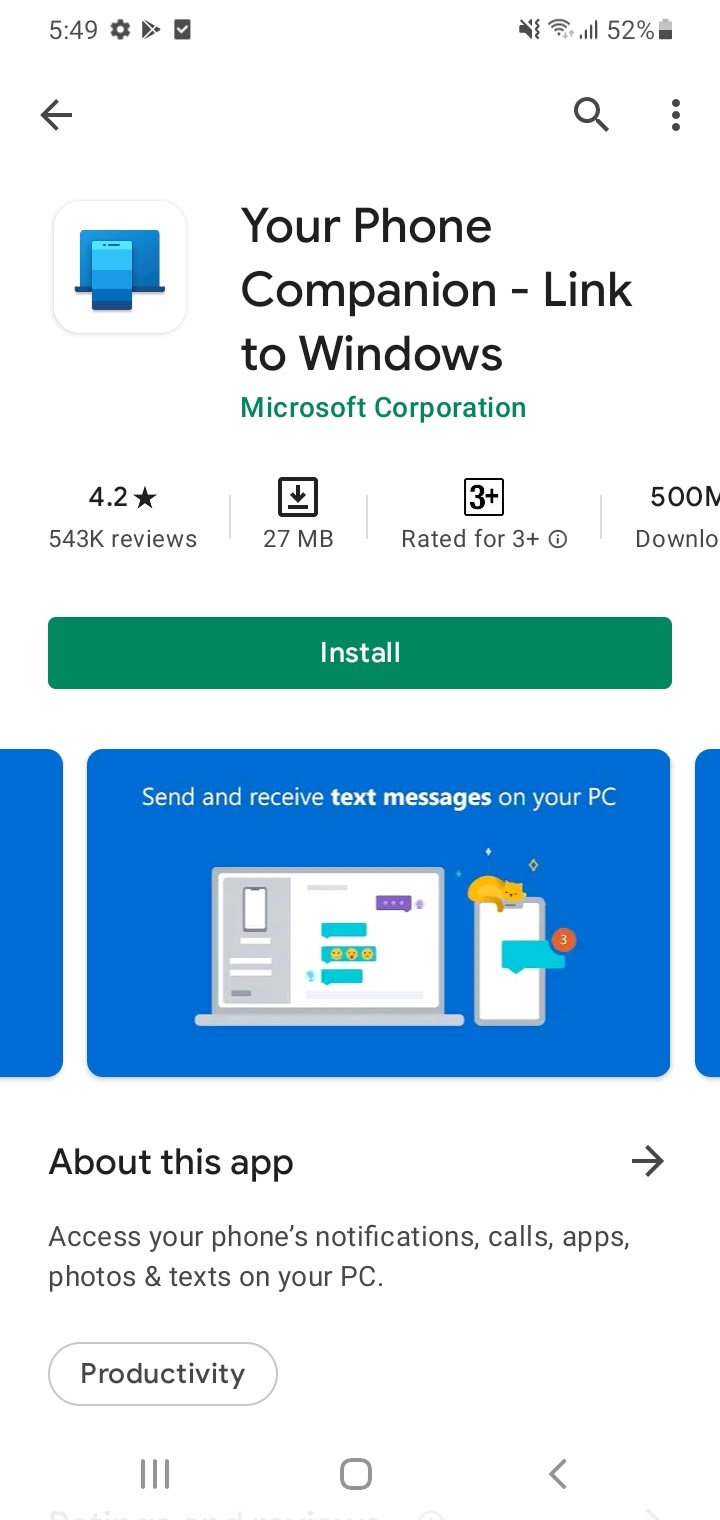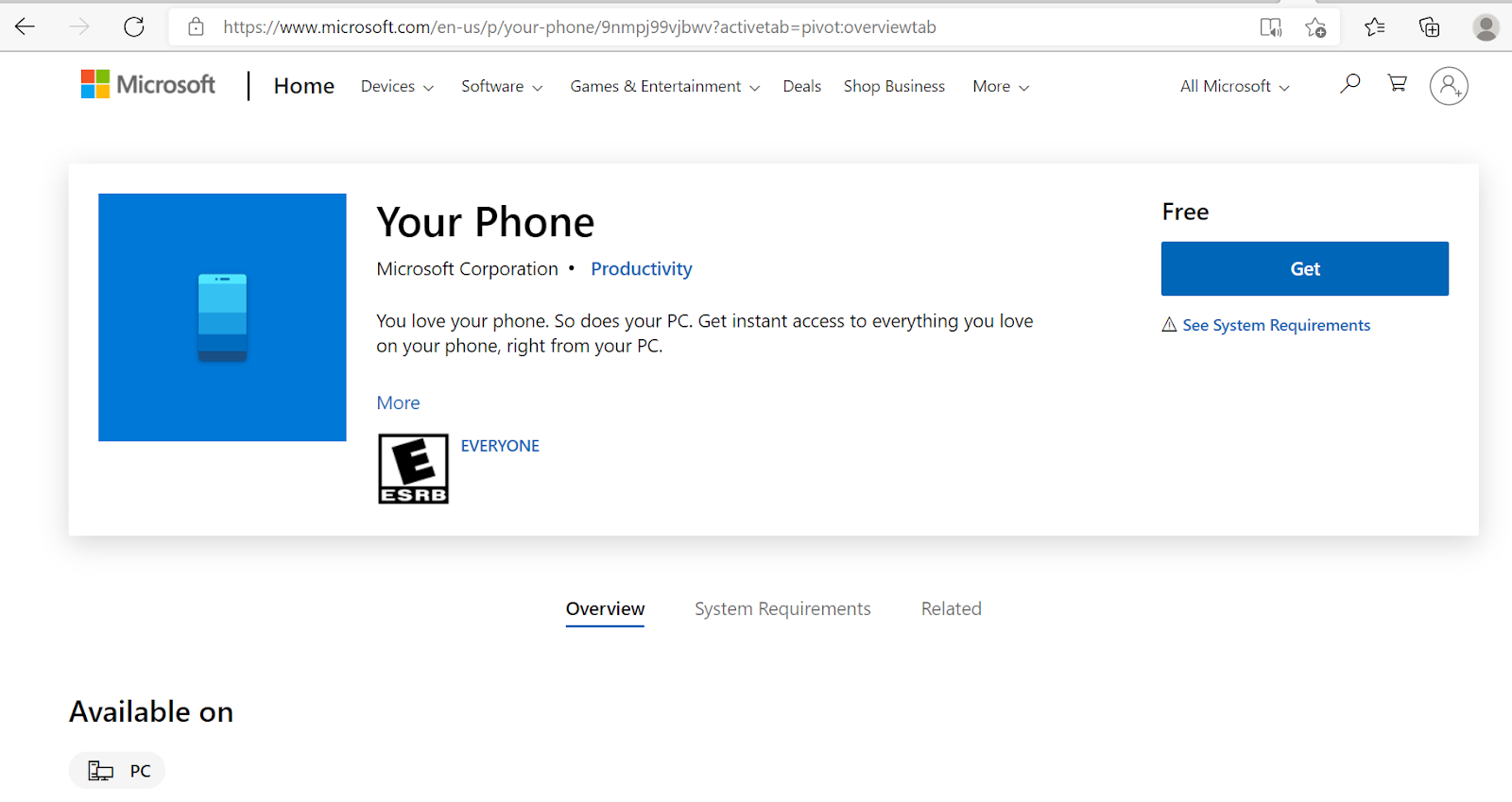 Google vs Samsung Messages: backups
Both Google and Samsung Messages have backup options that let you save messages from your device to the cloud. You can restore the messages on other devices, e.g. a new phone.
The following table shows backup and restore options for the two apps:
| | | |
| --- | --- | --- |
| | Google Messages | Samsung Messages |
| Backup cloud service | Google Drive | Samsung Cloud |
| Backup device | Android device with version 8 or later | Samsung Galaxy device |
| Restore device | Any new Android device | Samsung Galaxy device |
| Backup content | SMS | SMS/MMS |
| Inactivity period after which your device backup gets deleted | 57 days | 12 months |
As with any Android device (including a Samsung Galaxy phone), you can also use a third-party app from the Play Store to backup and restore messages. Some examples include SMS Backup & Restore and Super Backup & Restore.