If your Android phone starts to feel sluggish, you may suspect the large number of emails stored on your device to be one of the culprits. Where are your emails stored on your device? Do they eat up some of your phone's internal storage?
Depending on your settings, your emails are either stored on your email provider's server or on your phone. If you are using IMAP, your emails stay on the server only. With POP3 settings, on the other hand, email messages are downloaded to and stored on your phone.
Does deleting emails affect the storage of the device, and where are the attachments saved when you download them?
Are emails stored locally on my phone?
If you are using IMAP settings, emails are not stored on your phone and stay in the storage offered by your email provider. For example, Gmail offers 15GB of storage for all its data, including emails.
Conversely, if you selected POP3 email settings, your emails will be stored locally in the internal storage of your phone.
If you have IMAP setting and you want to save a particular email on your phone, you can save it as a PDF file by following these steps:
Open the email you want to save and click the menu option on the top right corner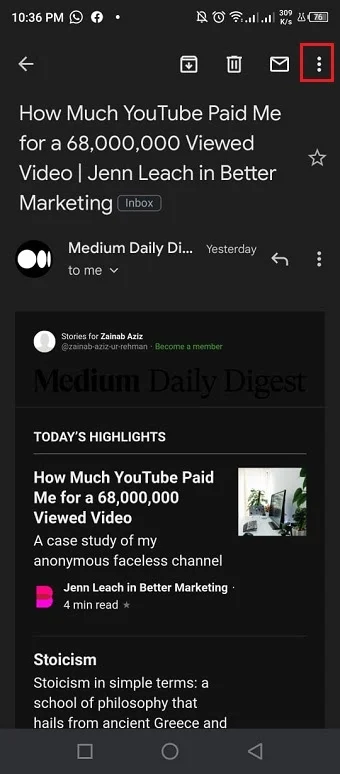 Select the Print option from the drop-down menu.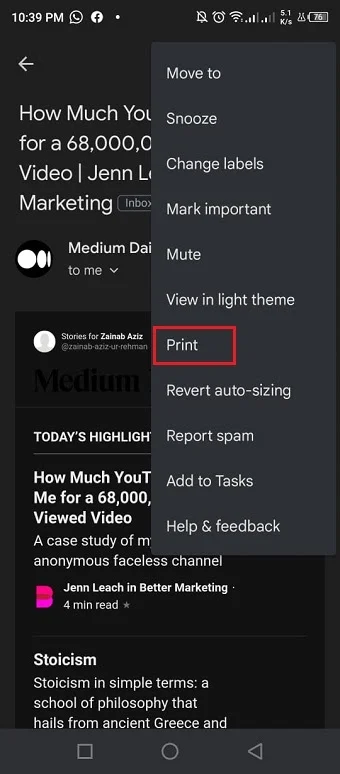 Tap the top menu bar on the screen stating Select a printer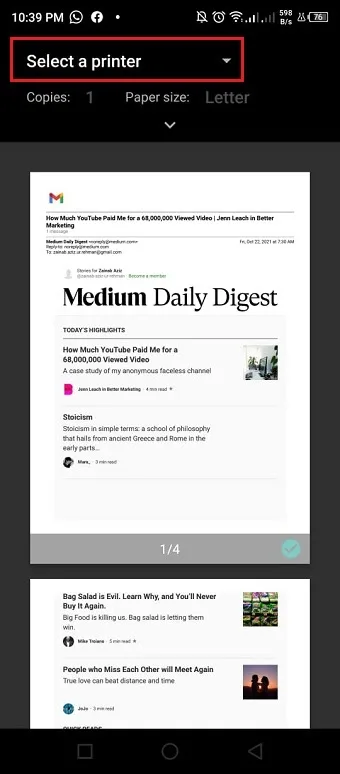 Click the option Save as PDF.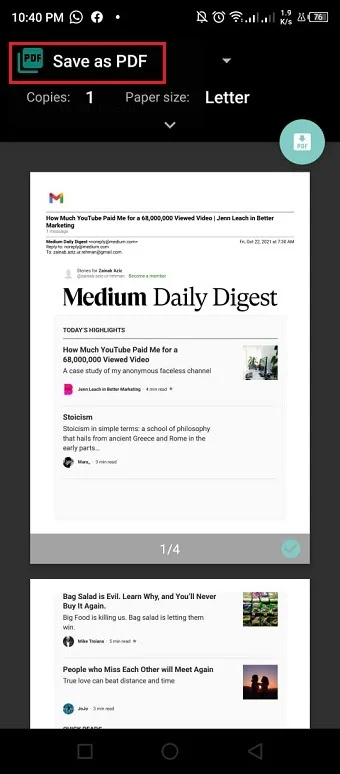 Now click the PDF icon.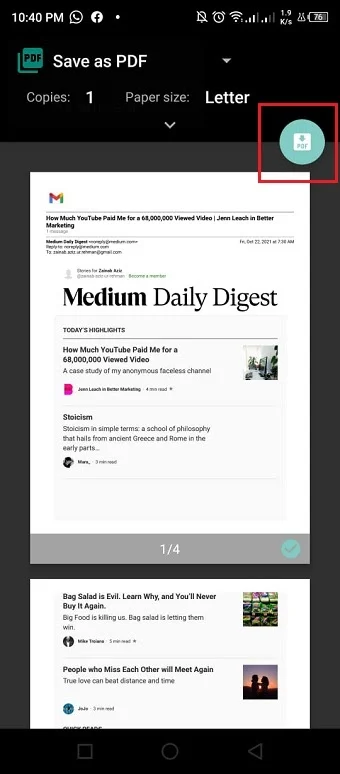 Click Save to download the email as a PDF in the Downloads folder of your phone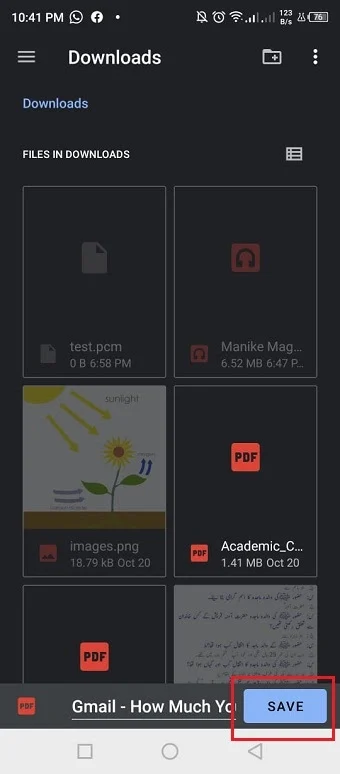 Do emails take up storage on Android?
Since the emails are not actually on your phone's storage and are stored on the server you are using; they usually won't take up storage on your Android phone.
However, it also depends upon the settings of email on your device. There are two types of email settings:
IMAP: Emails are stored on the server and only affect your phone as a cache.
POP3: Emails are downloaded on your device and eat up your phone's storage.
This is why when you are setting up an email account; it is recommended to use the IMAP settings to keep your phone space free.
Can I pull emails off my Android phone?
Most of the email service providers online backed up your emails on the server. So if you want to access your emails from a different device or transfer them to another device, you simply have to log in to your email server at that device.
For example, if you want to access your Gmail account and its emails on the computer, log in to your Gmail account on your computer. All of your emails will display on your computer without any additional effort.
See also: Android Email Not Showing All Emails
How can I transfer my emails from Android phone to a computer?
You can use an app like Airdroid and follow these simple steps to transfer bulk emails saved on your Android phone to your computer:
Install Airdroid app on your phone and open Airdroid website.
Sign in if you already have an account. If don't, then first Sign up and create an account.
Tap the attachment icon and then click Files
Select all the emails stored on your phone's storage that you want to transfer to the computer.
Tap the option Send.
The process might take a while depending on the number of emails you have selected.
See also: Can Someone Access My Email Account Without My Password?
Where are emails stored on Samsung?
Like all the other Android phones, emails are not directly stored on your Samsung phone. They remain on the server of your email provider unless you are using POP3 settings. These settings will download all the emails on your device's storage.
If you download any attachment from the email to your Samsung phone, it will be saved in the Download folder of your Internal memory. To access that, follow the steps below:
Open My Documents on your Samsung
Click Internal memory
Select the folder Download
All of the attachments you have saved will show up here
Will deleting emails free up space on my phone?
The settings of your email server affects whether emails sit on your phone's storage or not. If you use IMAP settings where emails are only stored on the server, your phone will not be affected by deleting emails.
On the other hand, if you use POP3 settings, where the emails are downloaded on your device, deleting emails will free up your phone's storage.
Another important aspect of emails is attachments, which can also take up device storage if using POP3. To delete all your email messages that have attachments (assuming you've already saved the attachments), follow these steps:
Type has:attachment in the search bar of your mailbox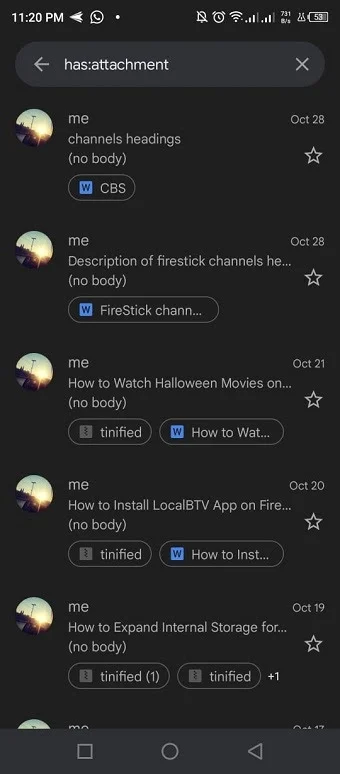 Select all the emails with attachments you want to delete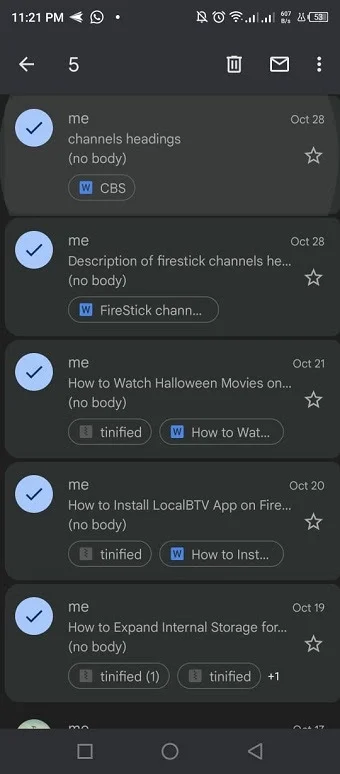 Tap the bin icon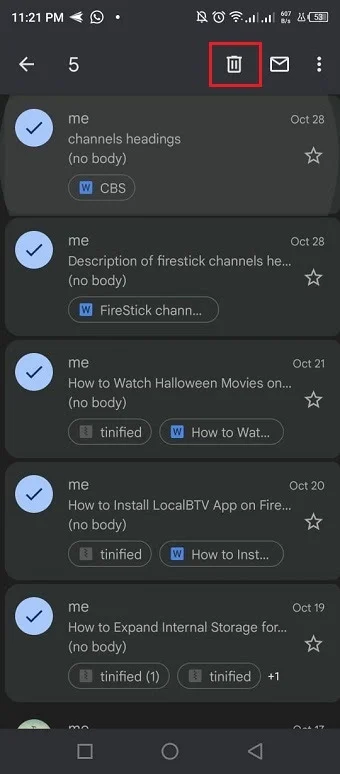 All the selected emails with attachments will be deleted from your mailbox.
See also:
Why is my phone storage full after deleting everything?
How To Delete Duplicate Messages On Android?
Where is my email attachment saved after it is opened?
When you receive an email with an attachment, it remains on the server of the email provider. But once you open the attachment file/files, it is automatically downloaded and saved to the "Downloads" folder of your phone.
To access the downloaded files:
Open the File Manager of your device.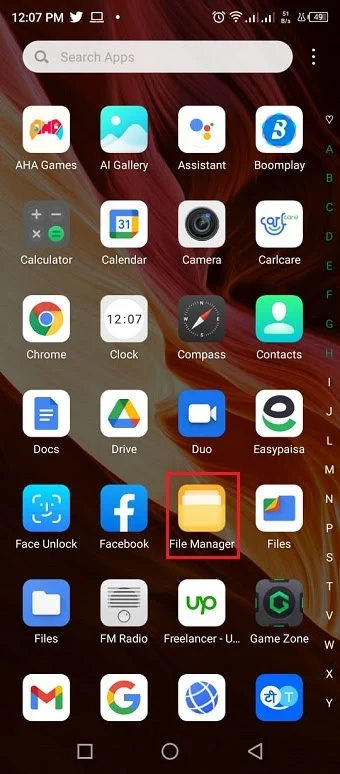 Tap the folder Download.
Access the attachments you just downloaded from the email.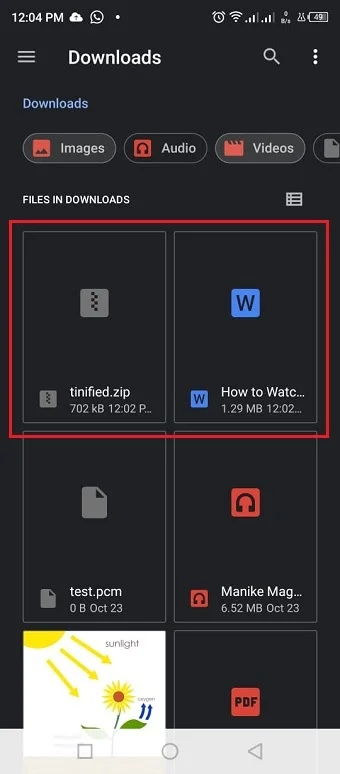 How do I retrieve deleted emails from Outlook on my phone?
If you accidentally delete an email on the phone, you can restore it from the deleted folder of your email:
Sign in to your Outlook email account
Tap Deleted items folder from the list
Look for the email/emails you want to restore and select it
Click on the menu icon on the top right corner of your screen
Select the Move option from the list and move the email to your inbox
This trick works in the case where the deleted email is still in the deleted folder. However, if you can't find your desired email in the list, that means it is permanently deleted.
The good news is you can still retrieve emails that are permanently deleted from your Outlook mailbox. Follow the steps below:
Select Deleted Items folder from the email folders
Click Recover deleted items option
Locate the desired email using the search box
Select the email in the search results
Click the Recover option to retrieve it to your mailbox
What happens if I delete my email account on Android?
In the latest Android phones, a large amount of data on your device is synchronized with your Google account, such as your photos, videos, contacts, emails, calendar, etc. If you delete your account from your Android phone, you will no longer be able to access this data on that device.
That said, there's a difference between deleting and removing an email account from your Android. Deleting means permanently deleting your account from the server, while removing only means removing it from the device.
Android devices do not allow you to delete an email account permanently. All they offer is to remove the account from the device. Even if it shows as "Delete account", it still means removing the account from the device. You can still access the email account from other synced device.
See also: How Do I Hide An Account On Android?
How far back does Gmail keep emails?
From the day you have created your Gmail account to the present day, all your emails are stored on the Gmail server. None of them is deleted by Gmail.
However, this is not the case for the Trash folder or Spam folder. The standard time limit for these folders is 30 days. After that, all the emails in the Trash and Spam folders will be deleted permanently.
Gmail will not delete any of your emails but will start sending you warnings if you run out of storage.
Does archiving emails save space?
Archiving an email means you just remove it from your inbox without deleting it. The email stays on the storage of your server or phone, depending on settings.
So archiving emails won't affect storage or save space in your server or phone memory. It occupies the same space it had before being archived.
You have to delete emails permanently to free up the space on your email service provider or your device storage.
See also: How to Limit Number Of Email Messages On Android?
How to permanently delete emails to save space?
Permanently deleting emails when using POP3 frees up space and add more room for incoming messages. You can permanently delete emails by:
Open the email you want to delete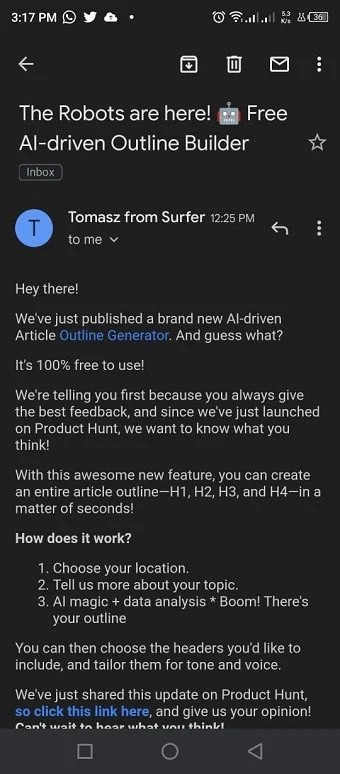 Click the trash icon on the top menu bar.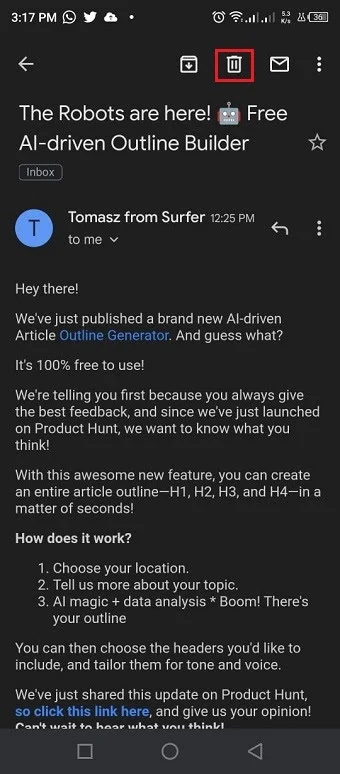 The email will move to the trash folder
Open the trash folder from the menu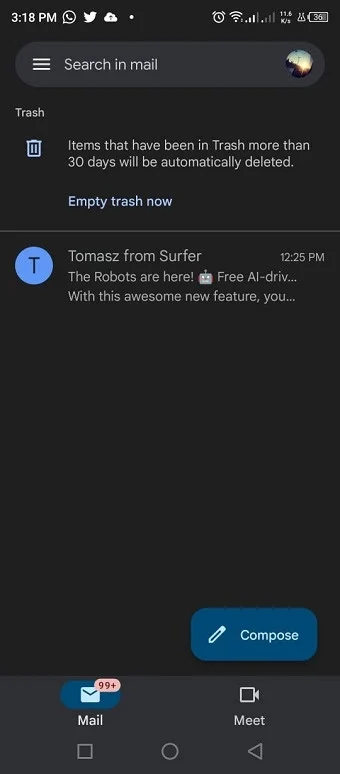 Select the email you just deleted and click Empty trash now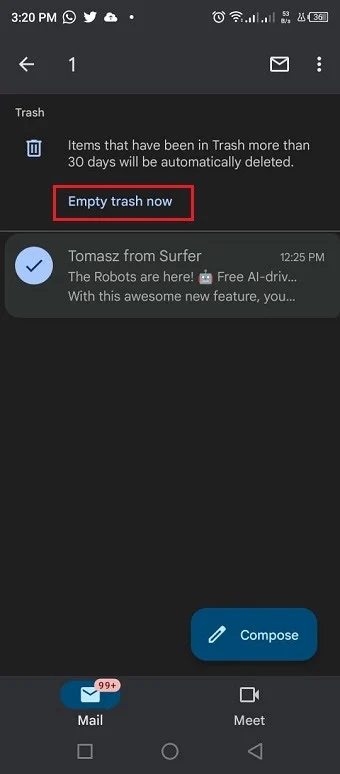 You can also permanently delete hundreds of emails from your mailbox in a few minutes with a third party cleaning app such as Clean Email.
Follow the steps below to easily clean your mailbox with Clean Email:
Install the Clean Email app on your device from the Play Store.
Connect the app with your email service provider
Now tap the option Quick Clean
Select the group of emails you want to delete such as inbox or unread emails
Apply the Delete action on the selected group of emails