If you feel frustrated by the "low storage" prompt on your phone's screen, you're not alone as it's a very common issue. Even after deleting most of your apps, you may still get the "phone storage full" message.
You may have done everything to deal with the low storage problem, including removing every app, inserting an SD card, and clearing out the internal storage, yet still get the low-storage message on your screen.
Try this: clear out cache files, move the files to an SD card or cloud storage, use the smart storage feature on Android to free up some space.
Not sure how to do these things? You're not alone! Keep reading.
See also: What Happens If You Clear The RAM On Your Phone?
Why is my phone's internal storage always full?
On an Android smartphone, even if you have 32GB internal storage, not all that space is usable. Android's internal space is partitioned by default to store the firmware, system files, and personal data files (internal data + app data).
You cannot do anything to free up the partition containing the firmware (Android's operating system) but you can free up space from elsewhere.
Here are some reasons why the phone's internal storage is always full:
The applications you've already downloaded on your phone will typically not use a lot of storage, but the app data does! Thus, before uninstalling an application, try deleting the app data files from internal storage.
As mentioned, Android's internal storage is partitioned. The consumption of storage system partition depends upon your usage.
Cache data is the main culprit for the low storage issue, and you should regularly clear the cache data to free up some space.
System updates increase storage consumption and are one reason you install a limited number of apps on your phone.
What happens when phone memory is full?
When your phone memory is low or almost full, a low storage message may appear in the notification bar.
There are also several other signs and symptoms that indicate your phone memory is full.
Can't download new apps
Once you've decided to download a new app, your Android will only install if there's enough internal storage. Otherwise, a notification will appear saying "insufficient storage available," and you'll have to free some space to install the new app.
See also: Do Deleted Apps Take Up Space?
Can't update apps
When your phone is low on storage, you cannot update applications already installed on your device.
Lags and low space
When your phone doesn't have enough storage, it cannot run the program on its internal memory (ROM) and use the virtual or secondary memory, which slows down the phone.
What should I delete when my phone storage is full?
When your smartphone is low on storage, you cannot install new apps, update installed apps, or even store large personal files. To avoid this, you can clear the cache, delete old files, clear the synced playlists, and delete the cached maps.
How do I clear storage quickly?
Here are the two best ways by which you can clear storage quickly in easy steps.
Clear cache files:
Each app creates temporary data it uses while running, known as cache files. You can clear your cache files when your phone storage is full.
Go to settings > Storage
Tap Cached Data
Clear the cached data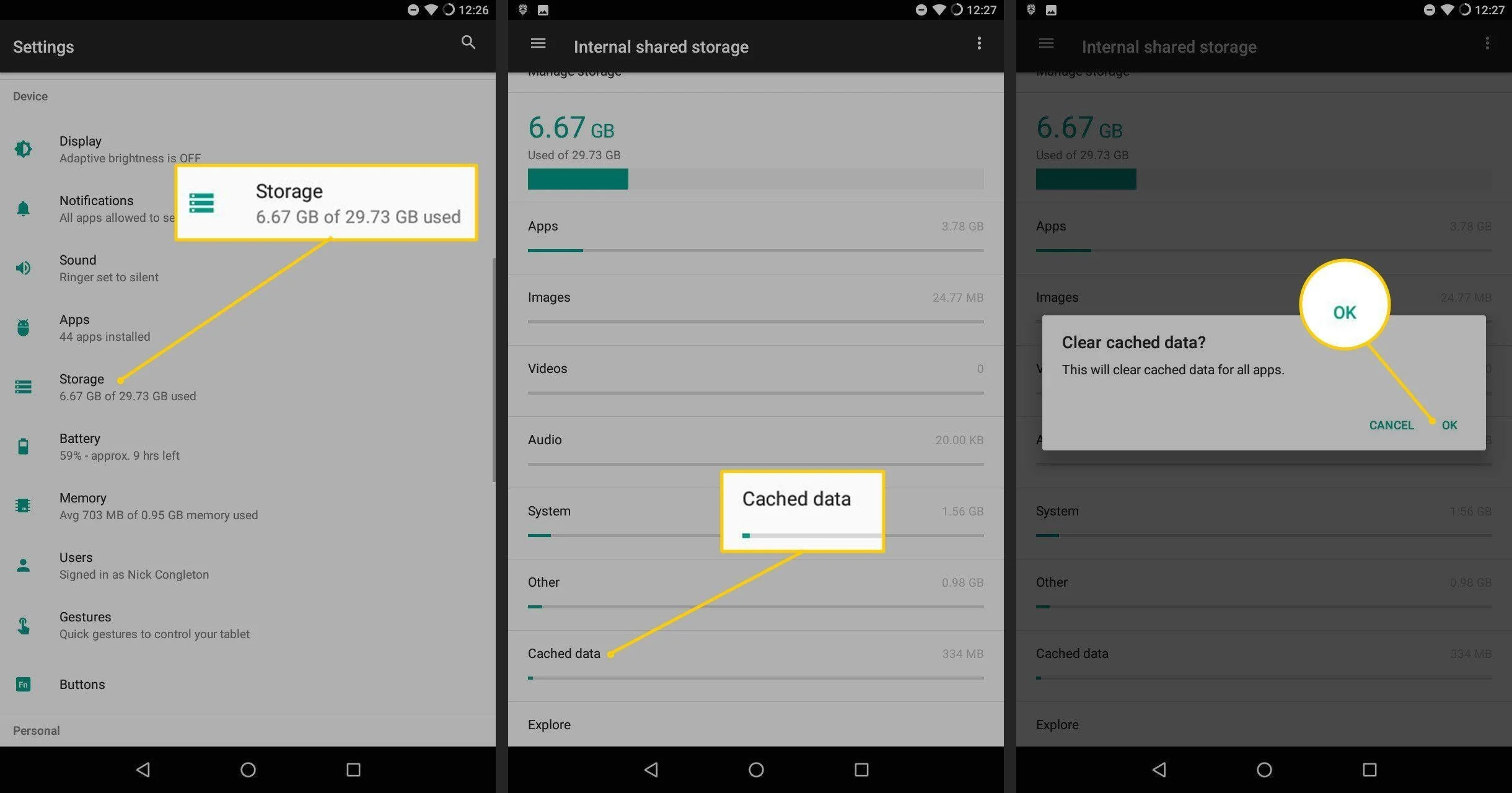 Get rid of old files:
Most Android comes with the "smart storage option," which lets you identify the old and unused files and get rid of them automatically. It will automatically remove the files that are already backed up.
To delete old files via smart storage, follow the steps:
Go to settings and then storage settings of your smartphone.
Tap on the "Manage storage" option.
Turn on the Smart Storage option and select the period/days.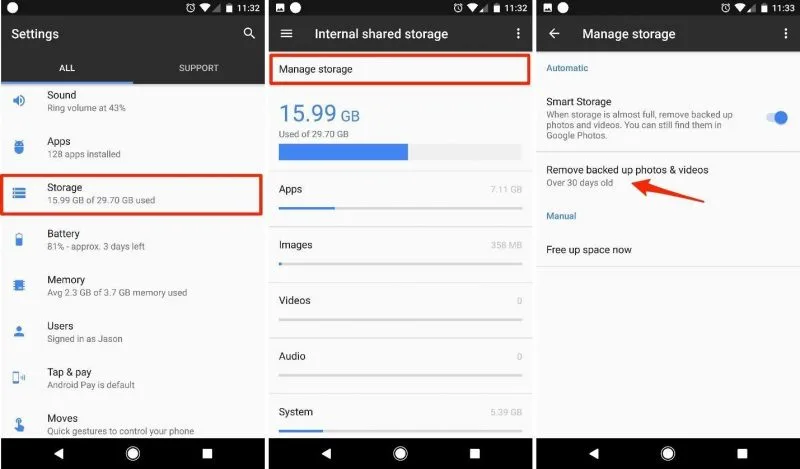 How do I free up space on my phone without deleting everything?
Whether your phone's internal storage is expandable or not, it will eventually fill up. While deleting data in your phone's internal storage is not always an option, you can free up space using the following methods:
Delete unnecessary downloaded files:
You might be downloading plenty of photos, audio clips, or videos daily. After a while, your Android download folder will be full of those files which may not be needed any more.
You can clear them to free up some space:
Launch the "My Files" app in your app drawer
Tap Internal Storage -> Download
Remove unnecessary files from the download folder.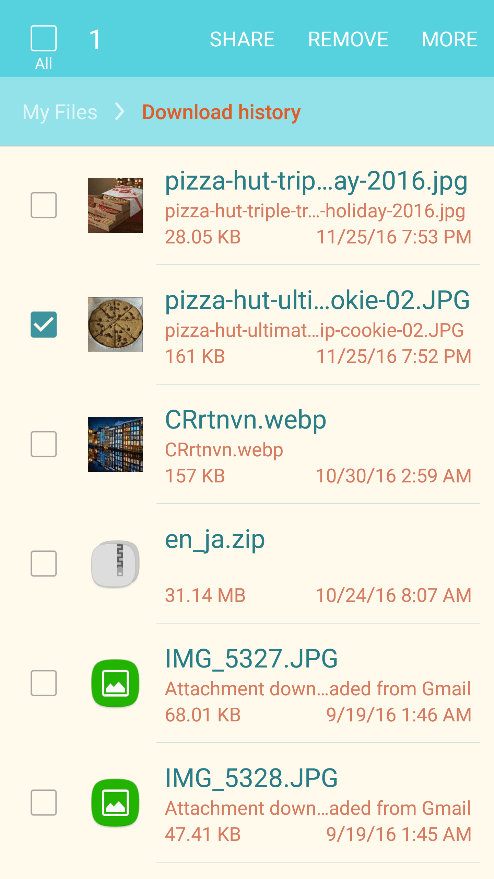 Backup important files:
Android low storage issue? You can always backup important files such as photos, videos, or documents in the cloud and delete them from your phone's internal storage to free up some space.
Google photos is an effective way to backup an unlimited number of photos. In short, you can take a photo, and it'll be directly saved to your google drive without taking up any space on your device.
Go to settings > Backup And Sync
Turn on sync photos to Google Drive automatically.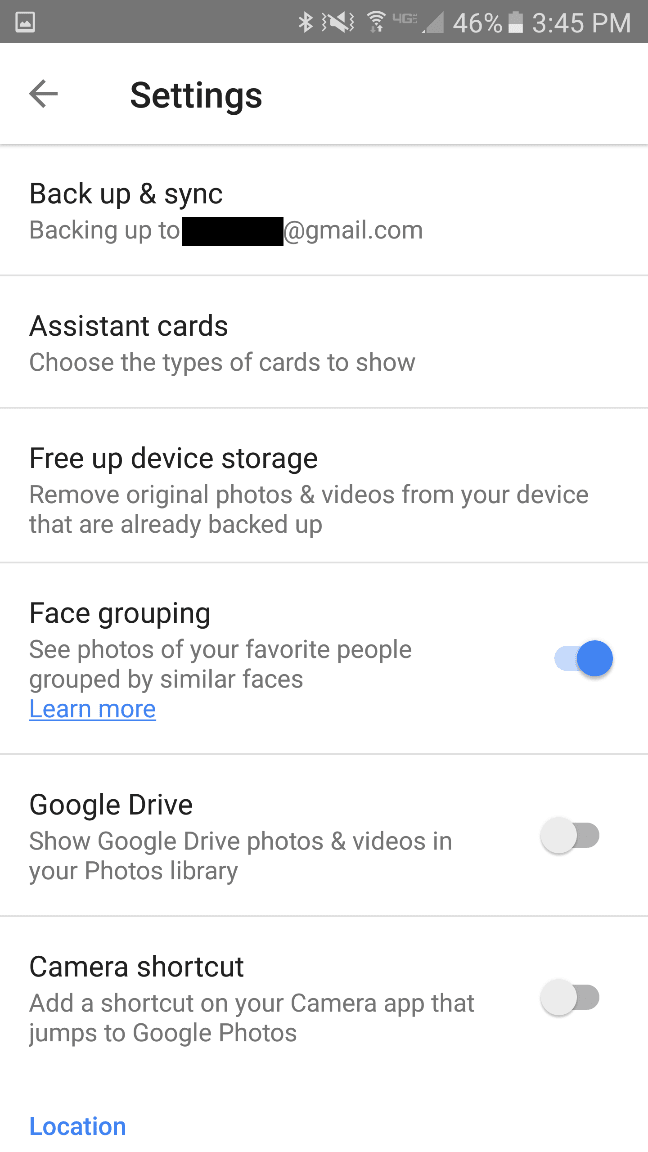 Move files to SD card:
If you don't want to delete your files from your phone's internal storage to solve your low storage issues, move them to external storage.
Insert an SD card to your Android and follow these steps:
Go to Settings -> Application Manager.
Select the app you want to move. If that application is moveable to an SD card, you'll see the "Move to SD card" option.
Tap to move the app to the SD card.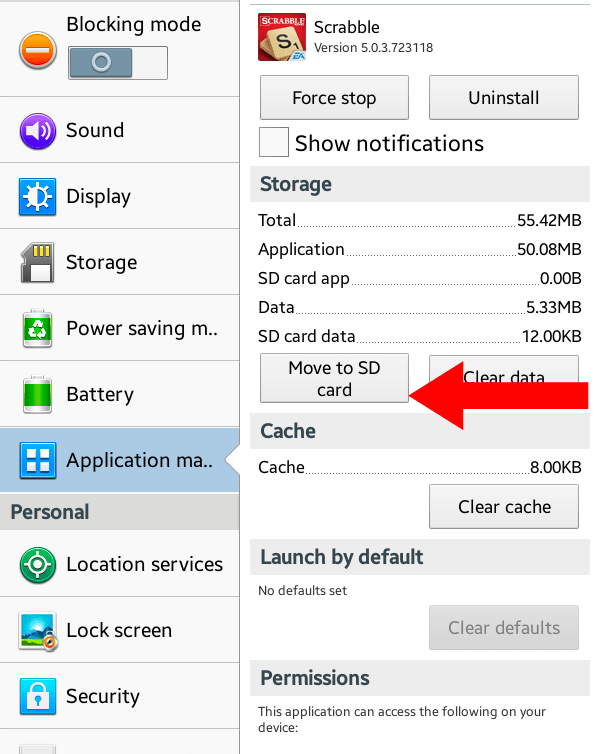 See also: Can A Phone Work Without An SD card?
Does deleting history free up space?
History in your smartphone's browser takes up minimal storage. If you're looking to free up space on your smartphone, deleting the browser's history won't have much effect.
See also: Will Clearing Cache Delete Pictures?
Why does my iPhone say there is not enough storage when there is?
The message "not enough storage" on the iPhone appears when there is insufficient space to store more files. If you see this message even though you do have free space on your iPhone, chances are your iCloud storage is full.
To resolve this issue, follow the steps below:
Go to Settings and tap on iCloud.
Go to "Manage Storage" and then tap on the backups.
Delete a backup to free space on your iCloud.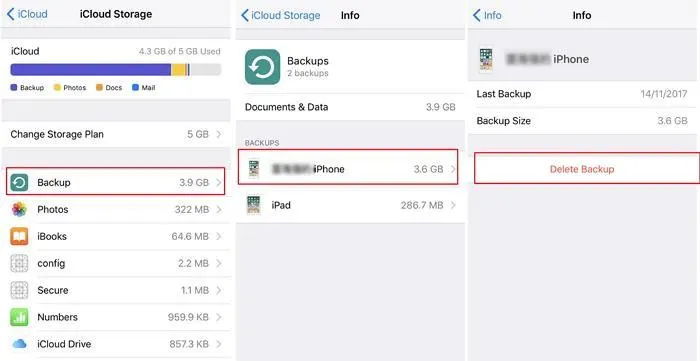 Why is my storage not going down?
When you delete files from your iPhone or Android smartphone, the deleted files, photos, and videos will go to the trash or recycle bin. Storage will not be freed up until you delete the files from the trash.
Go to file manager and tap on "Recently deleted".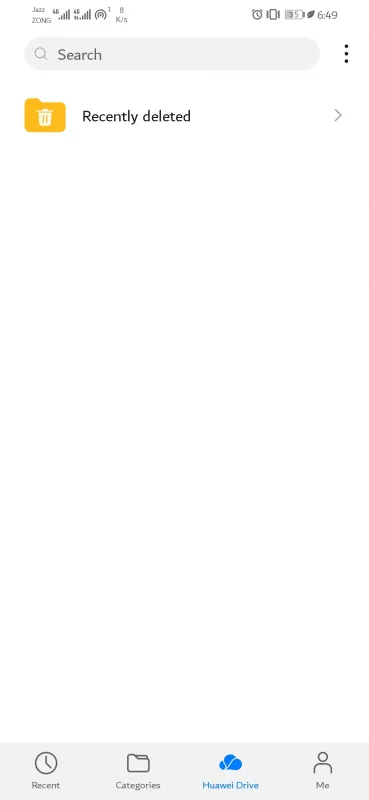 Select the "empty bin" option to delete the files permanently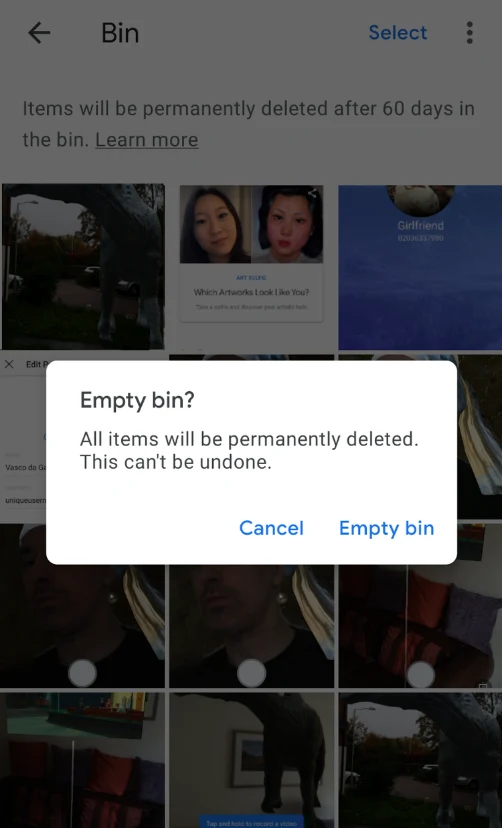 This will free up some space in your iPhone..
Why is my phone storage full when I have an SD card?
If your phone storage is full despite having space left on your SD card, this probably indicates your SD card is not set up as default internal storage.
If so, your apps, files, and documents are stored by default in the device's internal storage.
Go to settings>storage>SD Card.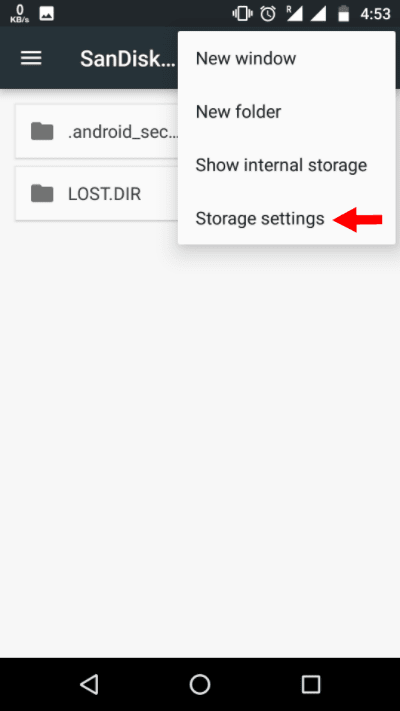 Tap on the menu and select "Format as internal."

Note: This will delete all the data on the SD card.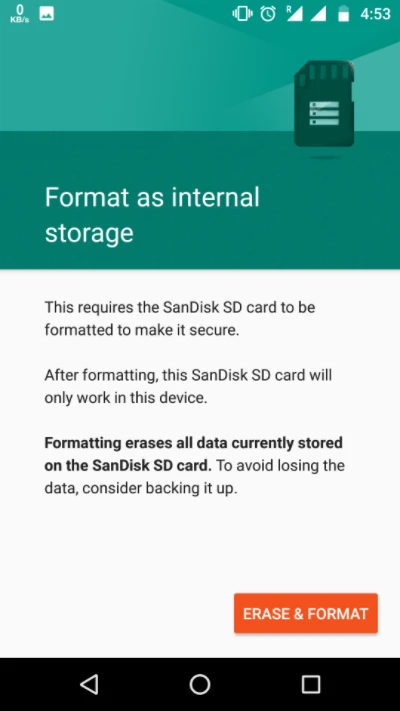 You'll be offered to move your files, photos, and apps from de device's internal storage to the SD card "internal storage".
Do text messages take up storage?
Text messages consume storage, especially on the iPhone. These text messages are stored and accumulated over the years without getting your attention and can cause low storage problems.
You can set your phone to automatically delete older messages by following these simple steps:
Go to settings > Messages.
Go to Message History
Tap "Keep messages."
Select 1 year to automatically delete the messages and attachments older than 1 year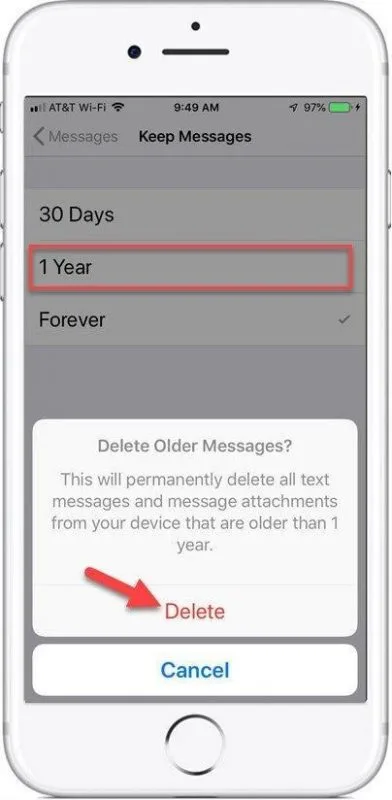 Why is "Other" taking up half my phone storage?
"Other" storage on Android or iPhone contains various types of data. These non-removable assets include Siri voices, fonts, dictionaries, logs, caches, and more.
You can check the internal storage usage on your phone to see what the "other storage" contains:
Go to Settings > general.
Go to iPhone storage
See which are the files that take up the most space.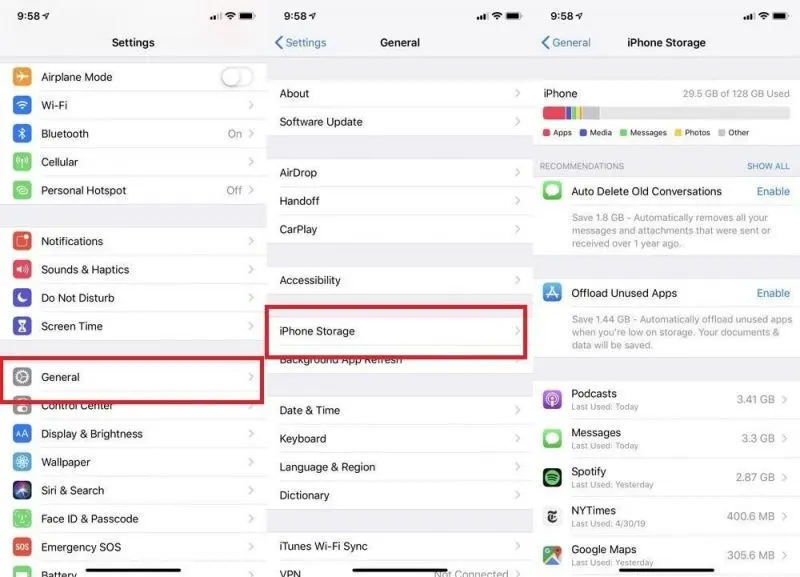 How do I get rid of system storage on my iPhone?
System storage in your iPhone consists of two types of files:
Files needed to run the operating system
Temporary files such as backups and logs.
Here's how to get rid of system storage on iPhone – this is actually a trick, or you might call it an iPhone bug. As strange as it may sound, it works!
Run iTunes on your computer
Connect your iPhone via USB cable.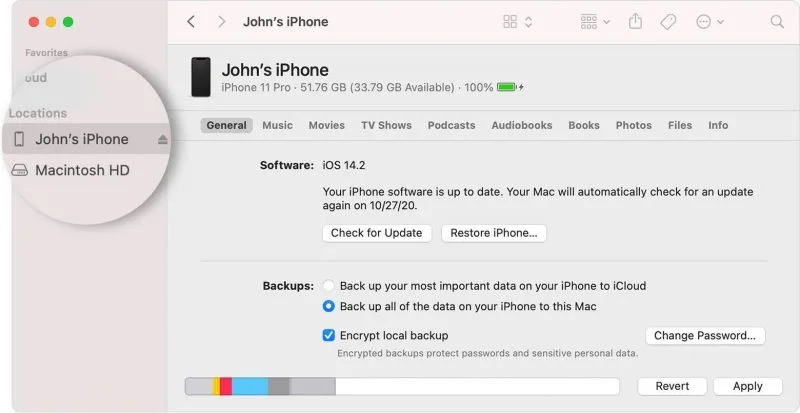 Enter your device password to unlock it
Leave your iPhone connected to iTunes for a few minutes.
Relaunch Settings and check system storage. It should be revised and recalculated.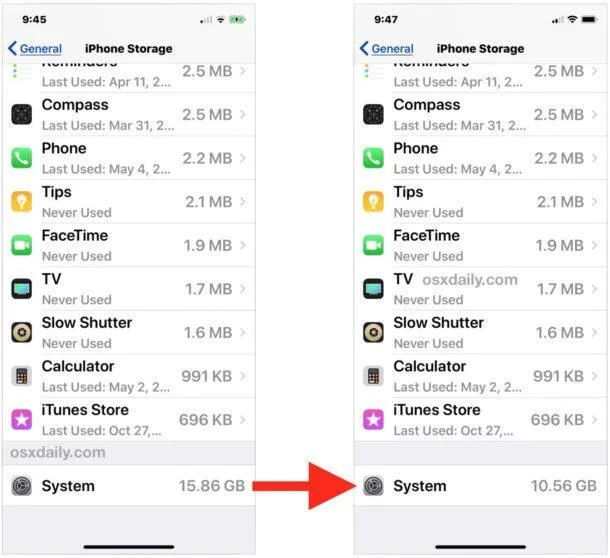 Why does my iCloud storage keep filling up?
Backups can be the reason why your iCloud storage is always full. This is because your iOS device is set to automatically backup the files to iCloud and never remove them.
You can delete old backup files to free some valuable storag:
Go to settings>your profiles>iCloud
Tap manage storage.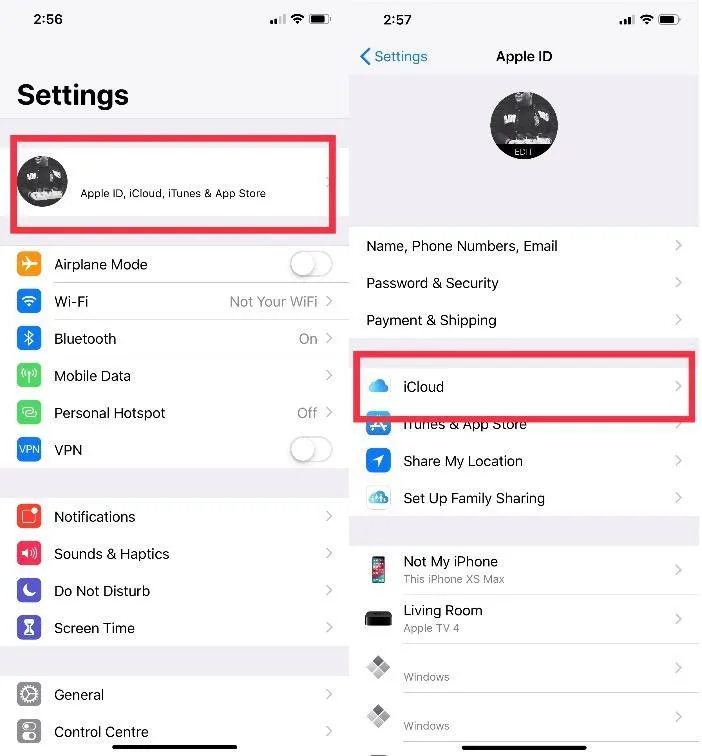 Tap on Backup > Device and select "Delete backup" to delete files.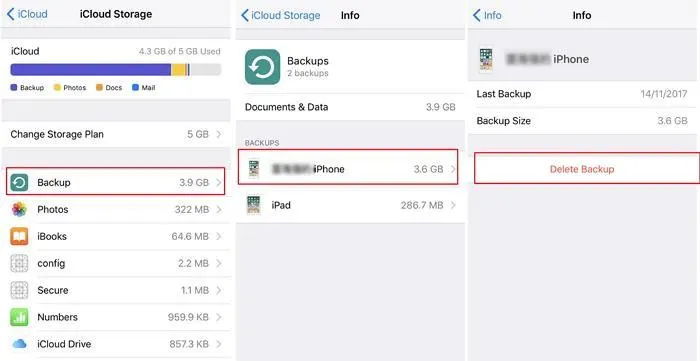 Does deleting emails free up space?
Emails are stored on the cloud server and not on your phone's internal storage. Thus, deleting emails will only free up space from the cloud service you're using, either Google Drive or iCloud.