Play Store is Google's universal app store whereas Galaxy Store is Samsung' app store. How do they compare?
| | |
| --- | --- |
| App count | With 3M+ apps, Google Play Store is much larger than Galaxy Store |
| Target devices | Galaxy Store is aimed at Samsung devices while Play Store is for all Android devices. |
| Available Options | The Play Store has more options e.g. Play Pass which the Galaxy Store lacks. |
| Interface | Both have a similar clean UI, Galaxy Store's is slightly better |
See also:
Google Messages vs Samsung Messages
Samsung Email vs Gmail
Samsung Account vs Google Account
Samsung Keyboard vs Gboard
Should I install apps from Galaxy Apps or Google Play?
Both Galaxy Store (also known as Galaxy Apps) and Play Store let you install Android apps.
Whichever app store you choose to install an app from, you'll typically need to use the same store for updating the app – you typically can't auto-update Play Store apps from the Galaxy Store.

Some apps, however, can be updated from both Galaxy Store and Play Store. An example is Zoom Cloud Meetings.

If you have a Samsung phone, most users recommend going through the Galaxy Store to update pre-installed Samsung apps, but choose the Play Store to install other apps.
You'll likely install an app from Galaxy Store if it doesn't exist in the Play Store.
On a non-Samsung phone, you need to go through the Google Play Store as the Galaxy Store isn't available on your device.
Galaxy Store pros & cons
Pre-loaded on Samsung Galaxy smartphones, Samsung Gear, and feature phones (e.g. Samsung Duos and REX).

You can use the app store to update pre-installed Samsung apps on your Galaxy phone along with other apps downloaded and installed from it.
App auto-update option available
Available in the Chinese market
Has dark mode (depends on the system theme)
Clean and simple user interface. Convenient download button for each app, unlike Play Store
CON: you can no longer have paid apps on your new device if it isn't a Samsung Galaxy phone.
CON: cancellation or refund for purchased apps is generally not allowed once the download of a purchased app starts.
Google Play Store pros & cons
Over 3 million apps
Pre-installed on certified Android devices. Supported on some Chromebooks.
Switching to new Android device is easy for both free and paid apps as Android will auto-reinstall previously installed apps on new device.
Greater variety of updatable apps.
Apps generally more up-to-date vs Galaxy Store.
Apps auto-update
Clear refund policy for apps, games, in-app purchases, subscriptions, ebooks, and other products

Has dark mode irrespective of the system theme.

Clean user interface that makes it easy to find apps
CON: UI: you have to long press on an app and tap Install to rapidly install it
CON: not available in the Chinese market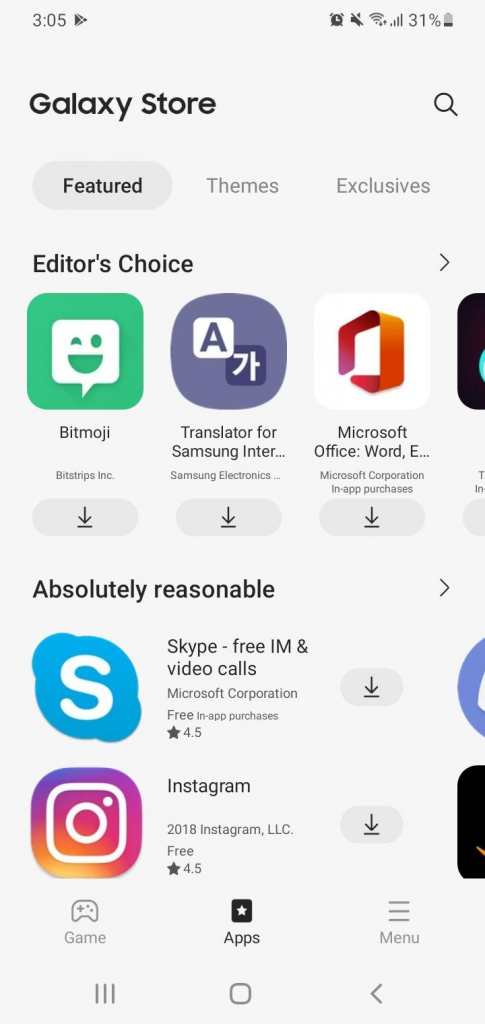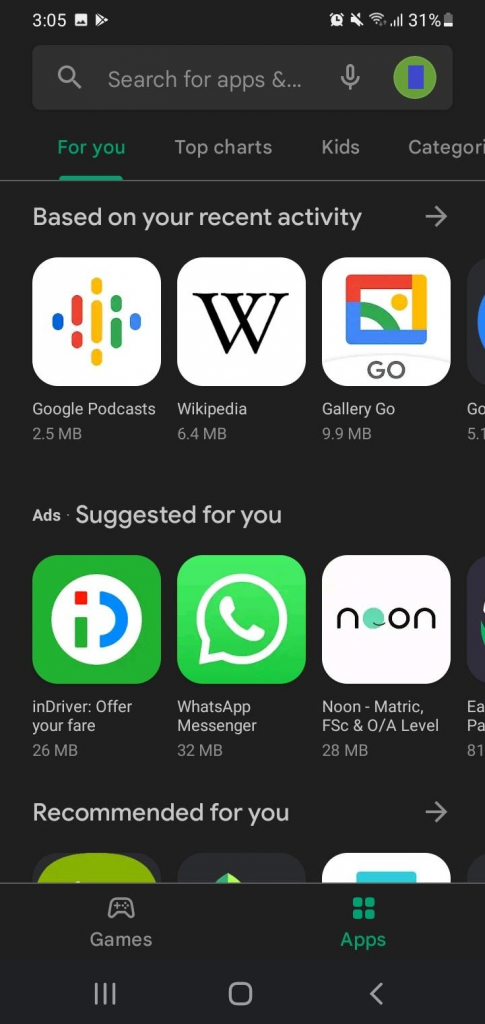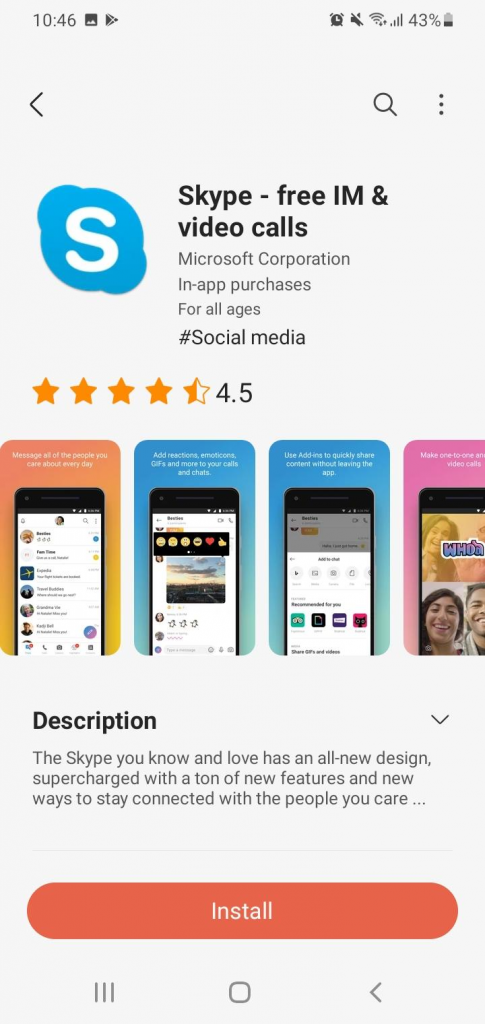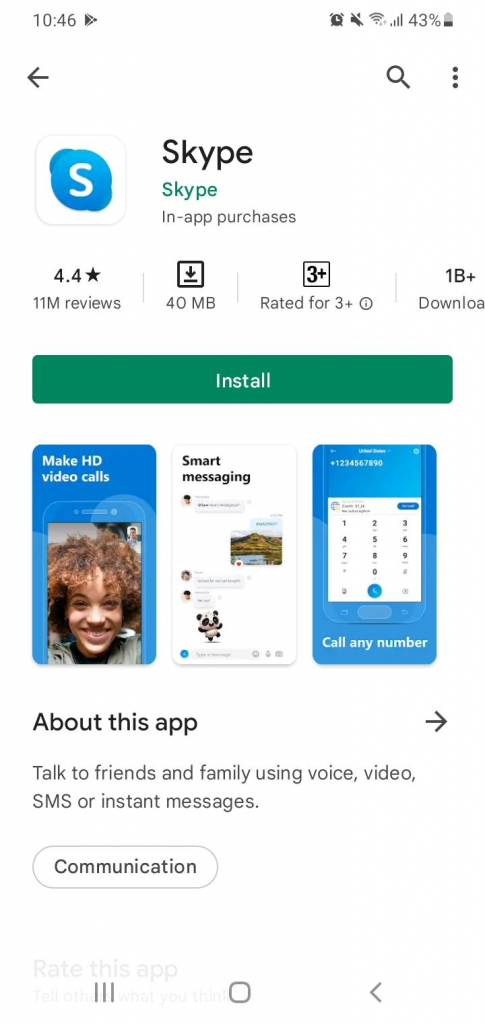 Do I need Galaxy Store on my phone?
If you own a Samsung Galaxy phone, you may want to primarily use the Samsung Galaxy store. Here are some reasons:.
1. Update pre-installed apps
Your Samsung phone comes with many preloaded apps such as Samsung Calendar, Samsung Keyboard and Clock, etc. These apps which are specific to Samsung devices are only updatable via the Galaxy Store.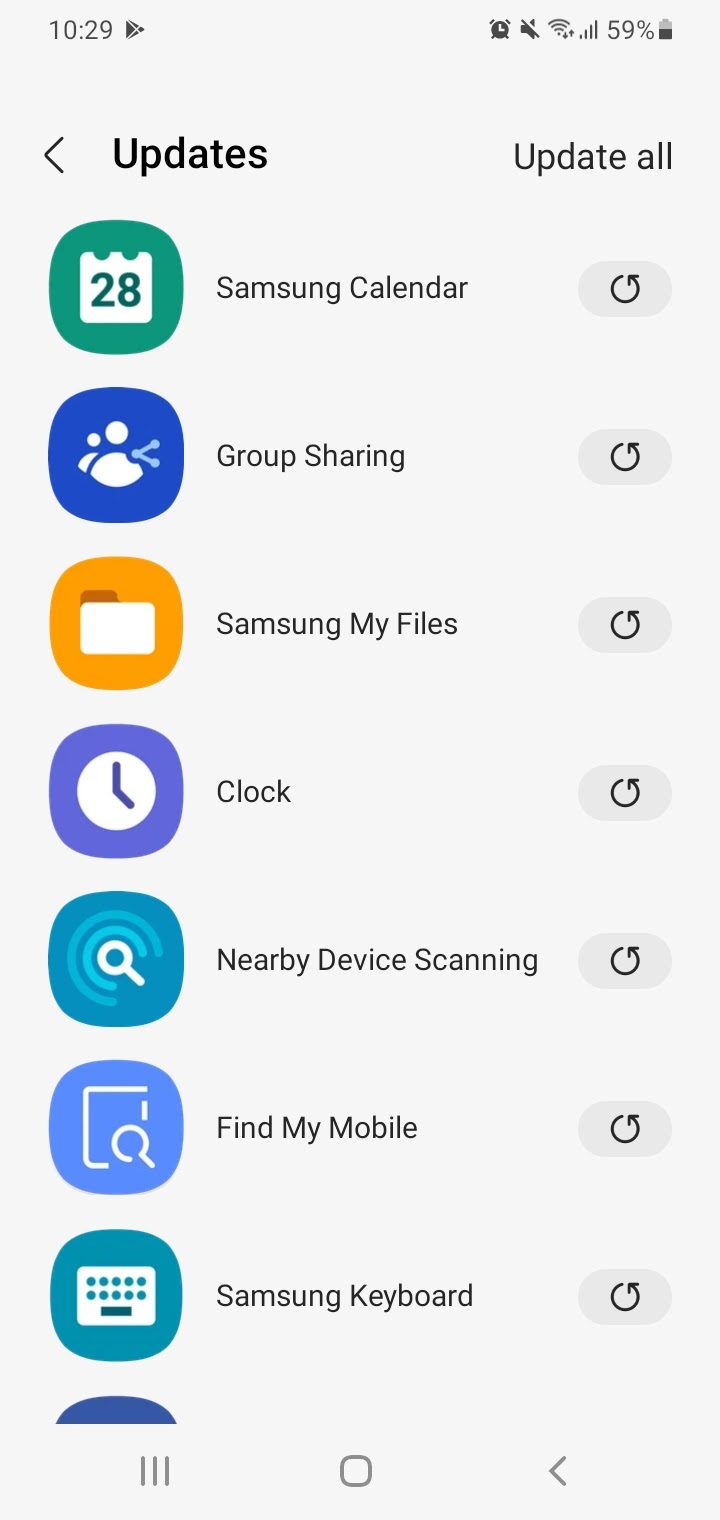 2. Install apps and games limited to Samsung devices
Even though Play Store is way ahead in the app count, some apps are only available on Samsung Galaxy Store but not on Play Store.
A popular example is Good Lock which offers several customization options for different elements of the user interface, such as the lock screen, notification shade and more. It's designed specifically for Samsung devices.
Also, some very popular games such as Fortnite are only available on the Galaxy Store.
3. Get Samsung-specific icon packs, themes, and more
You can also get icon packs, themes fonts, and more through the Galaxy Store which are specifically designed for the default launcher on your Samsung phone and are optimized to work on a Samsung device.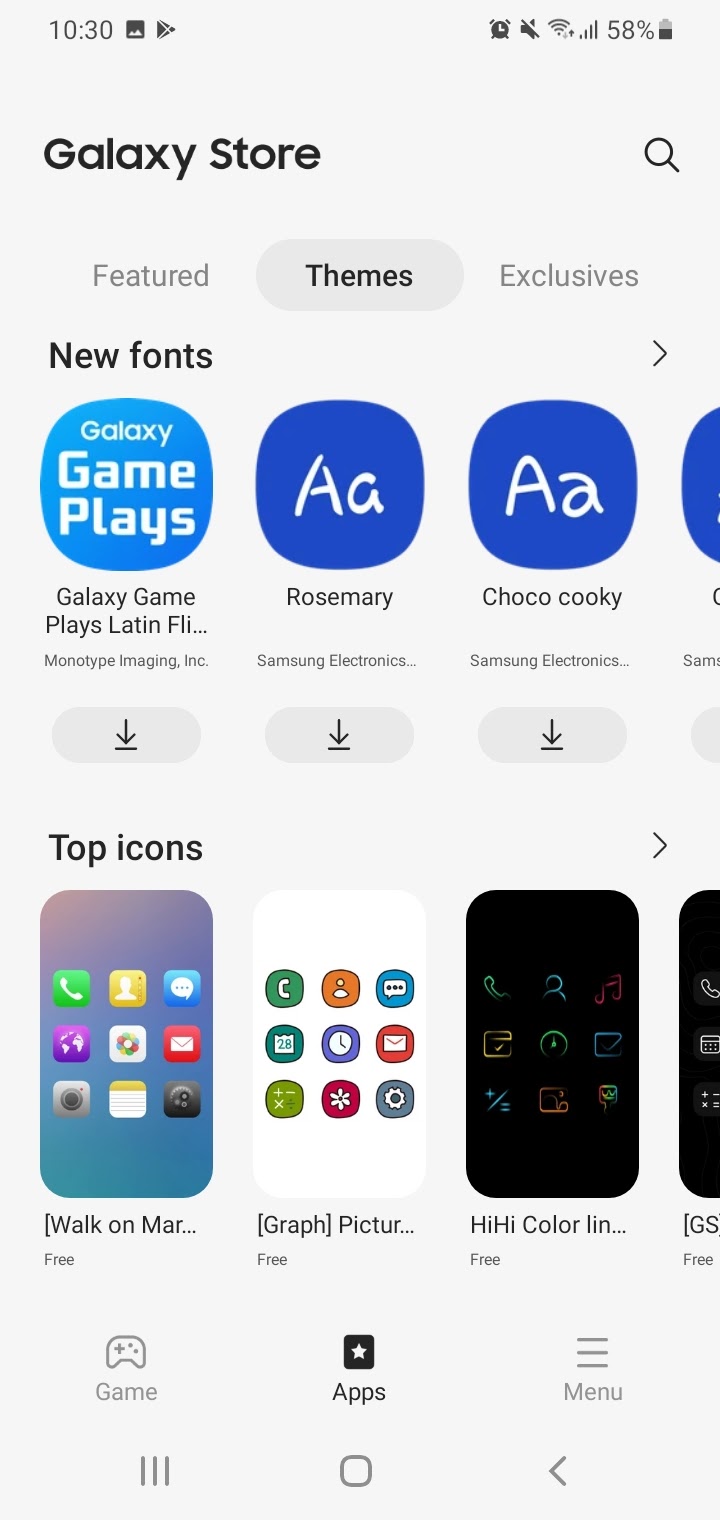 Do I need Google Play Store app?
If you are using a non-Samsung Android device, you need and should be using the Google Play Store to download and install apps and games.
Even if you use a Samsung phone, it's generally a good idea to use the Play Store for install regular (non Samsung) apps.
This way, if you later move to a non-Samsung Android phone, you'll be able to conveniently reinstall apps, especially those you have bought, on the new device through Play Store.
Many apps and games are also only available through the Play Store but not found in Galaxy Store.
For apps that are found on both the app stores (e.g. Instagram), it's generally recommended to install them from the Play Store as it often has more recent updates than the Galaxy Store.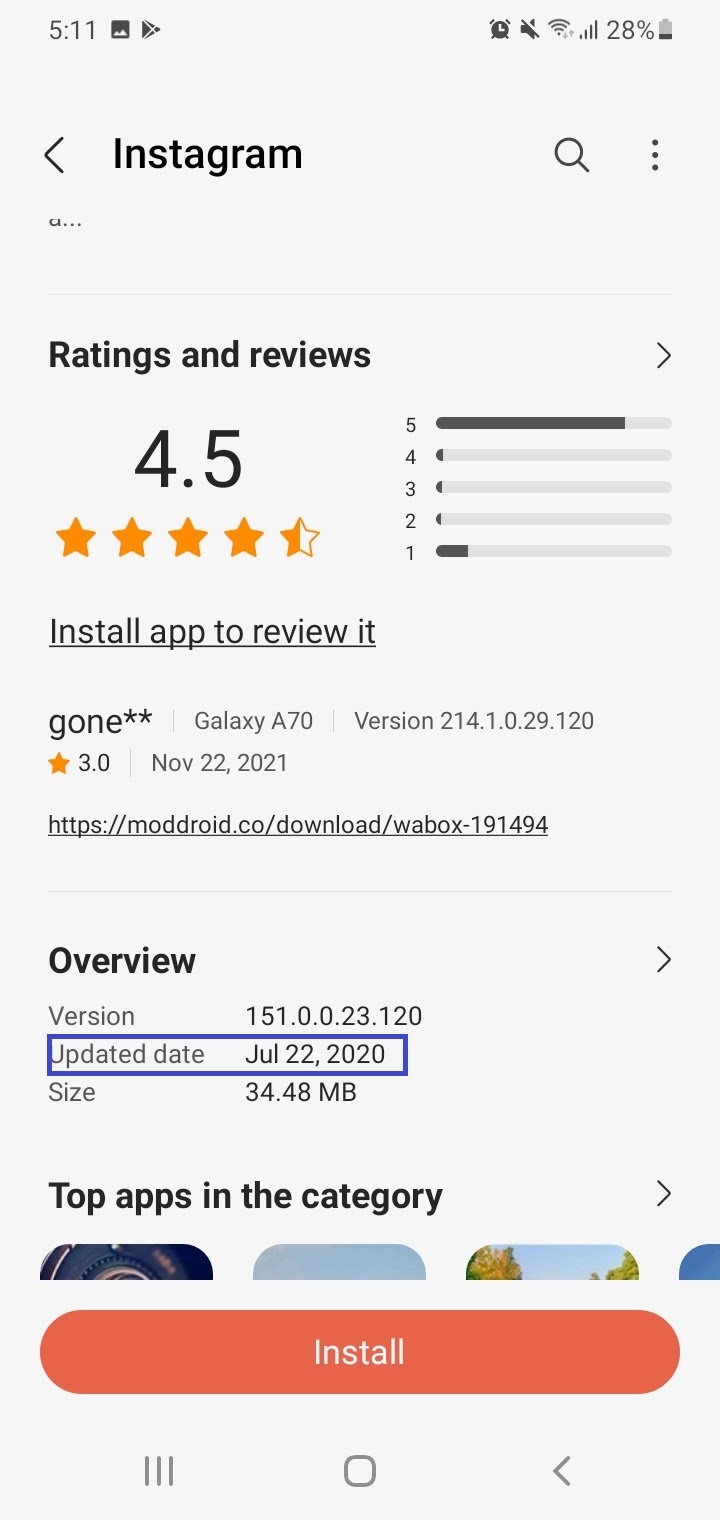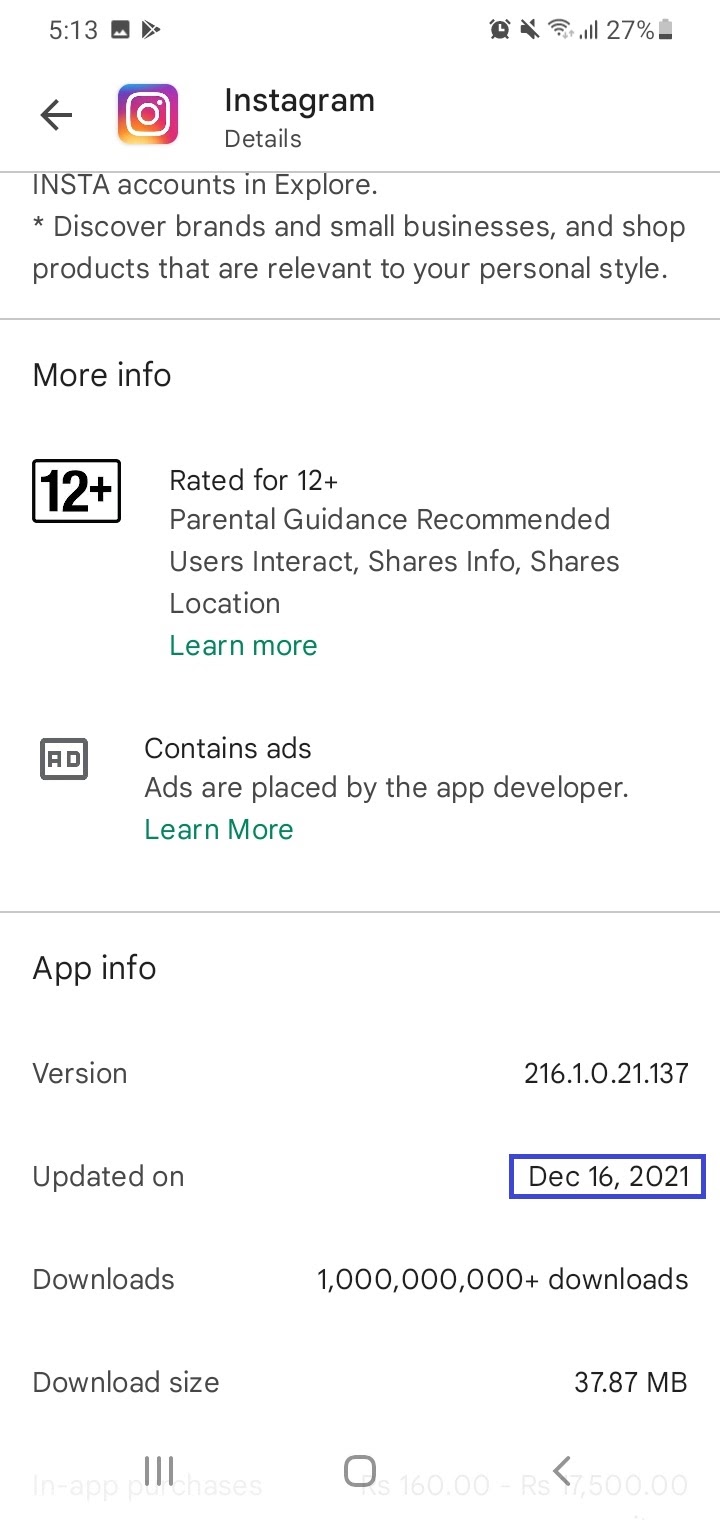 Galaxy Store Play Store
See also: Is It Safe To Uninstall Google Play Services?
Is it safe to download from Galaxy Store?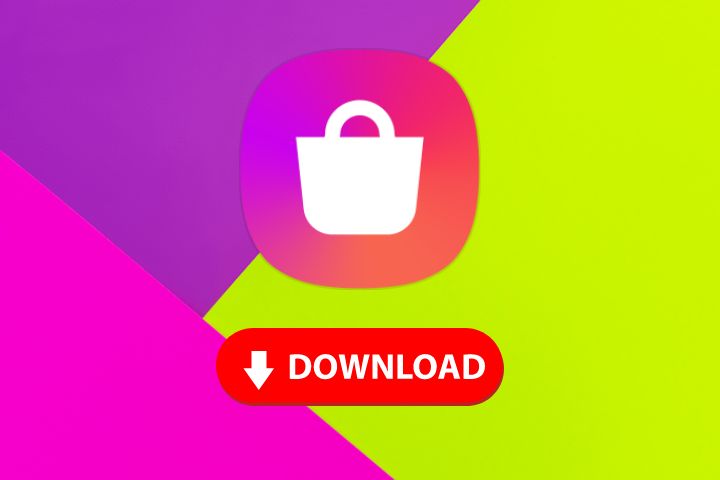 It's generally safe to download apps from Galaxy Store as the app store is managed by Samsung. According to them, all apps are scanned regularly for malware before being downloaded.
Google Play Store, for its part, has a dedicated security feature named Google Play Protect which not only checks apps before you download them, but also warns about and deletes any harmful apps found.
As a best practice, you should only download trusted apps from the Galaxy Store, i.e. those with many good ratings and reviews, and be cautious about newer apps and those without reviews.
Galaxy Store vs Play Store: which one has better apps?
Both Galaxy Store and Play Store allow installing Android apps; Which app store has better apps depends on a few things:
Why some Galaxy Store apps are better
Galaxy Store has apps which are optimized for Samsung devices and made especially for the One UI user interface found in such devices. This isn't the case with all Play Store apps.
For example, the PUBG game installed from the Galaxy Store performs more smoothly compared to that of the Play Store, which has lagging issues initially.
You can also download themes, icon packs, fonts, and more that are tailored to work with your Samsung device, including those provided by Samsung.
Some apps in the Play Store won't even function correctly on some devices, and some don't receive regular updates.
Why some Play Store apps are better
Play Store apps often have an upper hand as developers tend to update a specific app on the Play Store first before doing so on other app stores like Galaxy Store.
Thus, you'll often get the latest features and bug fixes for an app installed through the Play Store earlier than if the same app were installed via the Galaxy Store.
As the Play Store is way ahead for app count, there are many apps that are missing on the latter. For instance, you need to go through the Play Store to install WhatsApp Messenger on your Samsung device.
Galaxy Store vs Play Store: which is better for buying apps?
When it comes to purchasing apps, Google Play Store is the preferred choice of users over Galaxy Store.
The reason is that you can install paid apps on any new Android phone, including Samsung. You can also install paid apps on more than one Android device regardless of the manufacturer.
This requires that your old and new devices be signed into the same Google account you made the purchase with.
In contrast, only if you switch to another Samsung Galaxy device will you be able to reinstall apps and themes without purchasing again.Otherwise, your apps and themes purchased through Galaxy Store will be stuck on your Samsung phone.
If you do switch to another Samsung device, you'll need to use the same Samsung account you used to purchase the apps or themes.
Can I use both Galaxy Store and Google Play Store on my device?
If you are using a Samsung Galaxy phone or tablet, you can use both Galaxy Store and Google Play Store. Your Samsung device comes with both Galaxy Store and Play Store installed.
If you use a non-Samsung Android device, you can only use Google Play Store and not Galaxy Store, which is limited to Samsung devices.
Even though you can find Galaxy Store APK files on different APK download sites, these APKs are primarily intended for Samsung Galaxy devices and would not install and work properly on a non-Samsung Android device.
Which play store is faster and provides better performance?
Users generally feel Galaxy Store is faster and performs better compared to Play Store, with faster download and install speeds.
If a download is interrupted due to a network issue, Play Store will cancel the download and restart it, while Galaxy Store will resume the download where it stopped.
Note that speed and performance vary among different devices and also depend on other factors such as network speed.
On the other hand, Play Store downloads a smaller, incremental piece of the app when updating an app, which resuls in a smaller download size. However, installation takes a bit more time to merge the update increment with the installed app.
Play Store's small-size downloads result in lowered data and Bandwidth usage for the user and for Google.
In contrast, when updating an app, Galaxy Store re-downloads the full new app package and installs it in place of the old version.
See also: How Do I Stop Google Play Services From Using Data?
Which play store is better for backup of your device?
Google Play Store is better for device backup because it syncs with your Google account on any Android phone including a Samsung device.
You can easily make a backup and then restore it on another device of any brand. All the apps you've installed will also be restored.
For making backups through the Galaxy Store, you need to create a Samsung account – required to access the Galaxy Store. If you don't wish to create one, you'll be limited to using the Google Play Store (using your Google account) for backing up your device.
If you do have a Samsung account, you can use it to backup your device data including installed apps on your Samsung smartphone, and restore the data to a new Samsung phone. The data is backed up and restored using Samsung's cloud service Samsung Cloud.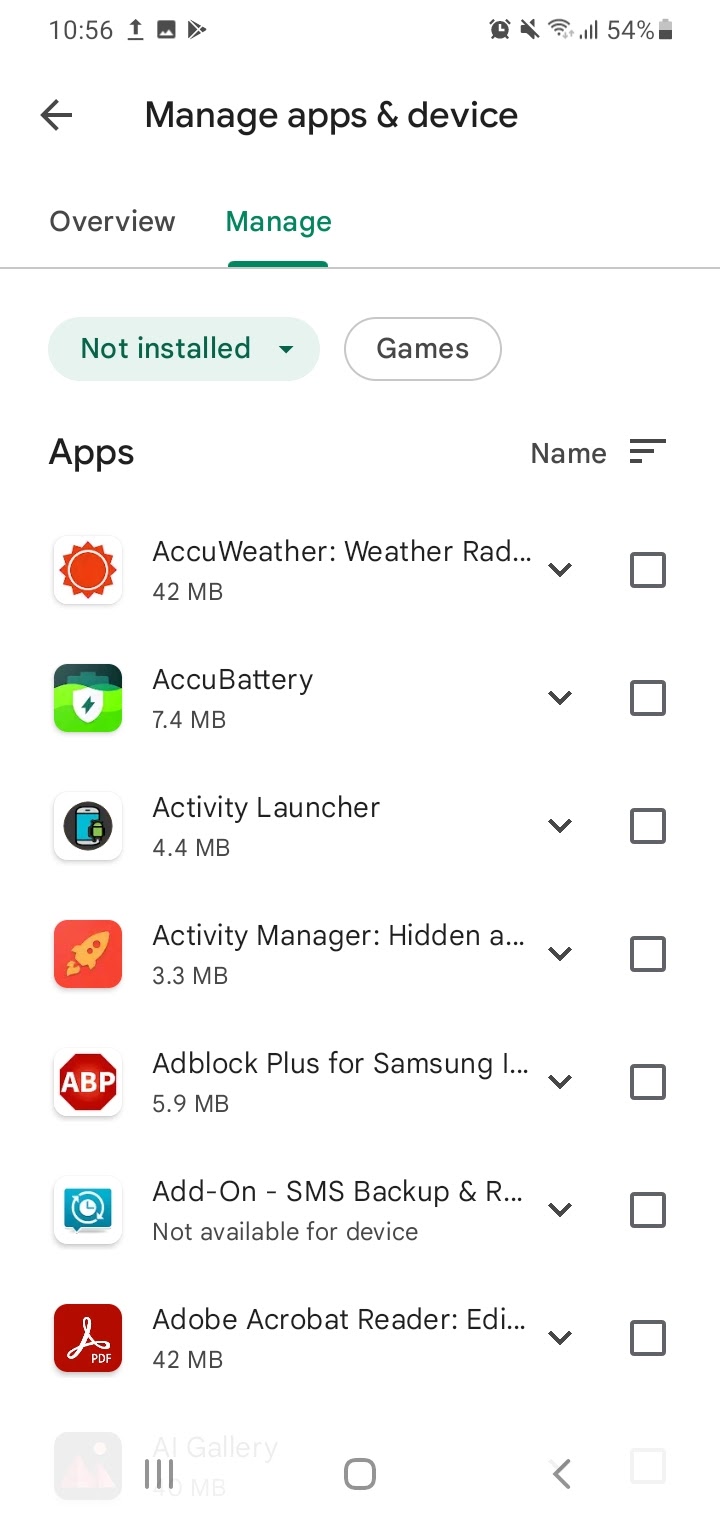 Backup and restore via Google Account Backup and restore via Samsung account
Does Galaxy Store have the equivalent of Play Pass?
One of the things that set the Play Store apart is the Google Play Pass, a subscription-based service that gives you access to hundreds of games and apps.
Currently, there is no Galaxy Store equivalent to Google Play Pass, though you can of course buy individual apps and make in-app purchases for apps on the Galaxy Store.