Apps like YouTube, Facebook, and Messenger can receive a massive number of notifications daily, which can make your day a lot noisy. Many smartphone users wonder whether it's possible to mute an individual app.
You can silence an app from your phone's settings or by enabling Do Not Disturb e.g. for games, music, or movies. When you do so, you will still receive notifications from the apps but without alert sounds, the phone will quietly display them on the notification bar.
See also: Can't Turn Off Do Not Disturb On Android
How do you mute individual apps on Android?
In an Android device, the built-in notification settings can easily mute an individual app by letting you set how you want to receive the notifications – whether they should sound an alert or quietly show the notification on your lock screen or on the notification panel (aka status bar).
Follow the steps below to mute or silent an app's notification on an android phone:
Tap on Settings.
Scroll down and tap Apps.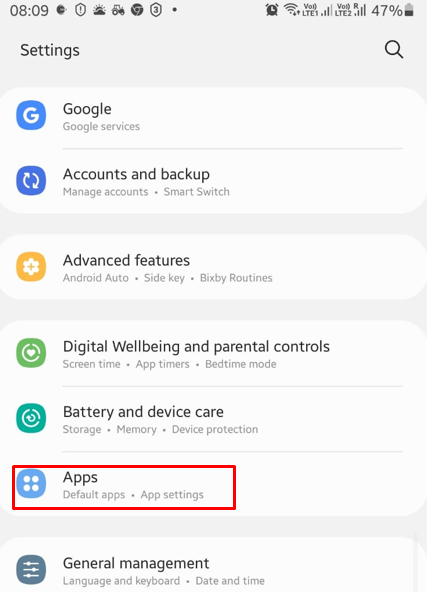 Locate and select the app that you want to mute from the list.
Tap notifications from the app's settings page.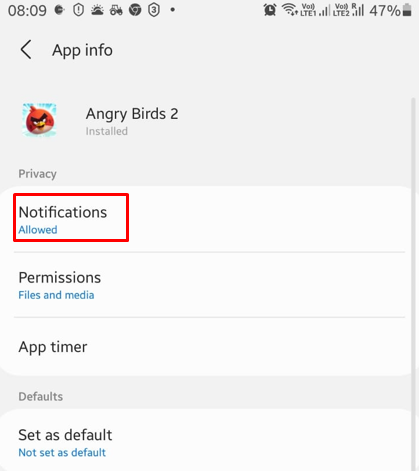 You will find all the types of notifications for the chosen app. Select a category.
Select Silent to mute the notifications for the selected category.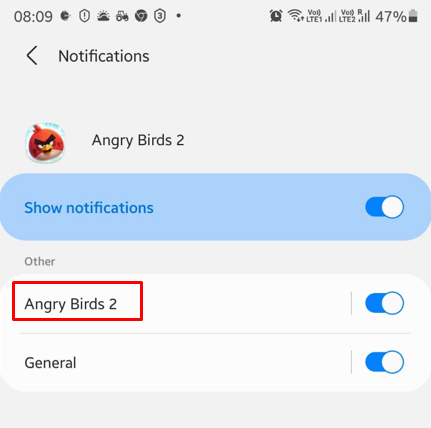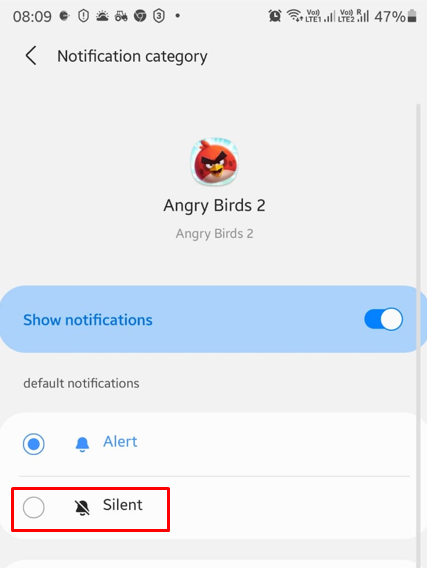 The phone now will quietly add the notification to your lock screen and status bar.
See also: How Do I Turn Off Call Sound On Android?
Is there an option or app to turn off sound from a selected app in Android without muting the whole phone?
A built-in feature is available in an android phone to either turn off the sound from a selected app through notification settings or even mute the whole phone using Do Not Disturb mode.
These features and settings can only mute the notifications but cannot change the volume level for the sound coming from an individual app. To do that, you can install certain apps from Google Play Store (keep reading)
How do I control the volume on an app?
Phones, by default, will only give an option to change the overall phone volume, which includes the media, calls & notifications, and system volume.
To change the volume for an individual app, you can install a third-party application from the Google Play Store.
When you use a third-party application to adjust the volume for an individual app, it saves the preferred volume level for the app. On launching the app, it will restore the previously saved volume level.
An example of such apps is "App Volume Control" by SpyCorp on Google Play Store. Follow the below steps to enable volume control:
Install the "App Volume Control" app.

On opening the app for the first time, you will be asked to enable its accessibility plugin, which allows the app to modify the volume levels for a specific app.
To enable the plugin, click the button in the middle, which will take you to the Accessibility page from the phone's settings.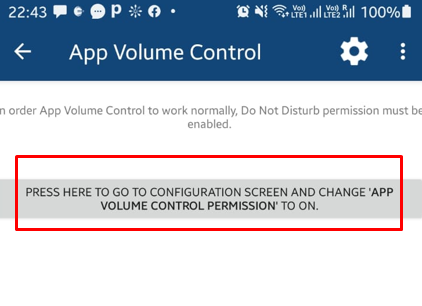 Find "App Volume Control" from the list and enable the toggle button. Now switch back to the app.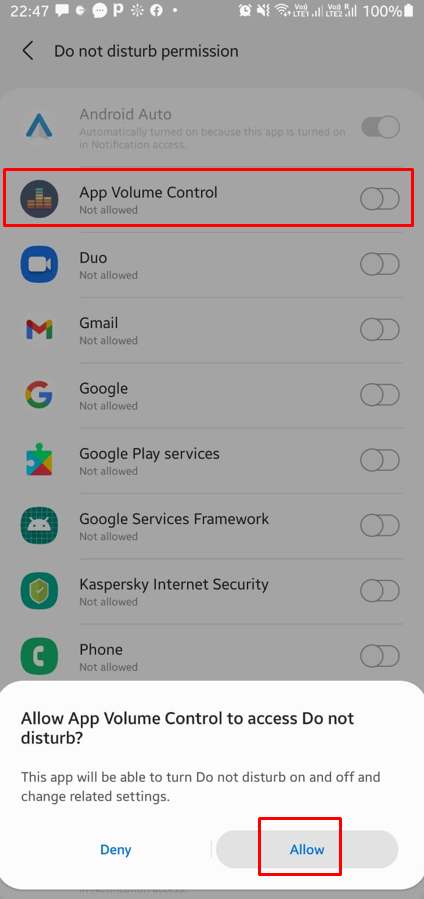 Enable the accessibility service.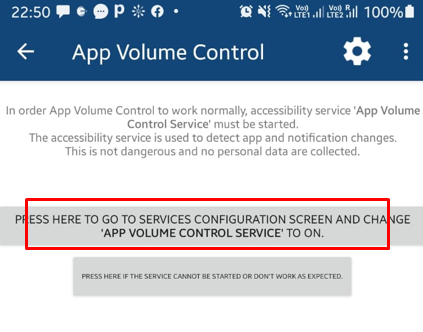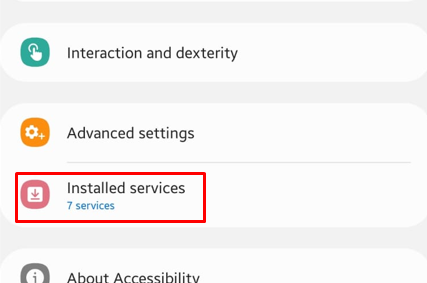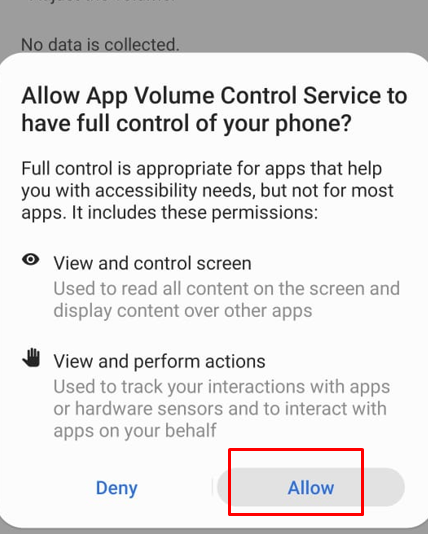 Enable the toggle before the apps you want to set individual volume levels for in the app list.
Adjust the sound levels for the app.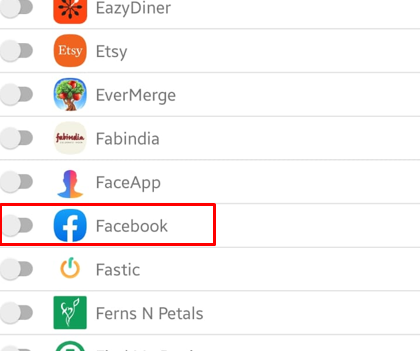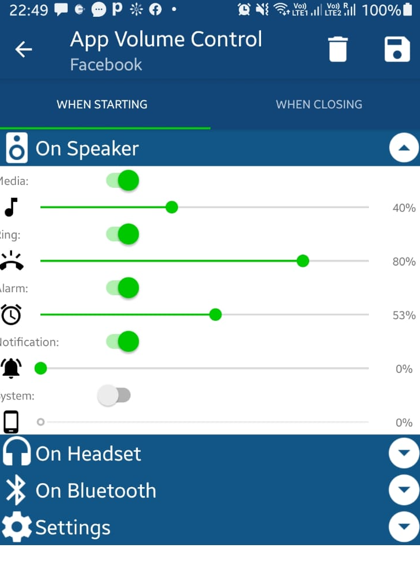 How do I silence certain apps at night?
To mute notifications of a particular app, there are two ways :
By muting the individual app's notifications. To silent notification for a specific app, follow the steps discussed in the last section.
By enabling Do Not Disturb. However, this mode does not let you select apps to silence, it mutes ALL notifications on your phone, including calls and text messages, during a chosen time interval.
To activate Do Not Disturb, follow the below steps:
Open Settings > Notifications.
Locate and tap "Do Not Disturb."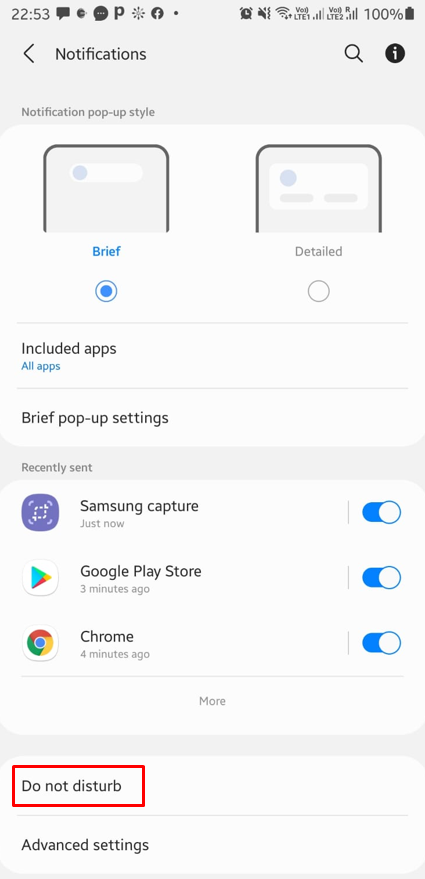 Set the time interval.
Enable the toggle beside the "Do Not Disturb" button.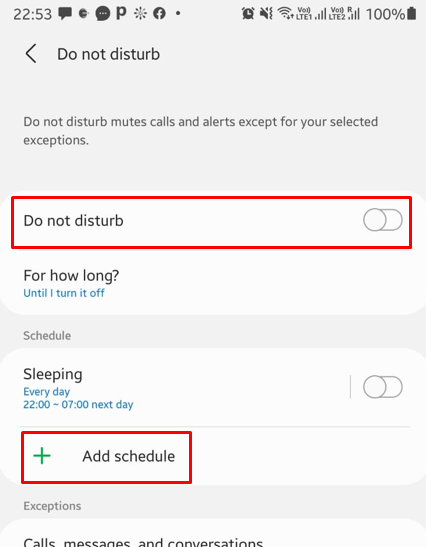 Tap "Apps" at the bottom of the page.
This displays all the apps excluded from the Do Not Disturb feature.

Click on the "+" icon.
Search for the app and select it.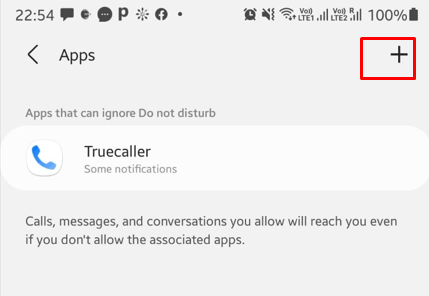 Can you mute an app on your iPhone?
It's possible to mute apps on iOS devices as well. Since the iOS12 update in 2018, Apple has rolled out several ways to mute apps:
Mute an app from the notification center
You can mute apps directly from your iPhone's home screen through the notification center. This method is a shortcut to mute or unmute an app.
To open the notification center, swipe down from the top and follow the steps below to mute the app:
Find the app you want to mute.
While holding on to a notification for the app, swipe left.
Click on Manage.
Tap on "Deliver Quietly."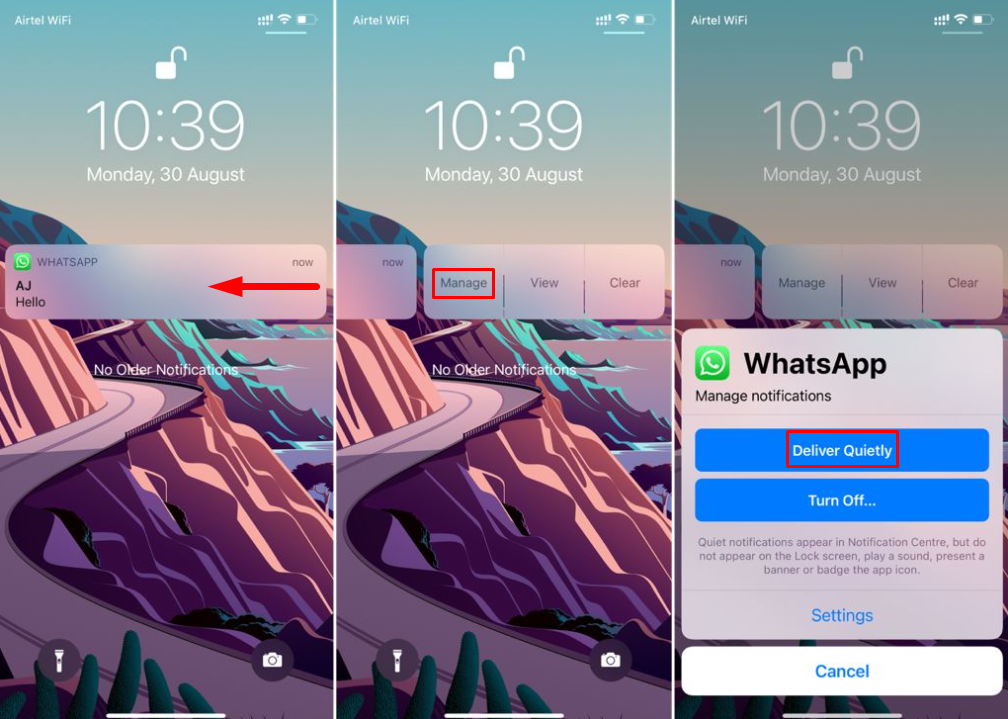 Mute apps through Settings
Follow the steps below to mute using Settings:
Open Settings > Notifications.
Select and click on the app that you want to mute.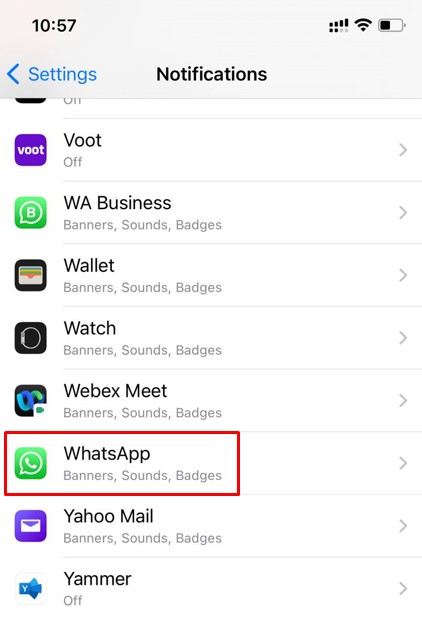 It will take you to a page with a variety of notification settings.

You can select how the notification should be shown: as a banner, on the lock screen, or in the notification center.
You can disable the notifications for the app.

Disable the alerts and toggle the switch for "Sounds."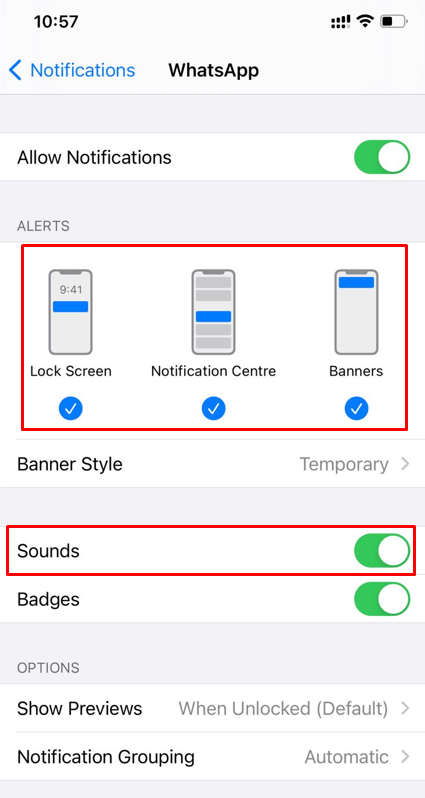 Mute your iPhone using Do Not Disturb
Do Not Disturb will be applied to all types of notifications on your phone. This feature is scheduled for a particular time interval, during which it will get enabled automatically. To enable Do Not Disturb in an iPhone, follow the below steps:
Open Settings > Do Not Disturb.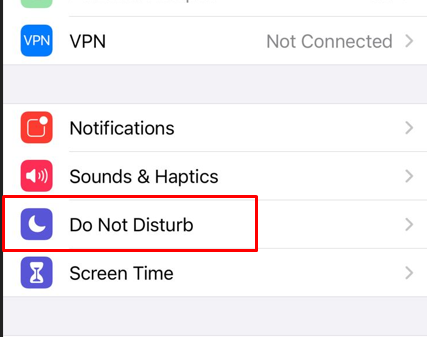 Set a schedule for the Do Not Disturb.
Toggle the button on for "Do Not Disturb."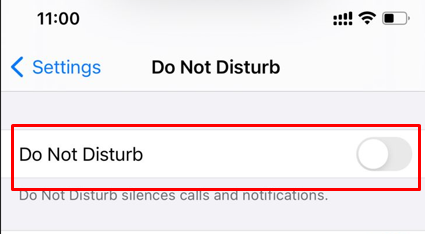 See also:
How To Stop iPhone From Muting During Calls?
Do Not Disturb Keeps Turning On iOS
Can I change the notification sound for just one app on Android?
By default, a phone will use the same predetermined tone (that you can change) for all notifications. If you have a large number of apps though, it becomes difficult to distinguish which app received a notification.
You can change the notification sound specifically for an app using the below steps:
Open Settings > Apps.
Locate and tap from the list.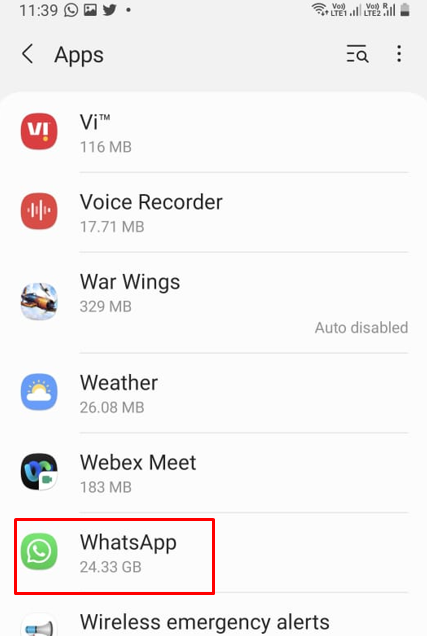 Tap Notifications.
Scroll down and tap in-app notifications settings.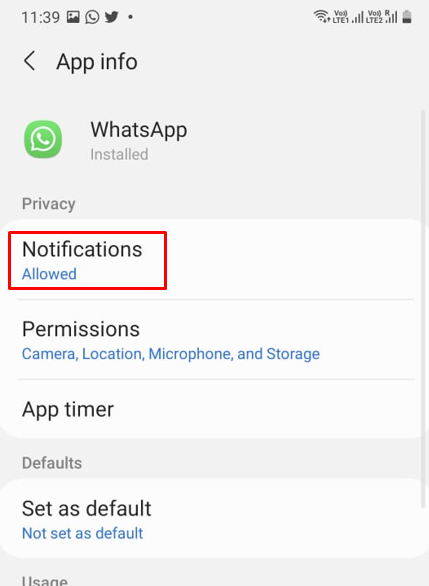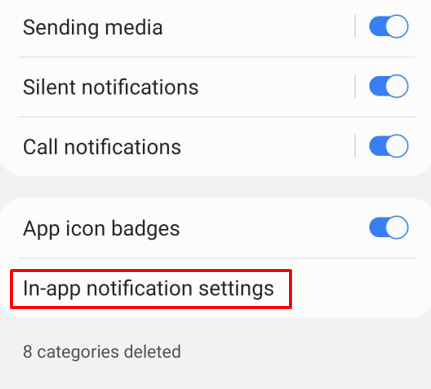 Tap Notification sound and change the desired tone from the list.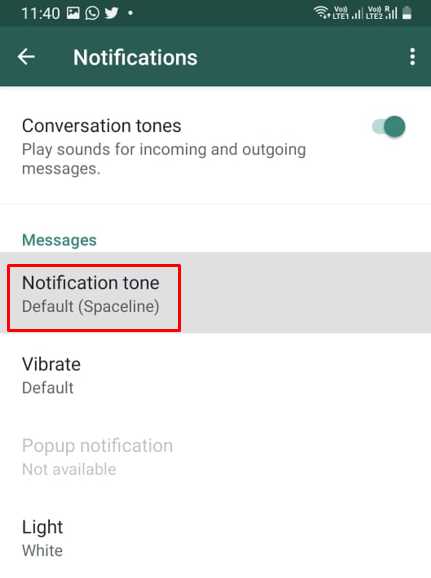 Can I make my Android app play sound even in Do Not Disturb Mode?
When switched on, Do Not Disturb, also known as DND, directs the calls to voicemail and silences the notification alerts such as calls and text messages.
The messages and calls would still show up when you wake up your phone again.
By default, DND silences all the sounds, but users can add exclusions for apps notifications and calls & text messages by configuring the DND settings.
Is there a way to silence texts but not calls?
You can easily silence texts except for calls with the help of the built-in Do Not Disturb feature. Here's how to do it:
Open Settings > Notifications.
Scroll down and tap Do Not Disturb.
The exceptions category lets you decide what notifications should be excluded from Do Not Disturb tap "Apps."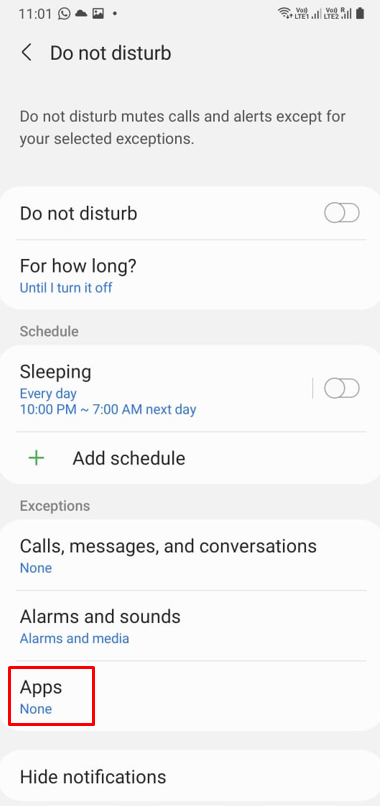 Locate the App.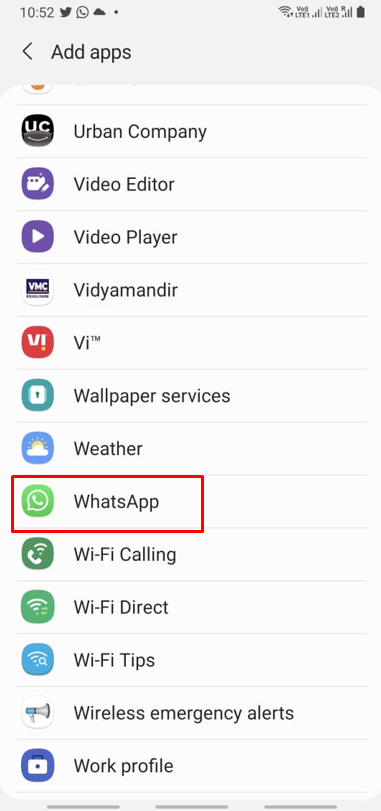 Scroll down and toggle "Call notifications" to enable notifications just for calls.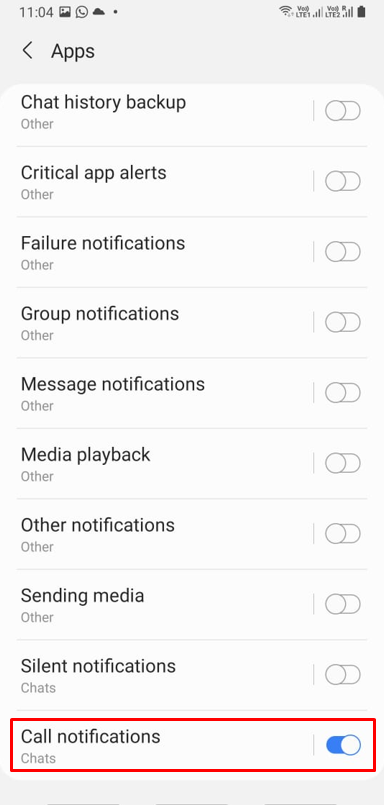 This will only notify you during an incoming call and not text messages.
Can I listen to music on my phone on YouTube and use other apps at the same time?
YouTube rolled out a YouTube Premium membership, formerly known as YouTube Red, which gives users the ability to play movies or music in the background while using other apps.
Without YouTube's Premium membership, it's impossible to play music while using other apps at the same time. Membership costs $11.99 per month. Other premium features include:
Ad-free Videos
Access to YouTube original content, such as Movies and TV Shows.
Picture-In-Picture mode (PIP) allows an app to pop up in a small floating window while working on different apps.
To watch YouTube videos or music in the background, you can use PIP by opening YouTube in a browser on your phone.
This only works with Android phones, as iOS devices restrict users from creating a popup window for YouTube even when opening it in a browser.
To open YouTube in PIP mode in Android using a browser, follow the below steps:
Make sure that Picture-In-Picture is enabled for the browser.

Open Settings > Apps.
Tap the "more" icon and select Special access.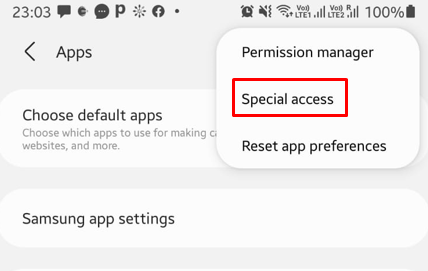 Tap Picture-in-picture.
Scroll down to your installed browser and tap it.
Enable "Allow picture-in-picture."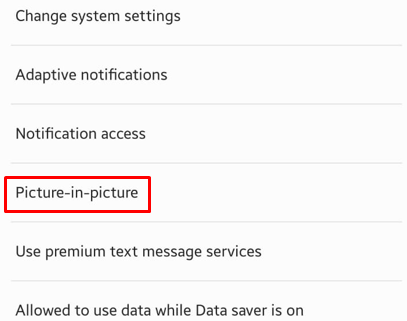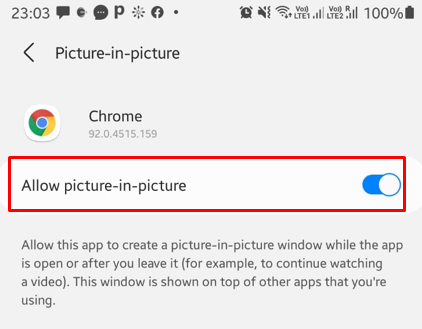 Open the browser and go to https://www.youtube.com
Start the video on the browser itself and switch to full-screen mode.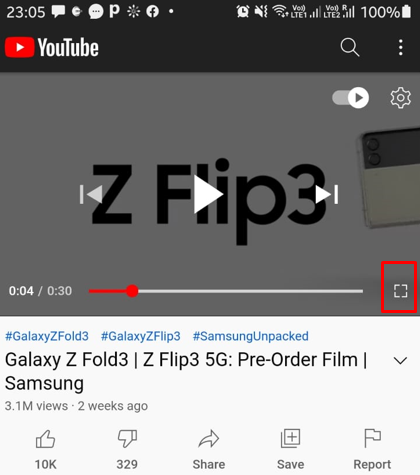 When in full-screen mode, press the home key. This will automatically pop out a small floating window with the youtube video.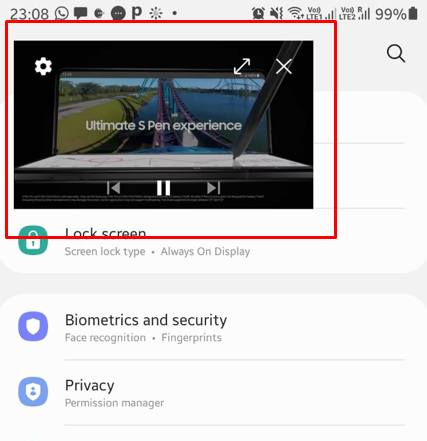 See also: How Do I Stop Apps From Lowering The Volume (Android)?
Why does my Android turn off background audio when I switch to a different app?
Music apps such as Spotify, by default, support background playing when you switch to a different app. Some apps, however, may not support playing music in the background.
For instance, games generally don't support playing sound in the background when switching to another app.
There can be multiple reasons why Android turns off the background audio when you switch to a different app:
Disabled Background Activity
Background activity refers to downloading files, updating apps in the background, regularly checking for notifications, listening to music, etc.
Apps require this setting to be switched on to enable background play. To enable this activity, follow the below steps:
Open Settings > Apps and select the app.
Tap Battery and check whether "Allow background activity" is switched on.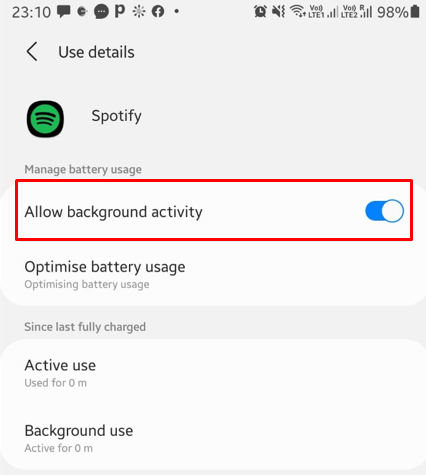 Your phone might be in Power Saving Mode
When in power-saving mode, phones reduce the processing load by temporarily stopping any non-critical background processes. Playing music is considered a non-critical background process when it comes to power-saving mode.
Make sure power-saving mode is disabled when trying to play any background music from an app.