Having some of your contacts appearing grayed out on your iPhone keeps you from sending them an iMessage, forwarding an email to them, or adding them to your emergency contact list.
If you are frequently getting frustrated by those grayed out contacts, you should find this article helpful as we will go over the most common reasons for this problem and how to easily fix it.
Why are some contacts grayed out on my iPhone?
There are several reasons you may have grayed out contacts on your iPhone, including:
The person you're trying to contact doesn't own an iPhone
Contacts & messages aren't syncing to iCloud
iMessage is turned off
Your backup is corrupt
You've disrupted network settings
Your iPhone requires a software update
You may often see grayed out contacts sending an iMessage. iMessages can only be sent to other iPhone users, so your contacts who don't use an iPhone will appear grayed out in your contact list.
You can only send text messages (SMS) to these non-iPhone contacts through your mobile service.
That said, contacts can also be grayed out for other reasons. Here's how you can fix them:
1. Sync your contacts and Messages to iCloud
If your contacts and messages are not syncing to iCloud, it could prevent you from iMessaging your contacts(iPhone users). However, you can easily fix this from the settings of your iPhone.
From the "Settings" of your iPhone, tap on your profile at the top and tap "iCloud."
Under the "Apps Using iCloud" section, tap on "Show All" and toggle on "Contacts."
Similarly, tap on "Messages" and turn it on as well.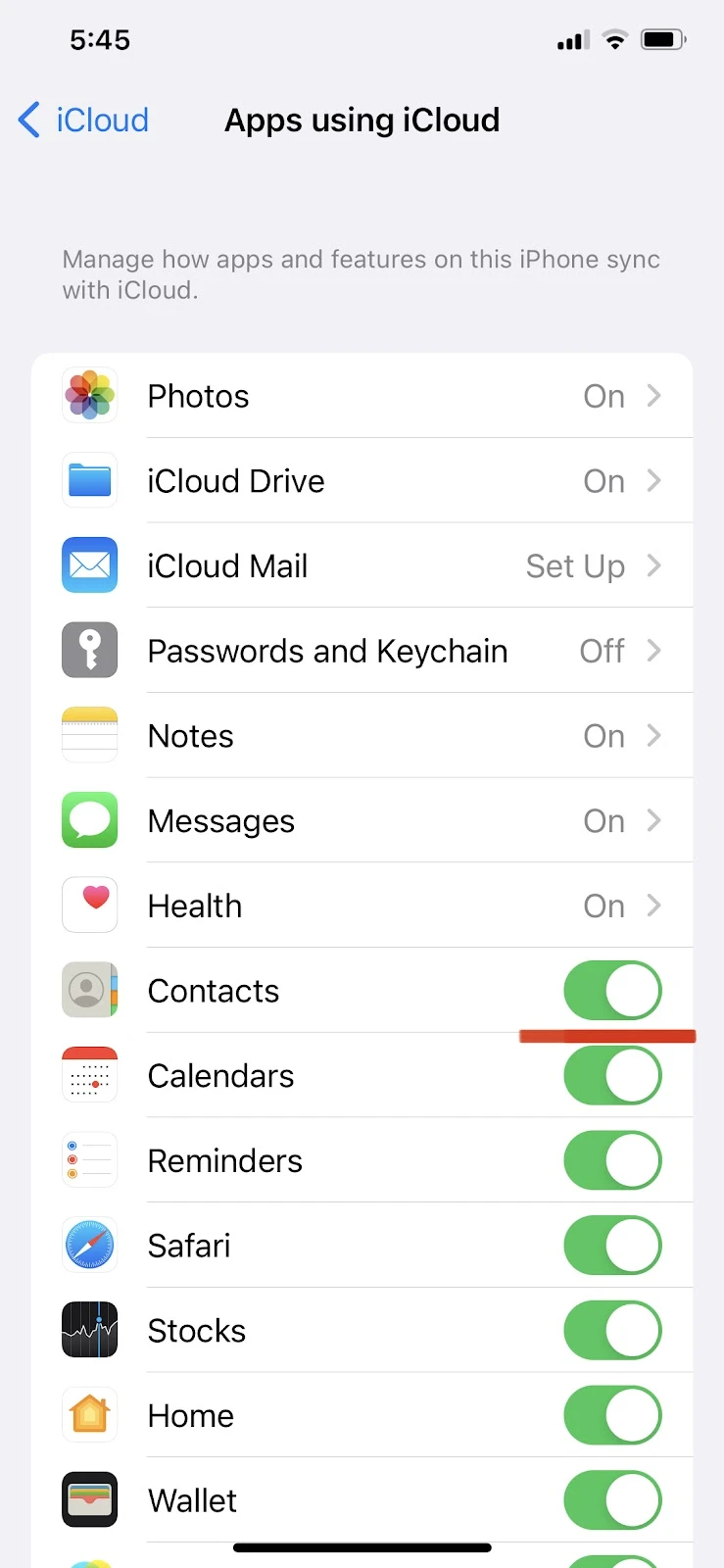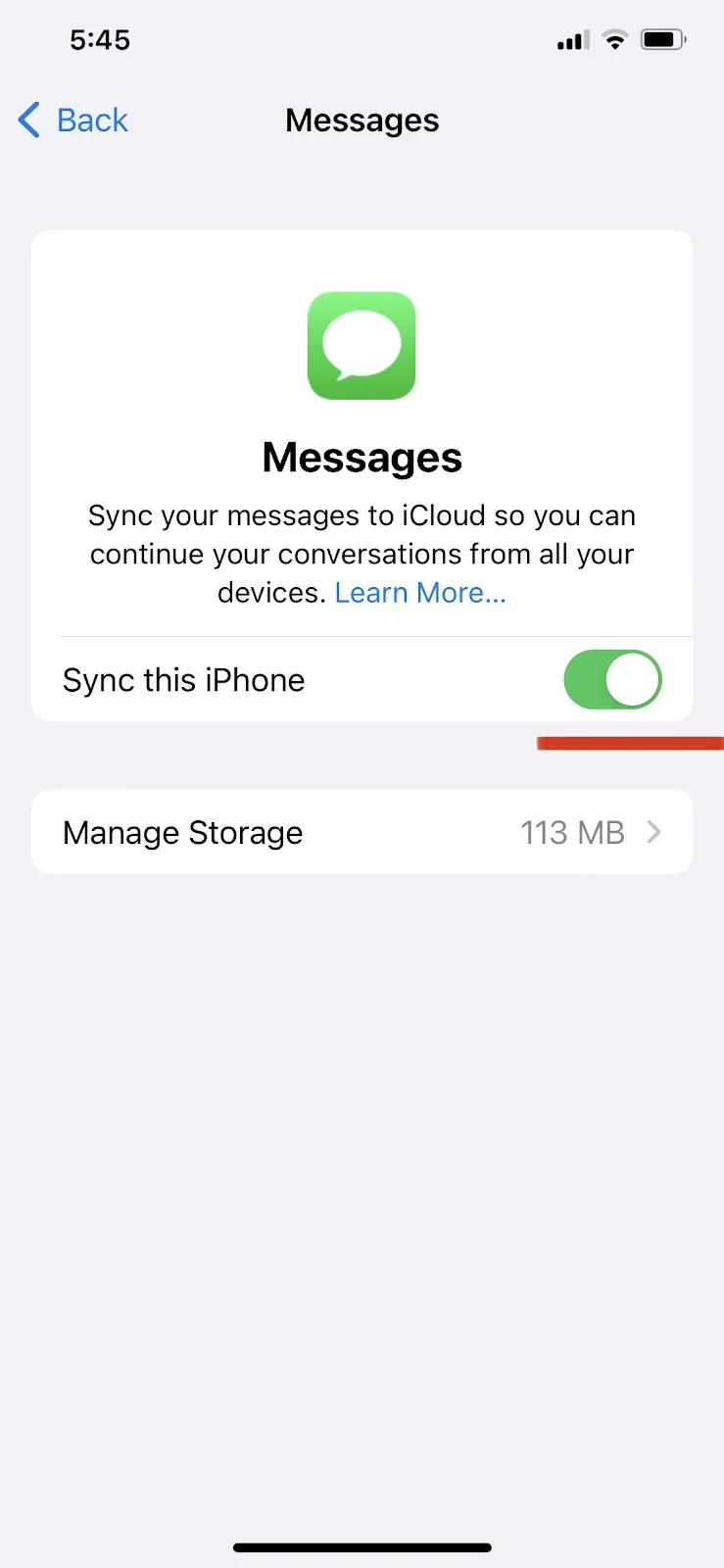 2. Turn on iMessage
Another possible reason why some of your contacts are grayed out is that you might have iMessage turned off in your messages settings.
If you have iMessage turned off, you can only send SMS messages to your contacts, even if they are iPhone users.
To enable iMessage, go to your iPhone settings, scroll down to and select find "Messages", Then toggle on iMessage.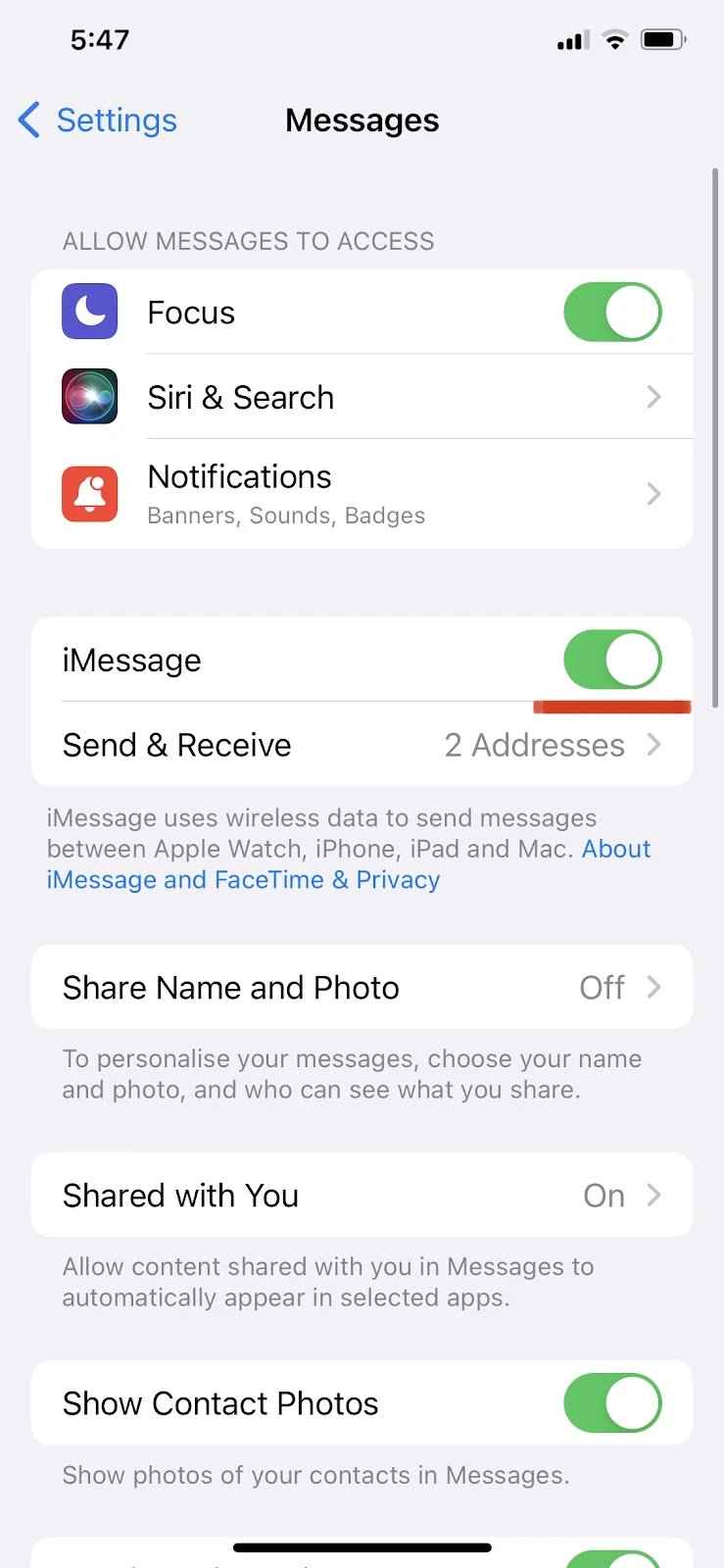 3. Make a new iCloud backup of your iPhone
A corrupt backup might also be the reason some of your contacts are appearing grey. You can resolve this issue by making another iCloud backup.
iCloud backups are incremental backups, which means that each new backup overwrites the previous one.
For more about backing up your iPhone to iCloud, see Does iPhone backup automatically? on this website.
4. Reset Network Settings on your iPhone
Since syncing contacts and messages with iCloud requires an active network connection, disrupted network settings like your WiFi and cellular network can sometimes cause the grayed out contacts issue.
You can solve this by resetting your network settings. Before doing that, make sure to turn off iMessage from the Settings of your iPhone.
Go into "Settings", select "Messages", and toggle off "iMessage".
Then from your settings, go into "General" and select "Transfer or Reset iPhone".
Then, tap "Reset" and select "Reset Network Settings."
Finally, enter your iPhone passcode to confirm.
Note that resetting network settings will remove all the connected WiFi or Bluetooth devices from your iPhone. So make sure you have your WiFi password saved elsewhere beforehand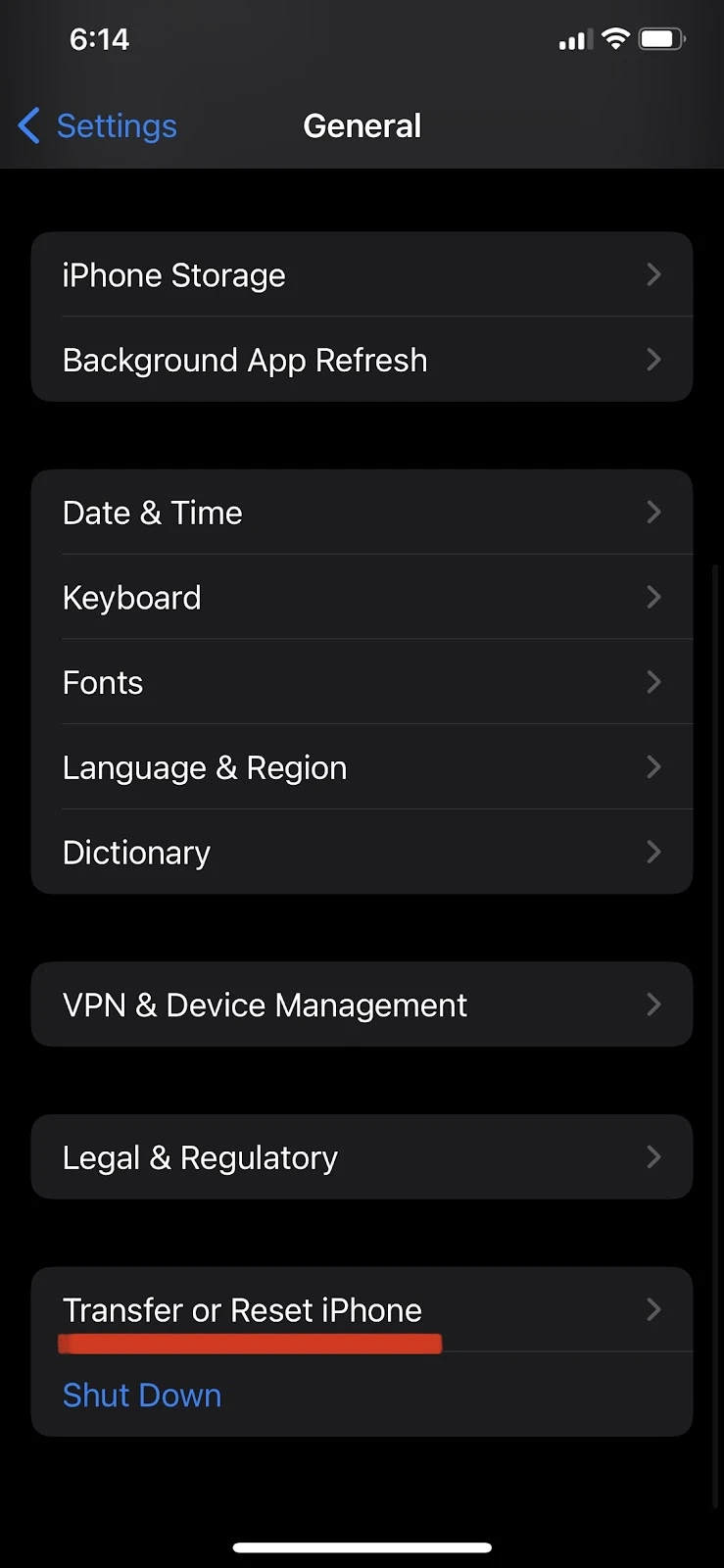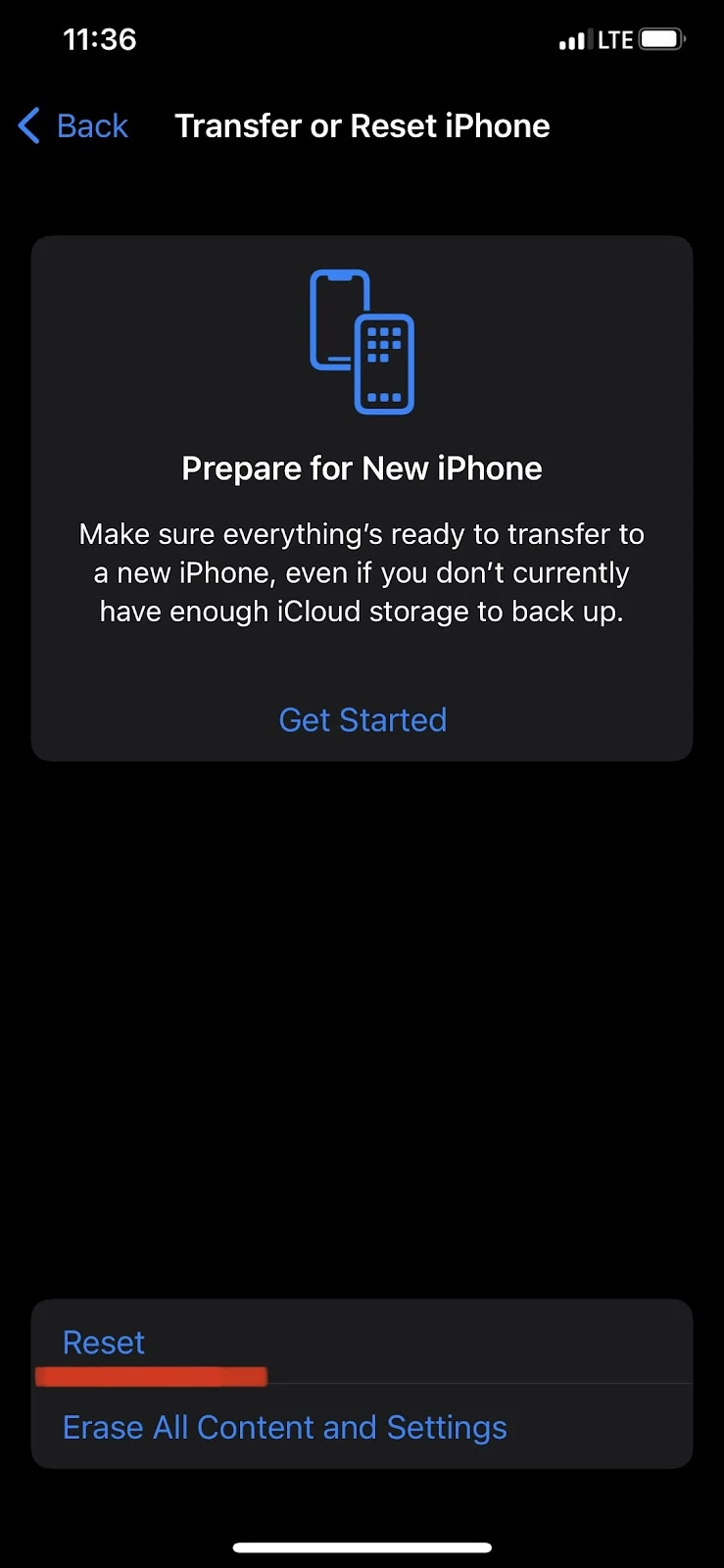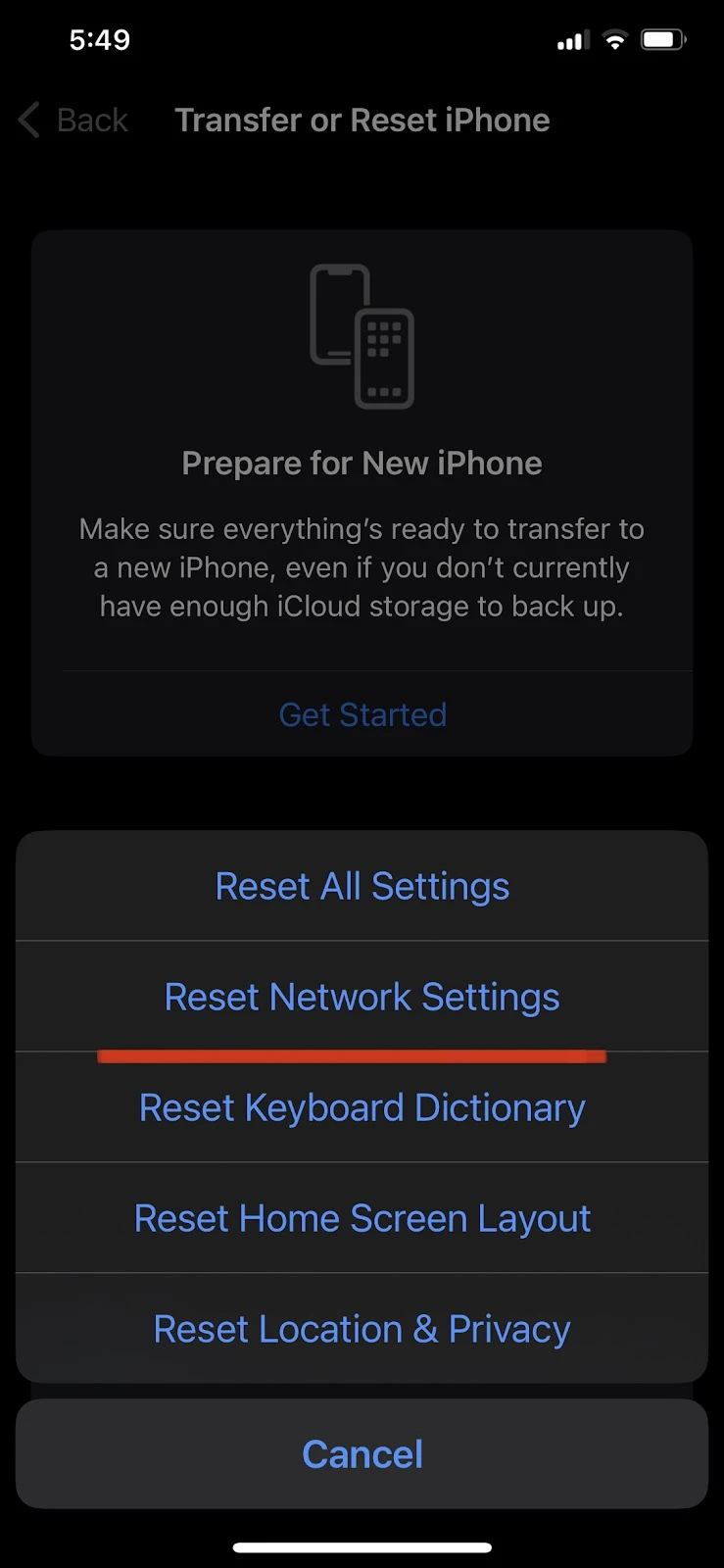 5. Update your iPhone
Your iPhone can run into bugs, especially if you're running a relatively old iOS version. Apple rolls out several updates throughout the year to update its UI and fix software bugs.
Make sure you have an updated iOS version to avoid problems like grayed out contacts.
From the General section of your settings, choose "Software Update" and check if any update is available. If so, choose "Download and Install."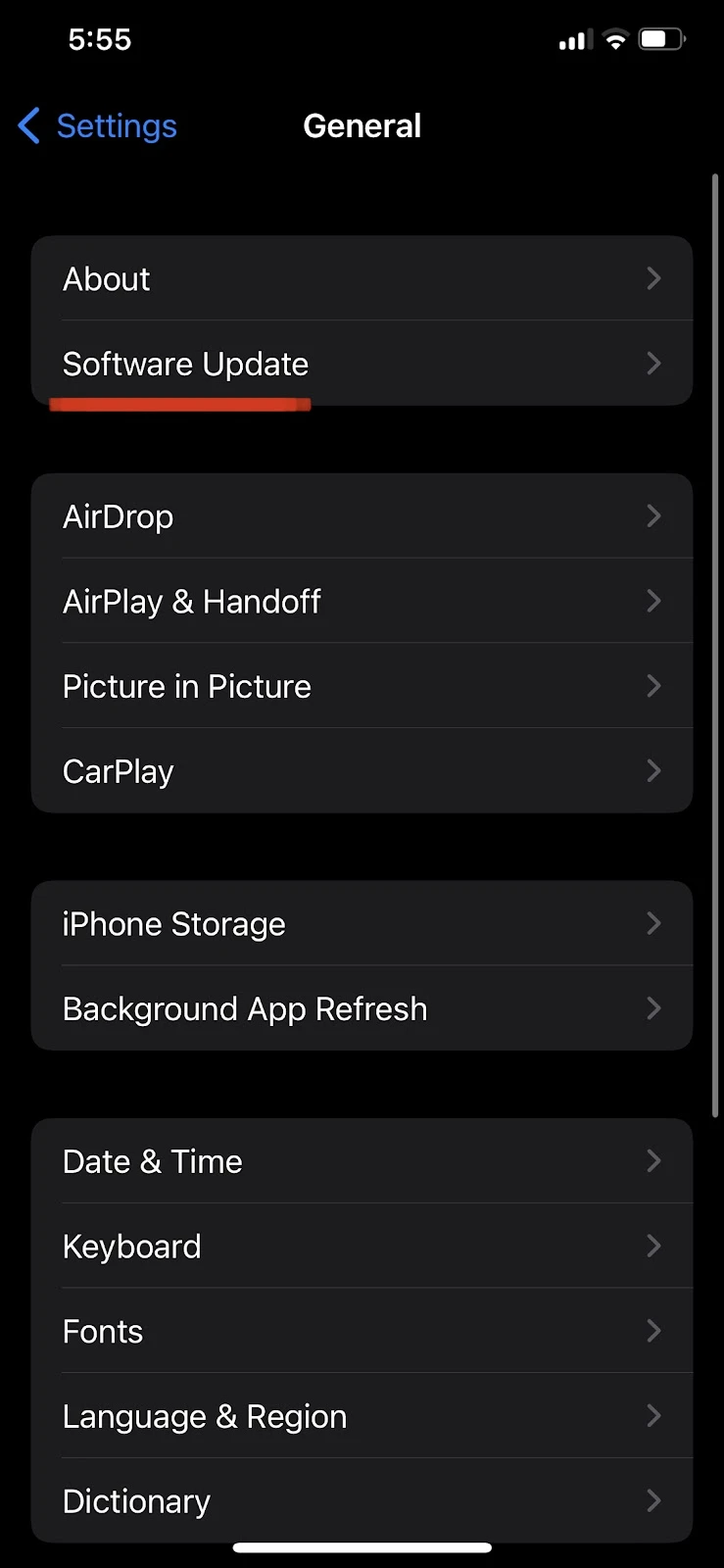 How to fix phone number grayed out In iMessage?
Apple allows you to send and receive iMessage using both your phone number and iCloud email.
However, if your phone number is grayed out and you can't initiate an iMessage using your phone number, it might be because you've recently changed your Apple ID password. It may also be due to a bug.
Usually, when your phone number is grayed out, your iMessage will be sent to your contact through your iCloud email.
Here's how to fix this issue. First turn off iMessage through Settings > General > Messages.
After turning off "iMessage," you need to reset your network settings. From the General section again, select "Transfer or Reset iPhone", Reset > "Reset Network Settings."
Finally, enter your iPhone passcode to confirm.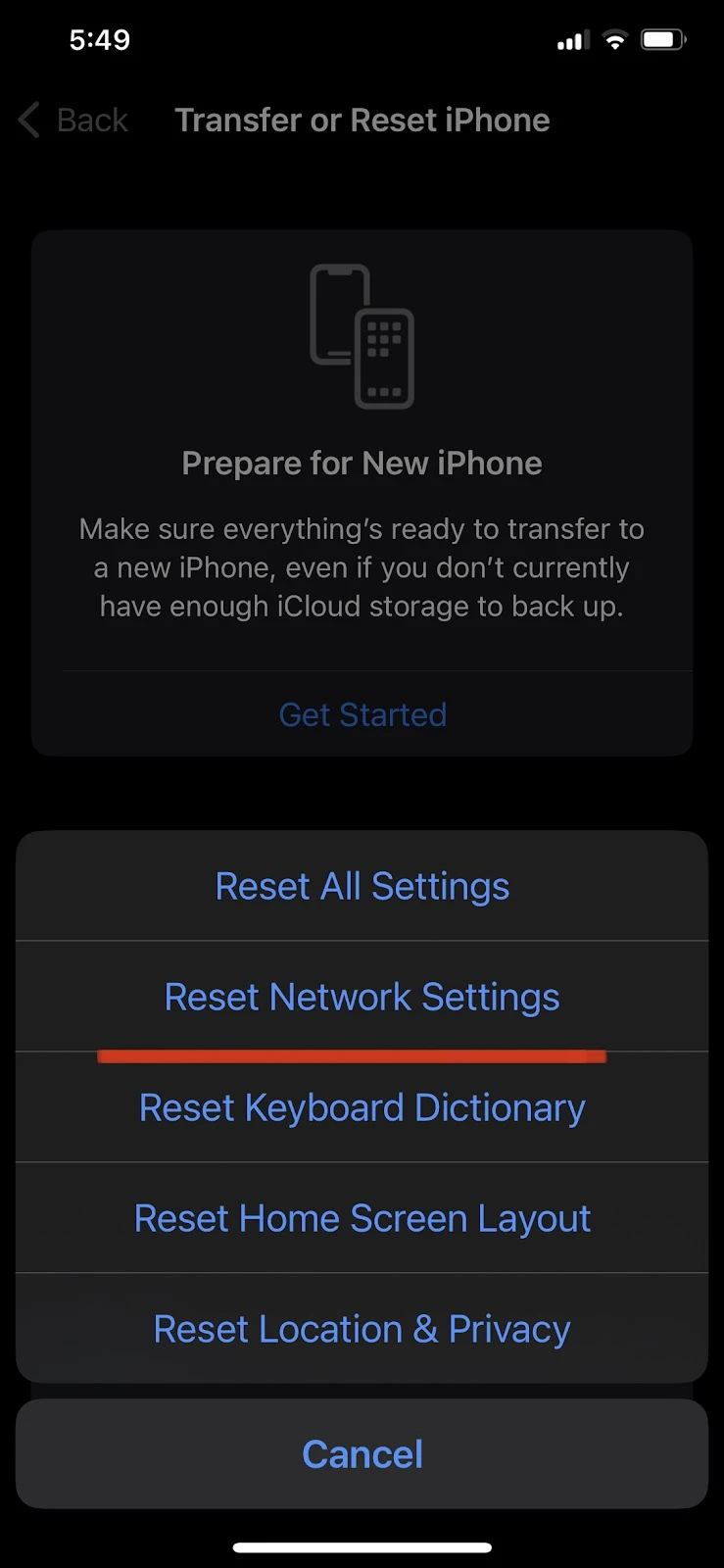 After resetting your network settings, re-connect your iPhone to the internet and turn "iMessage" back on.
You should now be able to use your phone number to send iMessage.
Some names are green while some are blue on iPhone
In the Messages app, while entering the recipient's name you may see some contacts highlighted in blue, green, or grey color.
The blue color indicates recipients you've recently exchanged iMessages with. The green contacts are those you've recently exchanged SMS with.
The grey contacts are those you've never texted (iMessage or SMS).
On a separate note, messages that appear green represent text messages sent through your carrier, while blue messages are iMessages sent through your data plan.
Some contacts grayed out when forwarding emails
When forwarding an email, some contacts may appear grey. This indicates the contact doesn't have an email address in its contact card on your device.
Apple creates a contact card for every contact stored on your iPhone including first and last name, phone number, and email address.
If the email address is missing in any of your contacts, the contact will appear grey if you try to forward an email to them.
Contacts grayed out in emergency contact section of the Health app
If some contacts are grayed out when you try to add an emergency contact to the Health app, those contacts might not have any phone number attached to them in your contacts directory.
The grayed out contacts are likely saved based on the email addresses or social links instead of the phone number.
To solve the issue, first add a phone number to the contacts you're trying to add to in the Health app.
Can't see the contacts in WhatsApp
If you can't see contacts in WhatsApp, it's likely WhatsApp is unable to access them. To be able to see your contacts on WhatsApp, you need to give the app access to your contacts. Here's how:
Go to your iPhone "Settings" and tap "Privacy & Security."
Then, choose "Contacts" and toggle on "WhatsApp."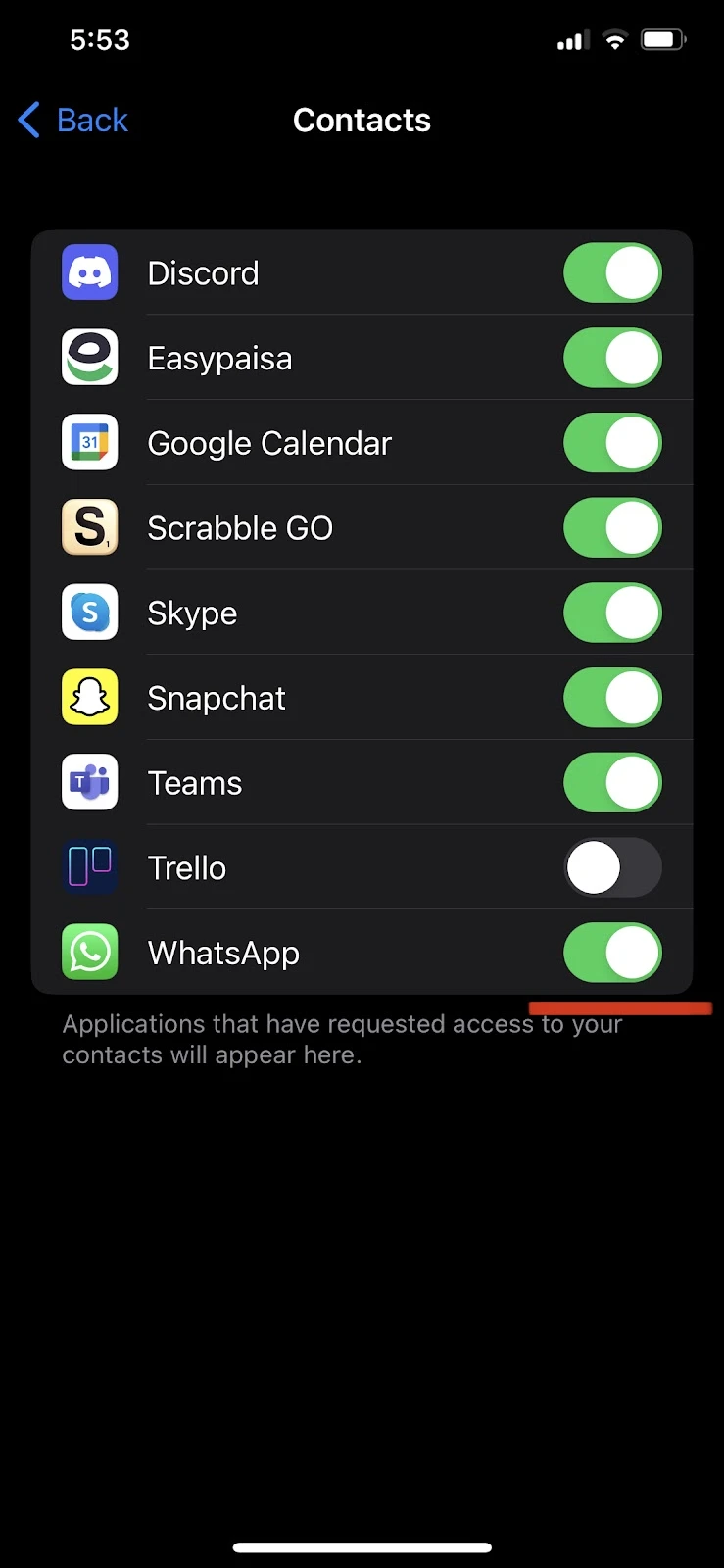 If WhatsApp is grayed out in the Privacy & Security section, you may have screen restrictions on your iPhone.
To turn off Screen restrictions, go to Setttings > "Screen Time", select "Content & Privacy Restrictions" and toggle it off.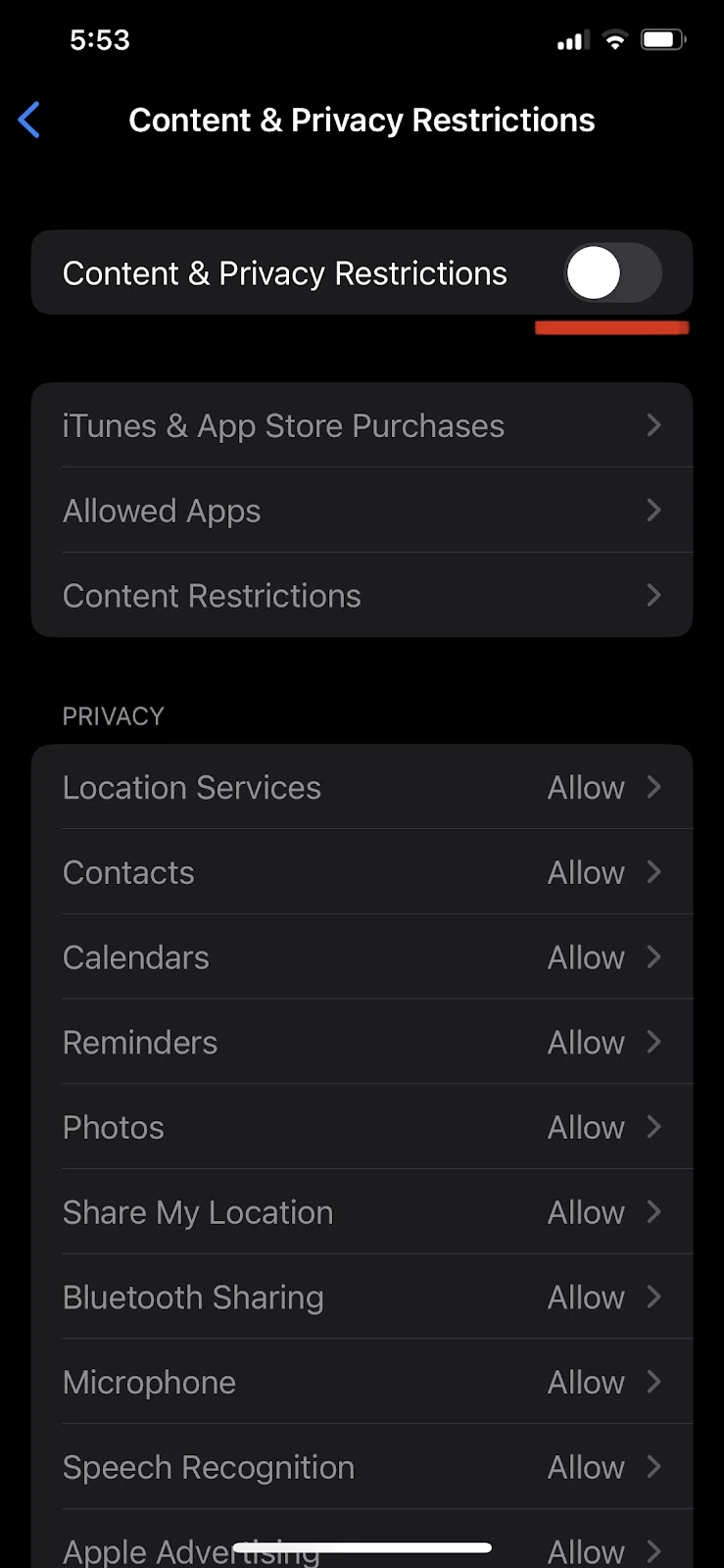 Apple ID grayed out on iPhone, iPad, or iPod touch
Your Apple ID may be grayed out for a few reasons. There may be ongoing maintenance on the Apple ID server, or you may have restrictions enabled on your iPhone.
Here are some things you can try to fix the issue:
1. Check Apple ID service
Sometimes, the Apple ID service may be down, making your Apple ID appear grey, e.g. during Apple server maintenance.
You can visit Apple System Status Page and check if there's a green dot before Apple ID.
The green dot means the Apple ID service is active, while a red dot indicates it's inactive or in maintenance.
2. Check iPhone restrictions
Your Apple ID will appear grey if "Allow Changes" is restricted in the "Content & Privacy Restrictions."
Go to your "Settings" > "Screen Time" > "Content & Privacy Restrictions." Scroll down and tap on "Account Changes," and select "Allow."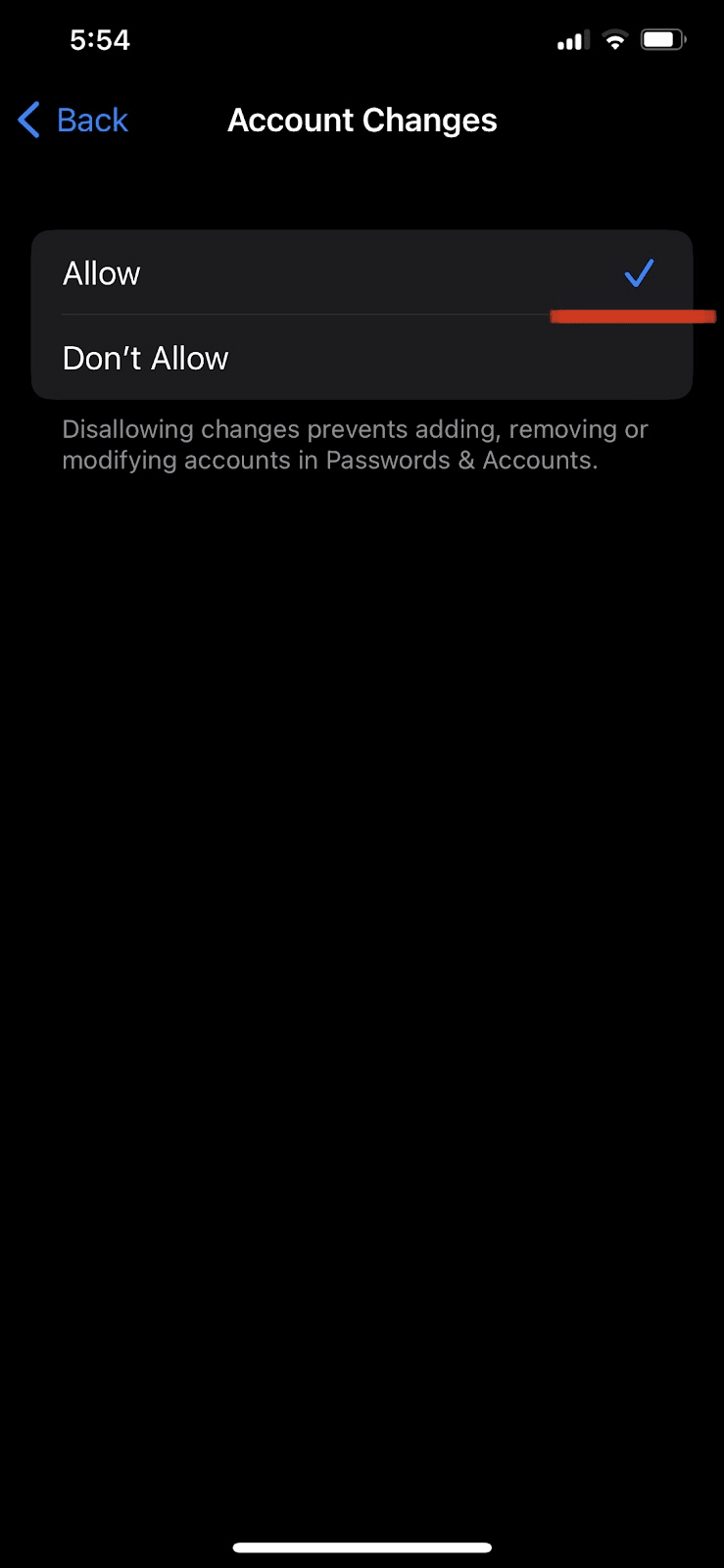 3. Reset all settings on your iPhone
If none of the above methods work, you can try resetting all settings on your device.
Go to Settings > General and select "Transfer or Reset iPhone."
Then, choose Reset > "Reset All Settings." Finally, enter your iPhone passcode to confirm.