If you see a Photos app besides the Gallery app on your Android device, you probably noticed both Gallery and Photos display pictures stored on your phone.
So what is the difference between the Gallery app and the Photos apps you have on your Android?
Gallery app is a default Android app for managing pictures and videos stored on your phone only. The Photos app, on the other hand, is Google's image management, sharing, and cloud storage app. It lets you manage images & videos on your device but also store them in your Google account.
The Photos app may also display images from other devices that use your Google account. The app backs up your photos and shares them across different devices.
The default Gallery app does not provide a backup feature for your images. However, it can edit, share, and organize your photos. Some device brands name their default Gallery app "Album" or "Photos".
See also: Do Pictures Transfer With SIM Card?
Is Gallery the same as Photos?
Gallery and Photos are two different apps. The Gallery is a default app on an Android device that comes as a built-in app.
A built-in app is specific to the device and comes pre-installed on your phone. It acts as the default app. You cannot uninstall or remove a built-in app from your device.
Photos app is a third-party app offered by Google that may or may not come pre-installed on your device, depending on brand and model. You can install it from the Play Store.
Google Photos is typically not the default app on your device for managing your photos, but you can make it the default app from device settings.
Some devices, such as Oppo, may also call their default gallery app Photos, but it is not the same as the Google Photos app.
What happened to the default gallery on Android?
If you use a Pixel or Nexus device, you may have noticed that your default Gallery application has disappeared from your device following an update.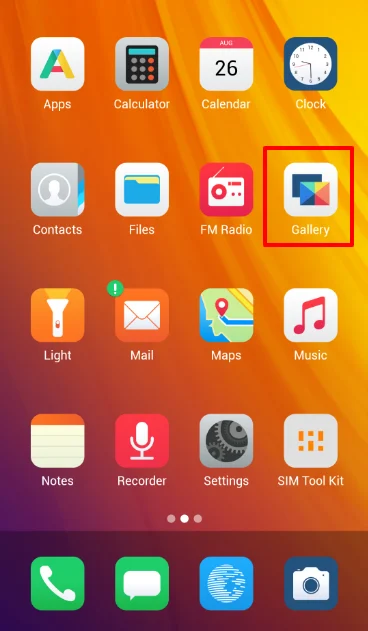 The reason is that on these Google devices, Google Photos has now become the default photo handling app.
Google removed any additional photo management apps from its default applications list. This includes the Gallery app you used to have on your Pixel and Nexus devices.
If you're not happy with having Google Photos as your default image app, you can install Google Gallery Go on your Nexus or Pixel device, or a third-party gallery app for managing your photos and videos. These are a few popular apps:
Which app is better, Photos or Gallery?
Both Photos and Gallery apps provide good features. Which is better depends on your use and preferences.
Google Photos is a better option if you wish to back up your pictures in cloud storage. You can also edit your images using the Photos app – not all default gallery apps have this option.
As mentioned earlier, Google Photos also lets you see and manage photos from multiple devices provided they also use the same app, as the photos are sync with Google cloud storage. This gives you a centralized way of managing your photos.
On the other hand, if you prefer to keep your images on your device (e.g. your SD card) and want to organize them without the internet, your device's default Gallery app is likely a better choice.
You can also use both applications on your device side-by-side for the best of both worlds.
Is Samsung Gallery the same as Google Photos?
Samsung Gallery is not the same as Google Photos. It is specific to your Samsung devices, and you cannot use it on any other Android smartphone.
Samsung Gallery is the built-in default photo gallery app on Samsung Android devices. It offers photo management and organization tools along with editing tools.
On the other hand, Google Photos is available for all Android devices and other OS – iOS, web, and Windows. You can download it on any device through the app store for your device.
Samsung Gallery does not provide cross-platform media synchronization. That said, Samsung has now launched a backup feature for its Gallery application. The feature allows you to backup your images and other media on your Microsoft OneDrive account.
Does Samsung Gallery backup photos?
Samsung integrated OneDrive into its applications after the OneUI 2.0 launch. You must have the OneDrive app on your Samsung device and log into your Microsoft account to use the backup feature.
Samsung Gallery allows you to backup photos and videos through OneDrive. Here's how:
Go to the Gallery app on your Samsung phone
Tap the Menu button at the bottom right of screen > Settings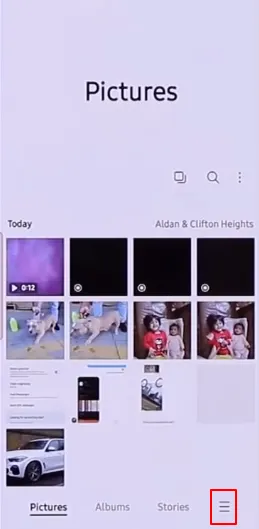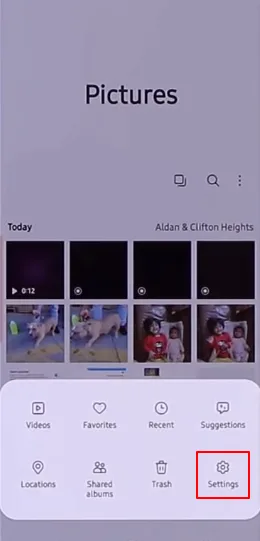 Toggle on 'Sync with OneDrive' to turn on automatic backup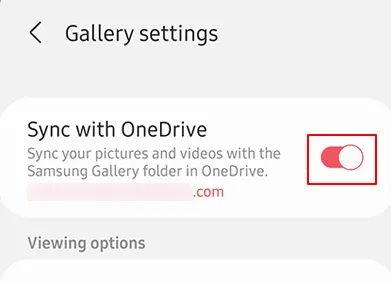 Your gallery app will now be automatically backed up on your OneDrive account.
Does deleting photos from the Gallery app delete from Google Photos?
If you delete a photo in your gallery app, the effect on Google Photos depends on whether the image is already synced with the Google Photos cloud storage.
If the image is already synced in Google Photos, that is, there is a copy of it in your Google Photos cloud storage account, then deleting the image in you gallery app will not affect Google Photos. The image will still be available in your Google Photos web account and in the Google Photo app.
On the other hand, if the image is NOT synced in Google Photos, either because you have backup turned off in Google Photos or because your device isn't connected to the internet (or no WIFI), then deleting the photo in the gallery app will also remove it from the Google Photos app.
In that second case, the photo has not yet been saved to the Photos cloud storage, so it will be permanently removed.
Do photos stay on the phone if deleted from Google Photos?
Sometimes you may want to delete a photo from your Google Photo without removing it from your device storage.
Whether a photo will remain on your phone after deleting it from Google Photos depends on your Google Photos sync settings.
If your Google Photos account is NOT synced with your device, then deleting a photo from your Google Photos account will NOT remove it from your phone.
On the other hand, if you have synchronization turned on in Google Photos, and if the photo is already backed up to your Google Photos account, then deleting the photo from your Google Photos web account will result in the photo also getting deleted from your phone's local storage.
This is because when syncing is on, all actions (e.g. adding or deleting photos) are mirrored from your device to the cloud and vice versa.
The following are a few ways to delete a backed-up picture from Google Photos without removing them from your device:
1. Disabling 'Backup & Sync'
Disabling the 'Backup and sync' option in Google Photos stops your device from syncing the images between your device and your Google Photos cloud storage.
Here's how to do it:
Open the Google Photos app on your phone and tap on the account icon
Tap on 'Photos settings'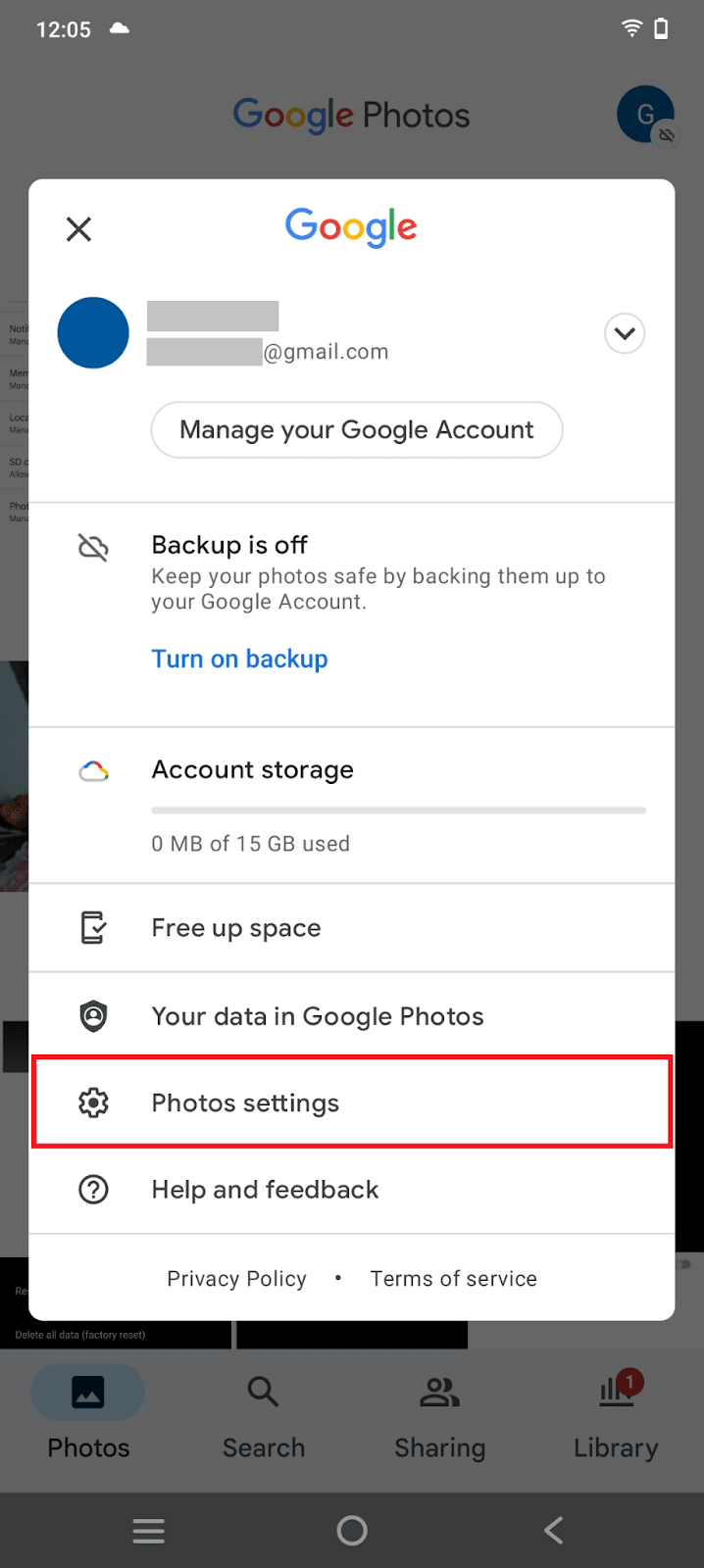 Select 'Back up and sync' > toggle off 'Back up and sync'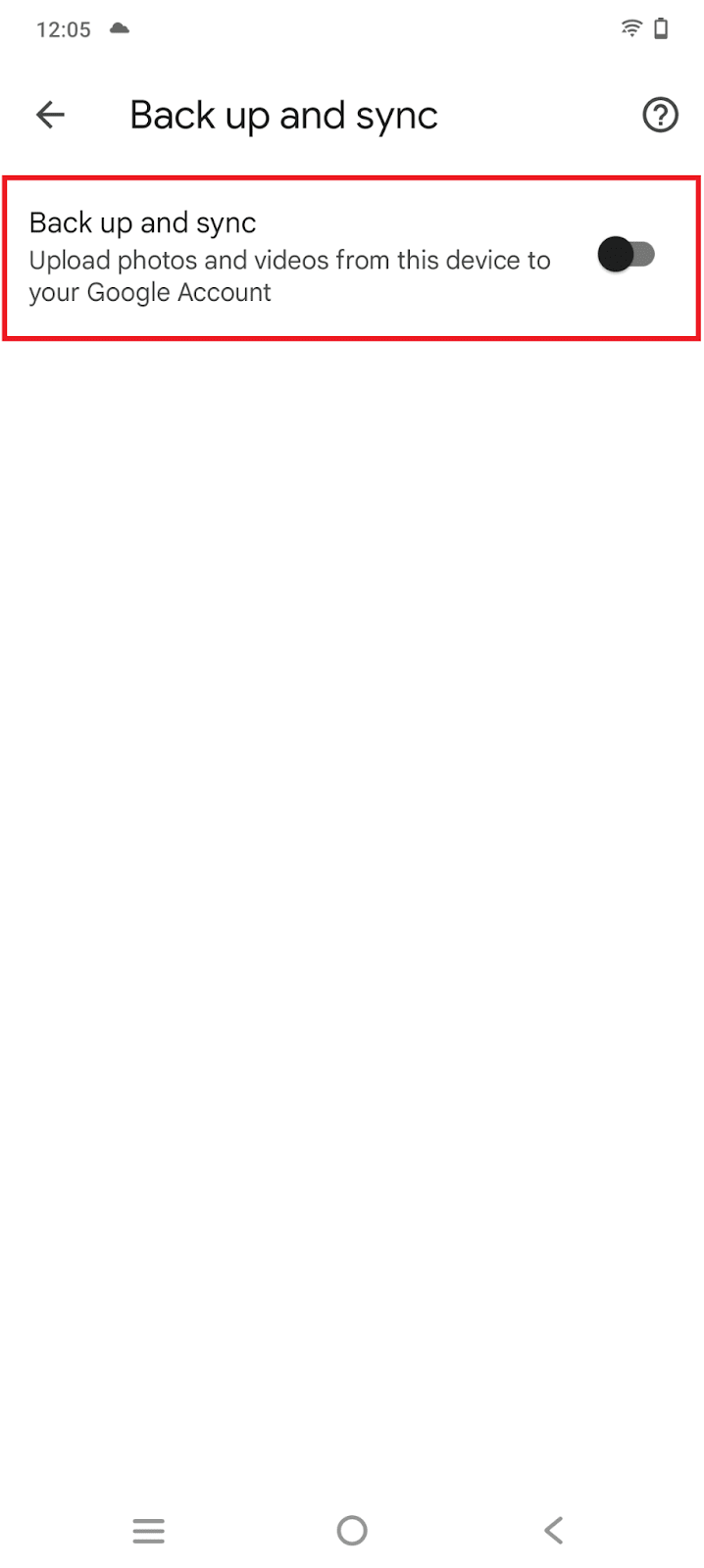 The 'Back up and Sync' option in your Google Photos will turn off. You can now delete the pictures from Google Photos without removing them from the device storage.
2. Logging out of your Google Photos
Logging out of the Google Photos app disconnects the app and device from your Google Photos cloud space, so deleting photos will no longer remove them from the device.
Here is how:
Go to the Google Photos app on your phone
Tap on the account icon and tap the dropdown next to your email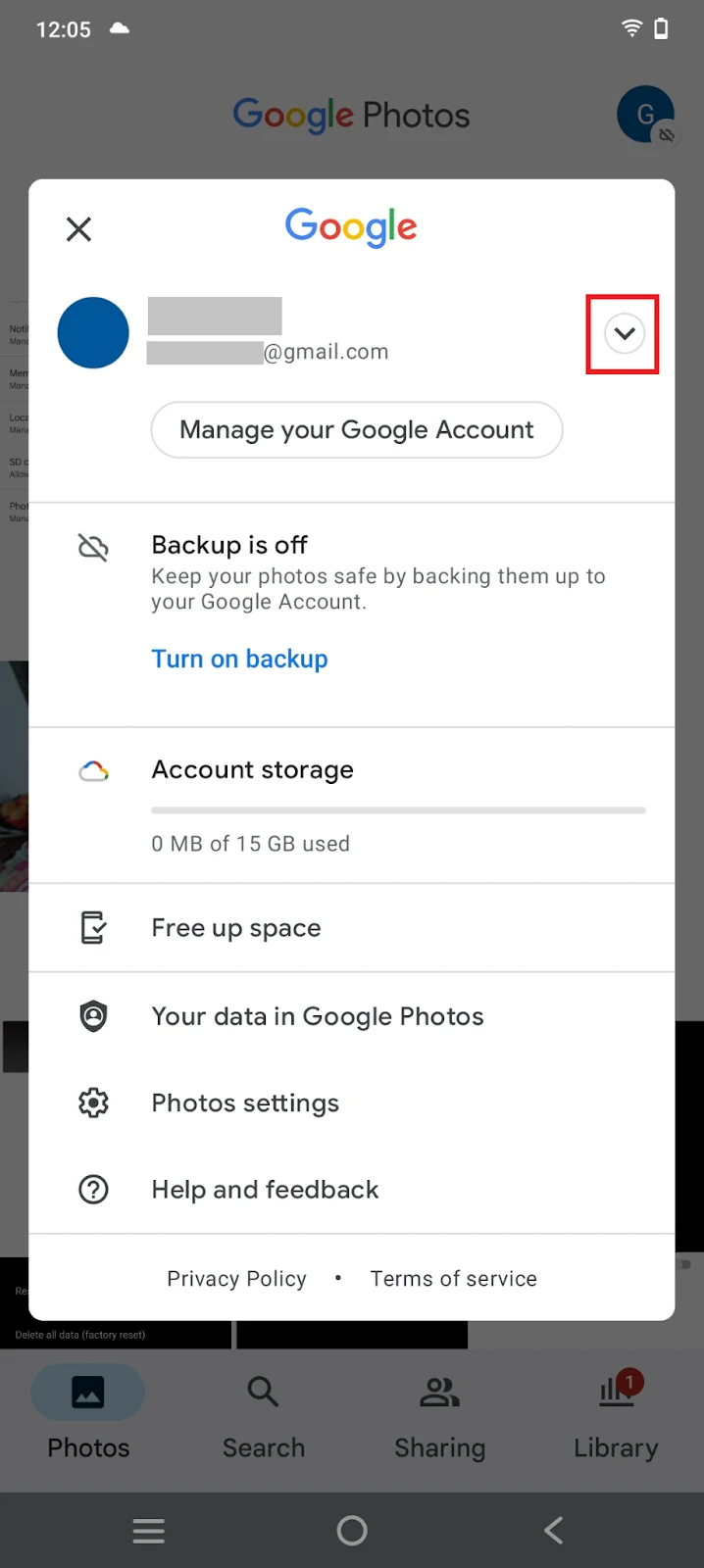 Select 'Use without an account'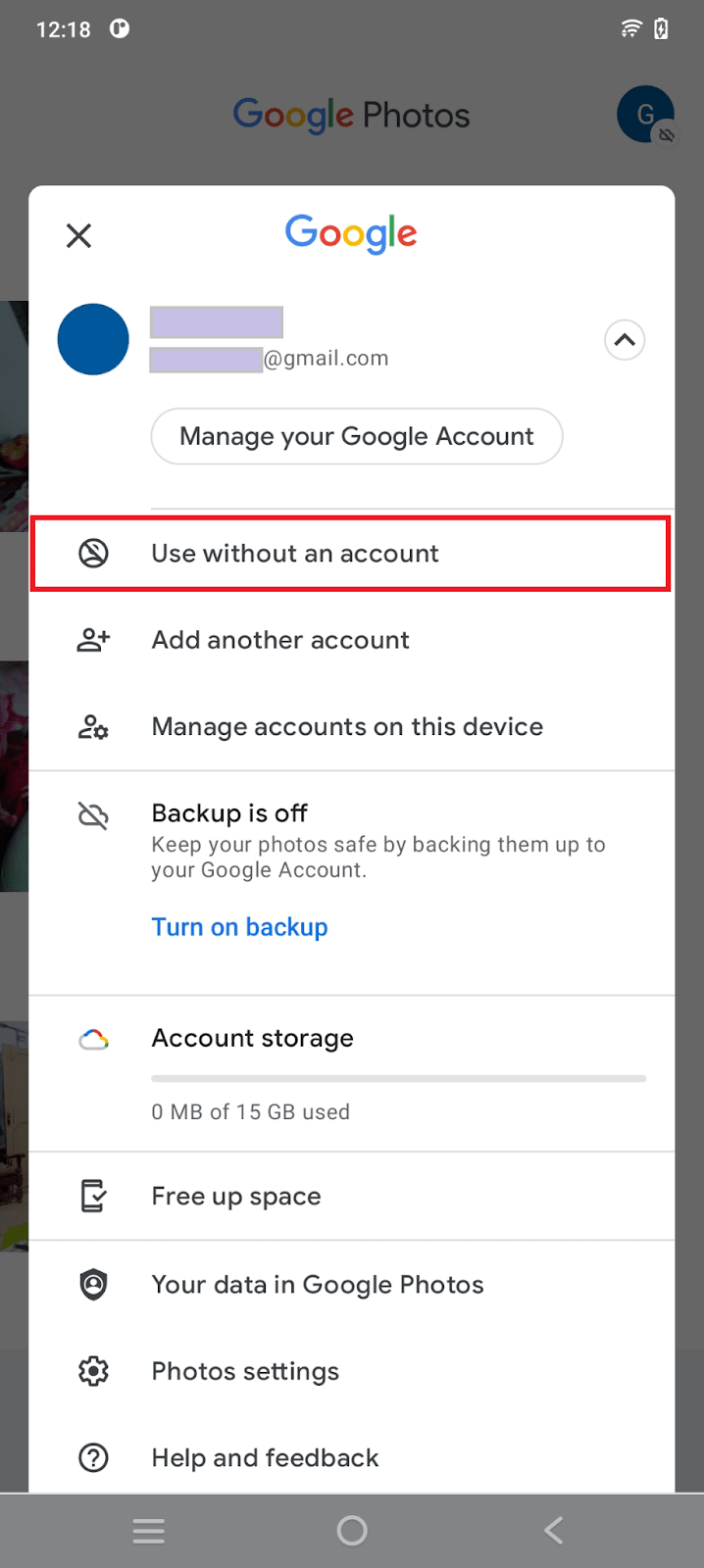 You will log out of the Google Photos app. You must also remove the Google Photos app cache and data to disconnect the app from the phone. Here are the steps:
Go to Settings > Apps & notifications > Google Photos
Tap on 'Storage and cache'
Tap on the 'Clear cache' & 'Clear storage' buttons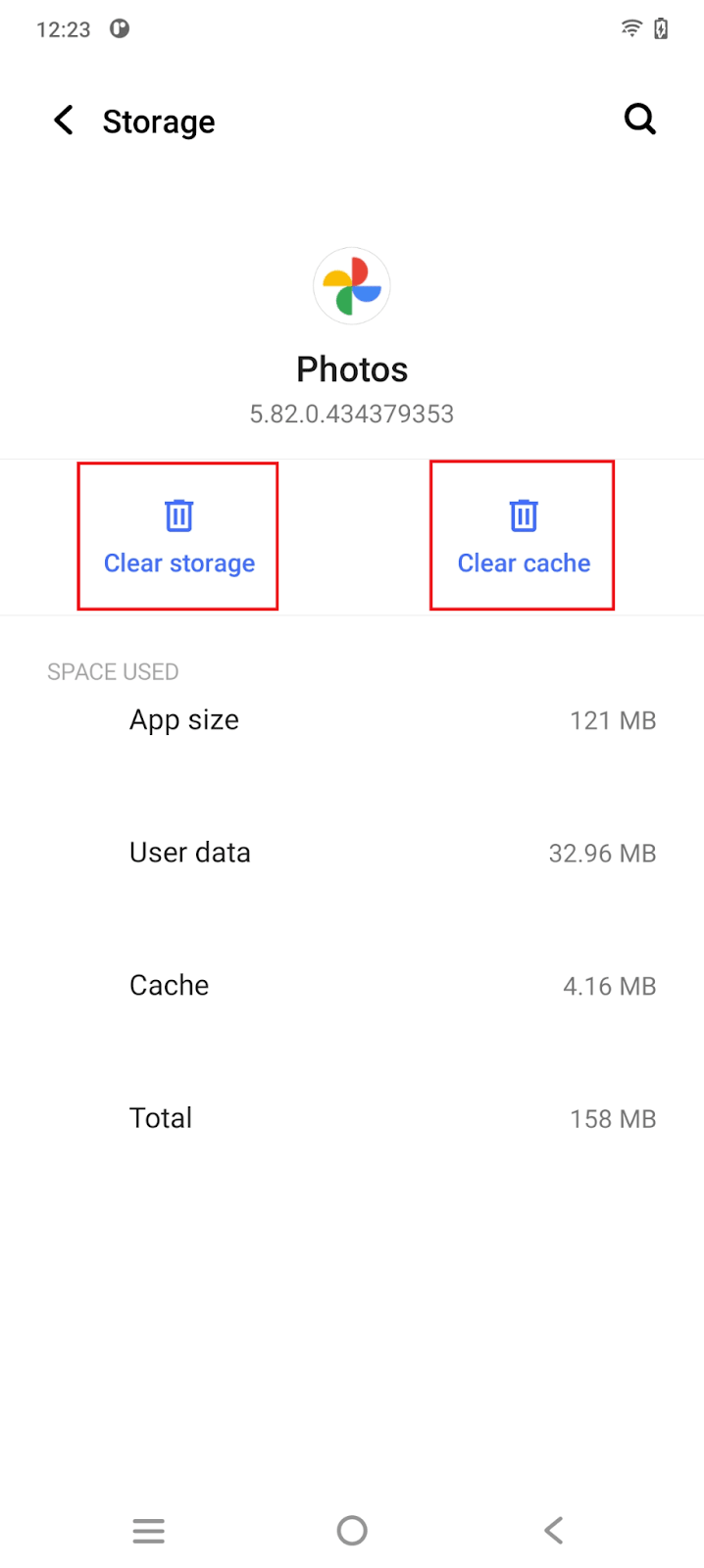 Google app will disconnect from your Android.
Should I delete photos from the Gallery or Google Photos?
Whether to delete photos from your default gallery app or Google Photos depends on your needs.
Google Photos stores images in the cloud and syncs them across all your devices. As discussed in the preceding section, deleting photos from Google Photos also removes them from your device – unless you temporarily unsync.
Many default Gallery apps do not provide options to backup your images and videos or sync them across multiple devices (except Samsung devices which offers sync through OneDrive). So deleting photos from the default Gallery app generally will not remove them from cloud storage.
Therefore, if you have your pictures backed up somewhere and you just want to delete them from your device to make space, delete them in the default gallery app.
On the other hand, if you want to permanently get rid of some pictures and not keep a backup of them, deleting them in Google Photos (assuming you have sync turned on) will remove them from both your device and your Google account.
Is Samsung Gallery going away?
Samsung Gallery is not going away. Samsung has made changes to its cloud policy regarding 'Gallery sync' and 'My files'.
Since September 2021, Samsung cloud no longer supports Samsung Gallery and My Files. Samsung is removing images and videos stored on the Samsung cloud via Gallery sync.

However, Samsung isn't removing the Gallery app from their devices.
They also encourage users to migrate to Microsoft OneDrive cloud services to backup their photos and videos. Samsung has added support for OneDrive backup services in the Samsung Gallery application.
Will my photos be deleted from Samsung Gallery as a result of the Samsung Cloud changes?
The recent changes in Samsung cloud policy only remove media data and images from the Samsung Cloud.
The changes do not affect the Samsung Gallery app or My Files data stored on your device. So, despite the changes for the Samsung cloud, your photos will not be deleted from your Samsung Gallery app.
What's the difference between Google Photos and Gallery Go?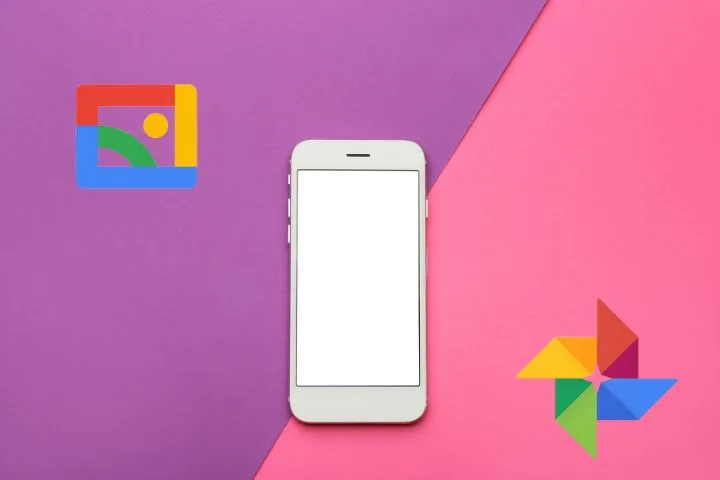 Google Photos is a cloud storage photo management service and app. The application is used to sync media across multiple devices and to back up images.
Gallery Go is an alternative to the default gallery application on a device, which is also offered by Google. It is a photo and videos management gallery app for storing, previewing, and organizing your media.
Google Photos needs an internet connection for its features to work. The app also has a large size, which varies with the device you use. It also allows media sharing among groups and friends.
Gallery Go, in contrast, is a lightweight offline application. The application has a size of 10MBs on installation (which also varies depending on device). You can share images through the app locally using apps and device features.
Google Photos has many additional features for photo editing and sharing. It is a complete image management app. Gallery Go provides limited functionalities and is easier to use.