Firewalls act as a barrier to protect devices and networks from unauthorized attacks. Do you need a firewall on your Android phones?
If you are downloading apps from the Google Play Store, you do not need to install a firewall on your Android Phone. However, if you install apps from other sources, you may need to install one because installing non-approved apps can make your phone vulnerable to cyberattacks like malware, ransomware, etc.
Overall though, installing a firewall on an android device is not really worth the effort because the benefits are only limited. Read on to find some of the frequently asked questions about firewalls on the Android phone.
Read on for the answers to frequently asked questions about firewalls on the Android phone and how they can help protect your phone's security.
What is a firewall on Android?
A firewall is a barrier between your android device and the internet and acts as a gatekeeper to check for unauthorized requests that can expose you to malicious traffic, like viruses and intrusions.
The main job of the firewall on android is to filter out the apps that are allowed to interact with the internet and which are not.
Is there a firewall on Android?
There is no built-in firewall on your Android, you need to install it on your mobile if you download apps from sources other than play store, or if you just want to be on the safe side.
Does a cell phone have a firewall? A tablet?
SmartPhones and tablets do not come with a firewall of any sort, but you can later install one on your phone using the steps explained further below .
Is a firewall needed on Android?
Android software is very generally reliable and trustworthy when it comes to security, and the Google play store ensures that every app is secure.
That said, there have been instances in the past where hackers have found ways to compromise apps listed in the Google play store.
So if you have any important or sensitive information stored in your phone, it may be a good idea to install a firewall on your Android.
Does a firewall on a mobile device protect you from wifi eavesdropping?
No, even after you have installed a firewall on your phone, you are not safe against wifi eavesdropping in public areas such as coffee shops, cafes, schools, etc.
ifi eavesdropping happens when hackers set up their Wi-fi hotspot near a location where people connect to the public network. They name the wifi after the actual public network, so when a user comes near that hotspot, they mistakenly connect to the malicious wifi which allows the attackers to perform a man-in-the-middle attacks.
To tackle this situation, you can use VPNs to create several security layers. hen you connect to a VPN, it sends all of the internet traffic from your cellphone via an encrypted tunnel to the VPN provider's network.his makes the mobile device safe from wifi eavesdropping.
Does a firewall make my mobile device safer?
To some extent, it does save your phone from certain malware. On the other hand, installing a firewall can also put your mobile device at risk as most of the firewall software requires the phone to be rooted.
Rooting the device can become a big problem if you are not good at this kind of technical process, and there's a chance that you might brick your device.
Also, when you root your phone, you risk its warranty.
What are the Pros and cons of adding a firewall on an android phone?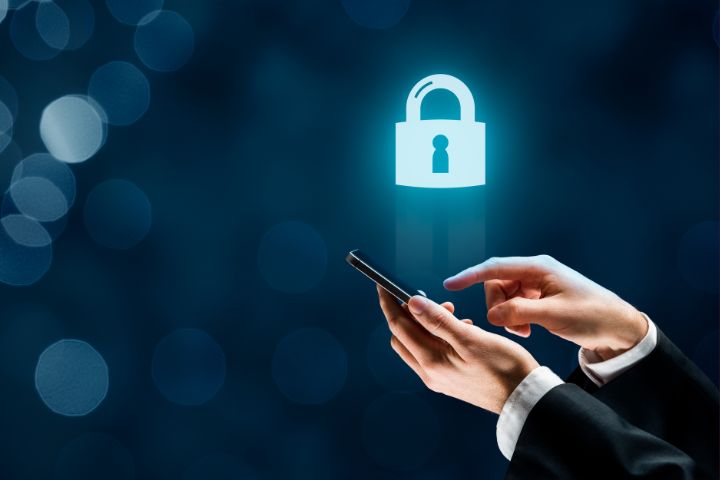 Adding a firewall on your android phones can be a tricky thing and it has some drawbacks. Here are some of the pros and cons:
Pros of using a firewall on an Android device:
All your internet traffic passes through an additional layer of security.
Limits internet usage and you can avoid your internet data being wasted on useless sites.
Enhanced privacy as firewalls restricts hackers from stealing your data.
Cons of using a firewall on an Android device:
You can only visit a few trusted websites. Every time you want to visit a new site that is not recognized by the firewall app, you'll need to add exceptions.
The performance of your Android smartphone will go down as firewalls typically use a significant amount of device resources.
Firewalls are not 100% secure against network and phishing attacks, so adding one can give you a false sense of security.
How do I turn on or off my mobile firewall?
As discussed, Mobile phones do not have a built-in firewall, but you can manually add one through a third-party source.
Every app you install has a different way to enable and disable its firewall, so you need to check the application settings to turn it on and off.
For instance, in the DroidWall app, you will see the Enable Firewall and Disable Firewall button when you open the app interface; you can click on it to turn it OFF and ON.
How to add an external firewall in Android?
You can add an external firewall in Android; some need root access, and some work fine without them. In general, though, a rooted phone gives you much more freedom over certain limitations and hence will work better with a firewall.
If you are going for software that requires root access, then you need to follow the following steps:
First, download a rooting software like KingoRoot to do the job for you.
After downloading the software on your phone, you just need to click on the One Click Root, and within 60 secs, your phone will be rooted.
Now download a firewall software; let's take an example of the firewall software DroidWall.
Just simply download the Droidwall app from their website and wait for it to install.
After installing, press the menu, and then click on the help button for how to use it.
There are other ways to install apps without rooting the phone. However, when you use no-root firewall apps, your internet traffic is routed through some unknown server and it might expose your device to unknown unauthorized sources.
Provided you know what you're doing, rooted apps are more trustworthy because they give full control to the user to handle the phone's security.
How do I check firewall settings on Android?
Android phones do not have a built-in firewall installed. Therefore, you first need to install one before accessing its settings.
There are a few popular firewall apps, an example of them being No-root Firewall. Follow these steps:
Download and Install the No-root Firewall app and create your account
The app then takes you to a window where you are required to whitelist your trusted apps and websites. It will block the rest of the sites from using your data.
Now, if you want to change these firewall settings for any reason, simply visit that tab again or go to the settings of the app. There you can alter the whitelist and add/subtract your trusted apps from the firewall settings.
How do I check the proxy on Android?
To check the proxy settings, go to your device's settings app and search for the Wifi setting.
Tap on your current Wifi network and choose Advanced Options
You will now see the Proxy option, tap on the down arrow and select your configuration type
If there is a need for proxy settings, enter it and then tap save
How do I open or block ports on Android?
To open ports on Android, you can configure the router to allow your smartphone or tablet access to the service (there is no way to open ports on the android device). Follow the steps listed below
First, go to your device settings and search for Wifi. Tap on your current network, then tap "Advanced". Write down the information in the IP Address field, which is located on your right
After this, connect to the network from the PC via Start > Control Panel > Network and Internet > Network and sharing center
Now, click on the Change Adapter Settings, and after that, double press on the Wireless Network Connection
Click on the Details and then browse down to the address IPv4 Default Gateway
Now, enter your administrative credentials in order to log in to the router, and after that, select the option like Applications and gaming, "port Forwarding" from the menu given
Suggest a name for the port and then choose a more appropriate protocol from the menu; for instance, you can select Transmission control
You need to enter the address assigned to the Android advice in the IP Address option
In the last step, you need to enter the port you want to unblock and then check next to the new item to enable it.
Once done, click save settings
You can use the Blocked Ports page of WatchGuard Technologies to add the number of the port; you simply have to add the number to the Blocked Ports list.
Select Firewall and then the Blocked ports
You will see a box with the list of blocked ports. Enter the number you want, and then simply click on the Add button
What ports do Android apps use?
Many applications use the same port, but there are special ports as well; for example, Play.google.com uses the 5228 port in order to connect.
How to configure the firewall on a Samsung device?
Configuring and adding a firewall on Samsung devices is exactly the same as on the other android phones and you will need to install a firewall app first. Here's how the entire process looks like:
Install any rooting app that you like.
Go to the settings and whitelist the apps and sites that you trust and visit regularly.
Save that list and hit publish. That's it.
Your firewall is now configured and ready to work.
Will a mobile firewall drain my battery?
No, the mobile firewall does not drain your phone's battery; It may actually save some battery as your phone is dealing with fewer data requests. This also preserves your bandwidth.
dsasa
Is it safe to use a no-root firewall?
No, It is not safe to use a no-root firewall as the internet traffic of your phone is routed through an unknown server, exposing your internet requests to specific malware attacks.
It can also cause some limitations such as restricting Android native apps.
See also: Does removing bloatware save battery?
Do I need an antivirus on Android?
Just like for firewalls, most android devices don't really need an antivirus because mobile phone users mainly download data from trusted sources such as Google PlayStore.
That said, if you download things from unreliable sources and need the extra layer of security, installing an antivirus on your device might be a good idea.
See also: Is Setup Wizard a virus on Android?