It can be embarrassing to send a message to a colleague when you were meaning to send it e.g. to your significant other. We've all done it and wished we hadn't been so stupid. there are ways to cancel a sent message before it reaches the recipient.
On Android a text message or SMS cannot be deleted once it has been sent. But there are ways such as removing the battery, putting your phone on flight mode, or downloading third-party applications that can help you to cancel messages before they get sent.
Note: Different chat apps have varying functionalities and time limits on when you can delete a sent message. We've compiled all the available resources to help you find out the best solution for yourself.
Can you cancel a text message after it's sent?
The short answer is yes but it requires a workaround. On Android a text message or SMS cannot be deleted once it has been "delivered", so here are a few tips and tricks on how to cancel a sent message before it's delivered:
The Battery-Removal Method:
This is the most conventional approach and one that's been around for as long as text messages have existed. After sending a text and immediately recognizing that there has been a mistake, here's what you should do:
Power up your phone again
Go to your messages
Check to see the last message that has been delivered
If you were fast enough in removing your phone's battery, then the message won't be delivered and you will have canceled a sent text message.
However, this method doesn't work anymore because the newer phone models in Android do not have removable covers which let you take out the battery. So, this method is for phones that do have removable covers.
The Flight-Mode Method:
This method requires you to be lightning-fast and it also depends on how quick your telecom service is in sending emails. Instantly after you hit "send" on a text message and you realize that it was a mistake – here's what you should do:
Immediately after hitting Send, put your phone on Flight Mode
Wait until your text message application notifies you of an error along the lines of "The message could not be delivered"
Long press on the message and click Delete
I repeat, that this isn't a fool-proof method and it depends on luck and how fast you are. The success rate can vary significantly from user to user – so only use this method as a last resort.
The Third-Party Method:
Finally, you can use applications from the Playstore to help you cancel sent messages. One of the best applications in the field is Handcent which allows you to schedule timing for your text messages and hence delays its delivery. Here's how to use it:
Download and Open the App from Google Play Store.
In the app, Click on Inbox on the top left
Click on More to go to the feature page
Click on Schedule Task
Type in the recipient and the corresponding text message
Set a time and date for the text message
Click on OK
Hit Send
After following the above steps, you will have successfully scheduled the time and date for your text message.
Note: This method only delays the sending of a text message, it doesn't recall any text messages that have already been sent and delivered.
Deleting Sent Messages On Facebook and Whatsapp
Luckily, if you use Whatsapp or Facebook Messenger to send messages, then deleting sent messages is a much easier process. Keep reading to find out how.
Can you delete a sent message on Whatsapp?
Only recently Whatsapp introduced a feature where you can delete a sent message for everyone up to one hour after sending it.. it's super easy and simple.

To delete sent messages for everyone on Whatsapp for Android, follow the steps below:
Open Whatsapp and go to the chat where you've sent the message that you want to delete.
Tap and hold the message.
Click on Delete and then click on Delete For Everyone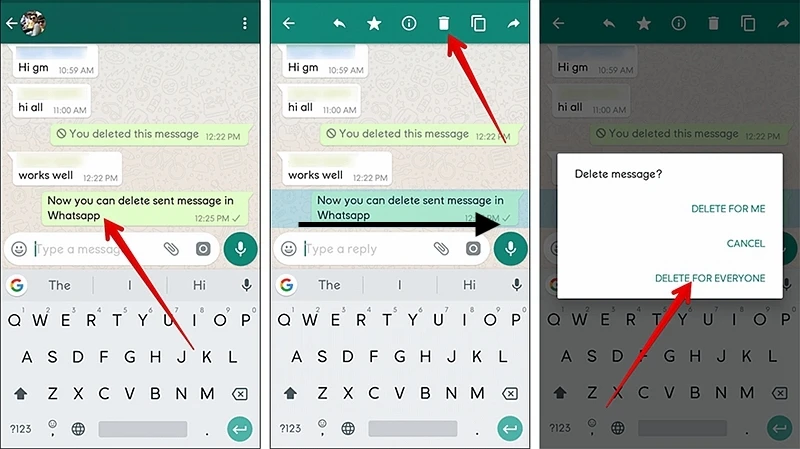 That's it! Your message will now be replaced with "This message was deleted".
But here are a few things that you should be mindful of.
To be able to complete these steps, you should be using the latest version of Whatsapp.
Since the messages can only be deleted after they've been sent, there is a possibility that the recipients might have seen your message through a Push Notification or within the Chat before you've had a chance to recognize your mistake and delete the message.
Whatsapp doesn't notify you if deleting the message for everyone has been successful.
You only have an hour to delete the message for everyone – if the message has been delivered for more than an hour, you won't be able to delete it any longer.
How to delete a sent message on Facebook messenger?
Facebook introduced a feature back in 2019 which lets you delete any sent message only within 10 minutes. But it's been two years now and our experiments and research show that you can pretty much delete a message even if it's been 12 hours since you've sent it.

Here's how to delete a sent message on Facebook Messenger on Android:
Open Facebook Messenger and go to the chat.
Tap and hold on to the message.
Click on More
Select Remove
Select Unsend to remove the message for everyone in the chat or Remove" to only delete the message for yourself.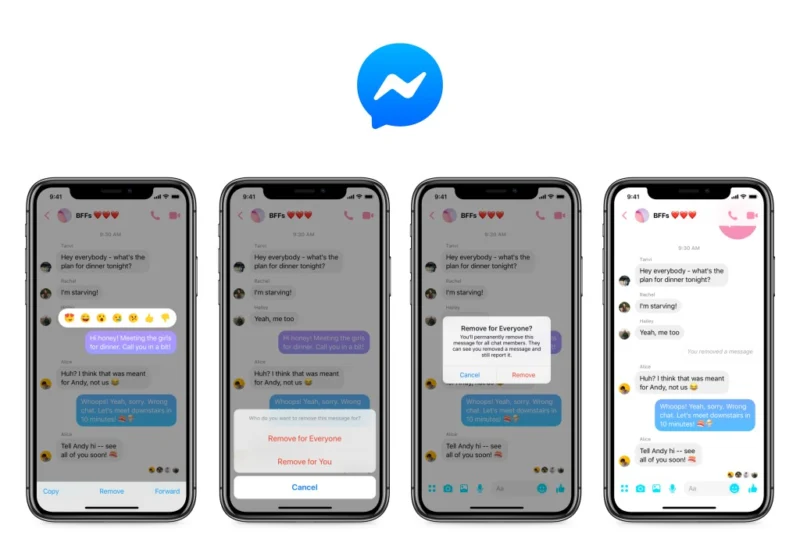 However, keep in mind the following:
The deleted message will be replaced with "You unsent a message" with a timestamp of when it was removed.
While the message has been removed from your conversation, Facebook may still keep a copy of it for a limited time should it be reported by the recipient.
Deleting Sent emails
If you've sent an email that you wish to be recalled, here's how you can do it.
How to recall an email sent through Outlook
Outlook provides a great feature that allows you to recall a sent email from the recipient's inbox as long as they haven't opened it yet. Here's how to do it:
Click on the Sent Items folder on the left folder pane of Outlook
Double click on the message that you want to recall.
From the Message tab, click on Actions and then click on Recall this message.
Click on Delete unread copies of this message, and then click OK.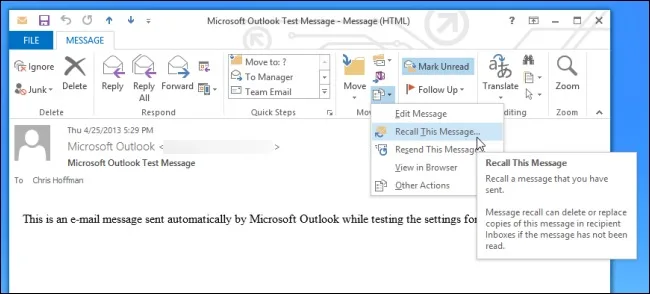 Following these steps should ensure that you successfully recall an email in Outlook. However, the recall feature is only available if both you and the recipient have a Microsoft 365 or a Microsoft Exchange email account within the same organization.
If you want to read more on Outlook's recall feature, click here.
How to recall an email sent through Gmail
Gmail has a swift procedure for undoing a sent email but it requires you to be fast and observant. Here's how to recall an email sent through Gmail:
After the email has been sent, you'll see the following pop-up:
Click on Undo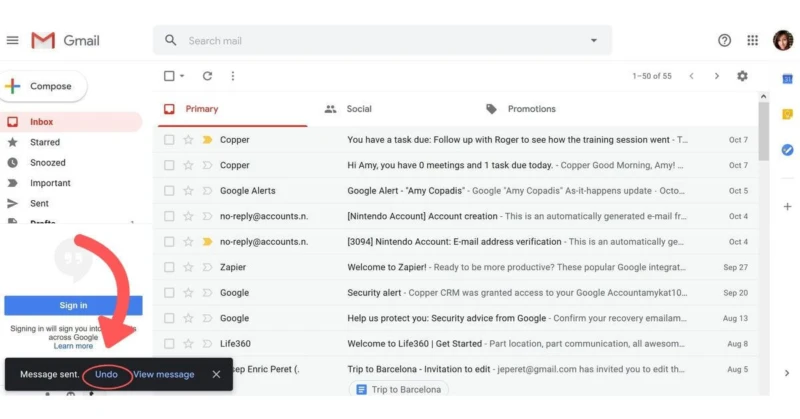 But keep in mind, that this small pop-up is your only chance of recalling a sent email through Gmail and if you skip it, then there's no other way.
What happens if you delete a message before it finishes sending?
If it's a text message or SMS, then deleting the message may or may not successfully send. Instead what you should do is put your phone on Flight Mode immediately so that the sending is unsuccessful. After this, you should delete the message to make sure it doesn't resend automatically once the Flight Mode has been turned off.
Can you cancel a text message you've already written before hitting send?
If the message has been written but you haven't pressed Send, then there's no need to worry. Simply erase the text and it will be deleted for good.
When you delete a text can the other person still see it?
If a message appears in your Sent box, it means it's already been sent from your device to the email server. Therefore, the recipient may have already received it if they checked their email, or they will receive it the next time they check.
So at this point, you have no control over the message since it's already stored on the email server.
Deleting the message from your Sent box will simply remove the copy of the message that was kept on from your device, but it will not remove it from the email server or from the recipient's device if they already downloaded it from the email server.
How do I delete all my text messages?
Select all the messages in your inbox that you want to delete
Click on options
Click on Delete
But once again, if these messages have already been sent, this will only remove the messages from your inbox and not from the recipients.
Also check how How to delete duplicate messages on Android