Getting an Apple Watch customized by engraving on it will personalize the experience for you and your loved ones.
But is it possible to get an Apple Watch engraved? If so, how does engraving work and how much does it cost? What are the pros and cons of engraving, and can an engraving be removed or changed?
See also: Is The Titanium Apple Watch Worth It?
Can you engrave an Apple Watch?
Apple offers free engraving on some Apple devices like iPads, iPods, AirPods, Apple Pencils, and AirTags when purchased on the Apple Store online.
You can't engrave the Apple Watch directly at Apple as they're aware that engraving breaks the integrity of the anodized surface which protects against corrosion. You can, however, engrave your watch's band with any custom text or design, through a third party.
You can find a lot of third-party service providers on Etsy or Amazon, that can get the engraving done on your Apple Watch strap.
How much does Apple Watch engraving cost?
Apple offers free custom engraving on some Apple devices like iPads, iPods, AirTags, AirPods, and Apple Pencils, when purchased on the Apple Store online.
Since Apple engraving does not include Apple Watches, to have your Apple Watch engraved you have to go through a third-party service provider.
The cost of engraving an Apple Watch through a third-party service provider will range anywhere from $10 to $35 depending on the surface area you want to get engraved and the design you select. That fee includes the cost of the band and the engraving service.
How does Apple engraving work?
Apple uses high-powered laser technology in their manufacturing factories to engrave Apple devices.
As engraved devices are personalized and vary according to personal preferences, Apple only allows engraving via online purchase through its official website.
Not all Apple devices can be engraved due to the material difference. For example, Apple iPhones are made with glass which is a relatively harder material to engrave on as compared to plastic and metal.
The devices that Apple provides engraving for are:
iPads
iPods
AirPods
AirTags
Apple Pencils (2nd generation)
On these devices, users can engrave a combination of names, numbers, emojis, letters, and initials.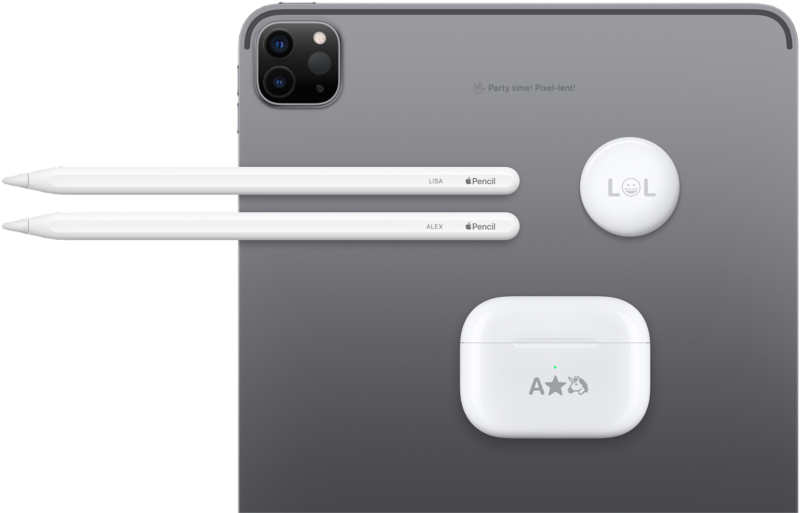 Image Source: Apple
There is a limit to how many characters you can get engraved on your Apple devices and the limit varies from device to device:
up to 15 characters for the 2nd Generation Apple Pencil
Up to 22 characters for AirPods
Up to 6 characters or 5 emojis on AirTags.
Up to 35 characters engraved per line on iPads, since they have a larger surface area for customization.
You can choose from 30 different emoji options provided by Apple to engrave on your Apple device. Some emoji options include:
Zodiac animals
Fist bump
Unicorn
Robot
Alien
Emojis are engraved using a larger font than text engravings.
How long does Apple engraving take?
When you purchase an Apple device without engraving, your order is delivered from Apple's in-country stock.
When you order an Apple device with customized engravings on them, they're produced and engraved in Apple's manufacturing facilities in China.
Personalized engraved items take a little longer than non-personalized items to ship. They take 3 to 5 additional days to arrive. During holidays or high-demand seasons, this delivery time may go up to a week.
What are the pros and cons of engraving your Apple device?
Everything has its pros and cons and engraving an Apple device is no different. You should consider what the positive and negative aspects of the engraving process are to decide if you would like to proceed with it.
Pros of engraving your Apple device
Pro #1 – Unique
While all Apple products look the same, some people want their devices to be different. A good way to make your device stand out from others is to add a personal touch.
By engraving your device with initials, emojis, symbols, or any custom text, you can make it unique and tailored to your preferences.
Pro #2 – Theft protection
Personalized or engraved devices have a lower resale value compared to non-personalized devices. This makes it harder for thieves to resell them, which can discourage thieves.
Some people prefer to engrave their contact details on the device so that the product can easily be returned to them if lost.
Pro #3 – Gifting
Customization plays a huge role in gifts. You make your Apple gift even better by engraving a personalized message on the back of the Apple product for your friend or family member.
Cons of engraving your Apple device
While you can have a personalized experience by engraving Apple products, there are some disadvantages to doing that as well.
Con #1 – Case blocking
When you purchase a new Apple product, you want to protect it from damage, scratches, etc. Investing in a case for your Apple device is generally a wise move.
When you get your device engraved, you want people to see the design on it. Covering your device with a case will hide the engraving.
Con #2 – Late delivery
As mentioned, engraved items take a little longer to ship than non-engraved ones. If you opt for customizing your Apple device by having it engraved, expect the delivery time to be delayed by 3 to 5 days, up to a week in high-demand periods.
Con #3 – Limited character count
Apple allows limited characters to be engraved on Apple devices. However, the character count varies from product to product (see list of products earlier).
If you want a particular message to be engraved on your product, you might find it difficult to do so if it exceeds the number of characters allowed.
Con #4 – Lower resale value
Apple devices are durable and typically have good resale value. Many people trade or sell their Apple products before upgrading to a new one.
With engravings on your device, its resale value will generally drop.
When you try to sell an engraved device, fewer buyers may be interested because of your personal emojis, symbols, and custom text on it. Having your initials engraved on it will also affect the resale value significantly.
Does engraving void Apple's warranty?
Engraving Apple products directly from Apple doesn't void the warranty of Apple devices.
When engraving your Apple device through a third-party service provider, any damage caused due to the engraving will not be covered by the warranty.
If the device itself malfunctions, and the damage has nothing to do with the engravings done on it, the warranty will cover the cost of repair.
Can Apple engraving be removed or changed?
If you have ordered an engraved Apple device online and decided to change or remove the engravings prior to receiving it, you first need to check the order status on Apple's website.
When the order status is "Order Placed" or "Processing," you still have a chance to edit or remove the engravings.
Otherwise, your custom design will likely have already been engraved on the device, and can no longer be changed.
When your personalized device arrives, the engravings can't be easily removed. Unlike printing, engravings are changes made to the material itself.
Technically, it's possible to grind the metal to remove the engravings, however, this is a costly and impractical option that will likely do more harm than good to the device.
Can you return an engraved Apple product?
You can return an engraved Apple product within 14 days of purchasing it.
You can get your money back upon returning the product via the same payment method that you used to place the order.
Apple will not return an engraved product after 14 days of purchasing it. Moreover, an exchange is not allowed for engraved products.
See also: Can You Add Cellular Later To An Apple Watch?
Can I engrave my Apple Watch band?
Although the engraving service by Apple itself doesn't include Apple Watches or Apple Watch bands, you can get your watch's band engraved by a third-party service provider. You can find many of those on Amazon, eBay, or Etsy.
Doing it yourself at home is also possible if you have a 3D laser printer.