If you've lost or deleted data accidentally, there are many Android recovery data software options available out there. But are these options safe to use?
Most data recovery applications work offline and do not alter or store your user data anywhere, and only try to bring back deleted data. However, if a lesser known recovery application requires internet access, there is always a chance that it might contains malware or spyware.
What is Android data recovery?
Whenever you delete a file from your phone, it is not entirely deleted and can be recovered using different data recovery software such as Dr. Fone, Recoverit, MobiSaver, etc.
These applications help you get away with the possibility of overwriting your data or permanently deleting it. In android devices, the process of recovering your data is known as Android data recovery.
Is Android data recovery safe to use?
Even though it is safe to use Android data recovery, there are few risks as well. So here are some of the problems that you can face during data recovery:
A data recovery application can also overwrite your entire drive if you keep using. This is because the old data of your phone will be replaced with the new data, so your old files will be permanently overwritten. Therefore, it is recommended to keep backups of your data e.g. in cloud storage.
Before starting the data recovery process on your computer, check the condition of your hard drive and ensure it is not corrupted in any way because, with a corrupted hard drive, there is a fair chance you would lose all of your data.
Another thing to remember is to only use trusted and popular data recovery applications. Some data recovery apps sell false promises and don't actually deliver. Before downloading or paying for a software, it is crucial to check the customer reviews for that app.
Is Stellar Android Data Recovery safe to use?
With more than 100,000 plus Google Playstore downloads and an average 4.8 trust pilot score, we can reasonably say Stellar android data recovery software is safe to use.
Stellar is a beginner-friendly data recovery software that lets users recover all types of data files without any expert knowledge. You can preview the data files before starting the data recovery process, which helps reduce the risk of data loss even if you are using the software for the first time.
How exactly does data recovery software work?
To better understand the working of data recovery software, here is an example of a data recovery procedure with one of the best tools in the market: Recoverit.
After you have installed the software on your computer, click on the Data recovery option. This will scan your device and display all the deleted data.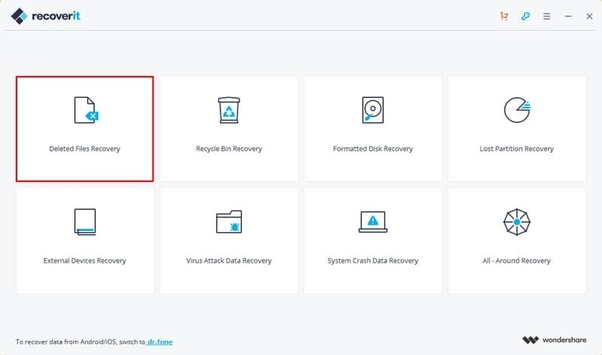 Now select the data that you want to recover and hit Next.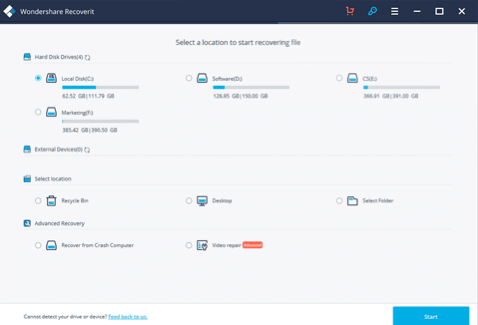 The tool will allow you to preview the files, and you can to save thesefiles in your desired location after previewing them.
Can recovery apps steal your data?
If you are using Data recovery software offline (without connecting your phone to the internet), there's a lower risk the app will steal your data. However, if a data recovery app requires an internet connection, there's always a possibility that the users' data might be sent to cloud storage.
As a rule of thumb, you should avoid downloading and using any new apps with little to no customer reviews, and only download highly rated apps.
Are recovery apps safer than manual data recovery?
Recovery applications are considered safer than manually recovering data. It is because these applications require little action from the users and carry out most of the work by themselves.,
This makes it easier and safer to recover data for people who do not know anything about data recovery.
To manually recover your data, you need to go to Settings > System > Backup – these settings can vary depending on your device.
The reason manual data recovery is not as safe is that when recovering the data, there is a chance you might overwrite your data and permanently delete it.
Which is the best free Android data recovery software
Tenorshare UltData for Android is considered one of the best Android data recovery tools. This application has more than 10 million Playstore downloads and an average rating of 4.1 stars.
The software helps the users recover all types of files such as photos, videos, WhatsApp messages, contacts, text messages, documents, music, and more. Some of the advanced features are paid, however.
Other good free Android data recovery software include MiniTool Mobile Data Recovery For Android, EaseUS MobiSaver, and Disk Drill Android Data Recovery.
How can I recover data from a dead Android phone?
Recovering the data from a dead Android phone is a bit tricky and requires different data recovery tools. In this case, the best application in the market right now is the Fonedog software.
Here is the process to recover data from the software:
Download and install Fonedog software on your computer.
After installing it, launch the application and then connect your android device to your computer with the standard USB.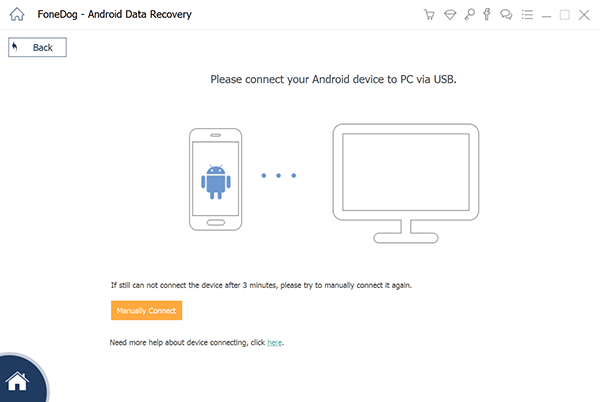 Select the phone state and device model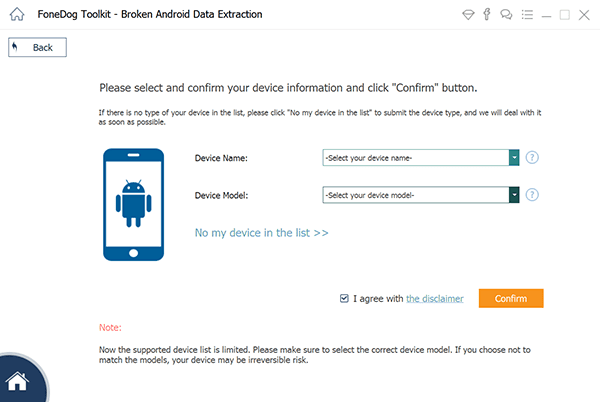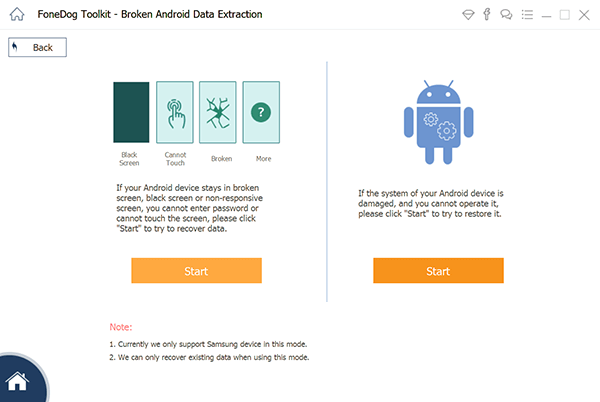 After that, you need to get your phone into Download Mode – you can do so by pressing and holding the volume down button, home button, and the power button simultaneously.
Once your phone is in download mode, Fonedog will start the recovery process and download the data recovery package (A file that will be used for data extraction) and scan the data from your device.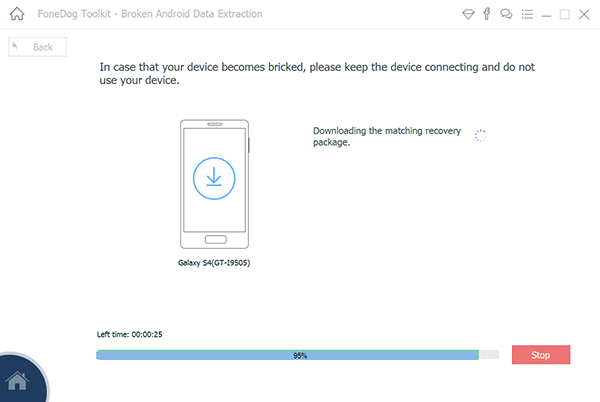 After the initial scanning is done, all your data will be displayed in the preview tab. From that tab, you can select all the file types that you want to recover and simply click the "next" and then the "recover" button.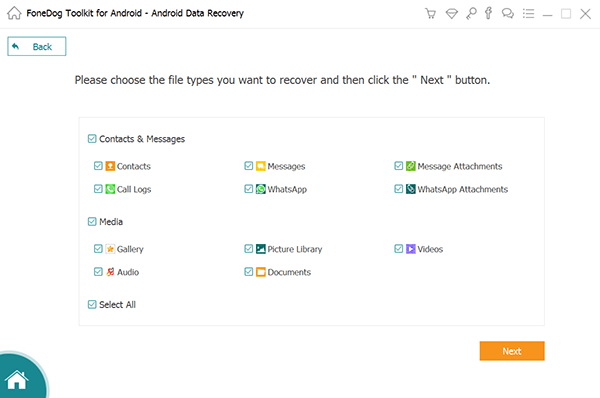 This entire process will take just a few minutes. Make sure your phone remains connected to the computer the entire time, otherwise, the process will be interrupted.
How can I recover my Android phone data without backup?
Here is the process to recover data from Android phones without backup with FoneDog Toolkit.
Launch the application on your PC and connect your phone to the computer using a standard USB cable.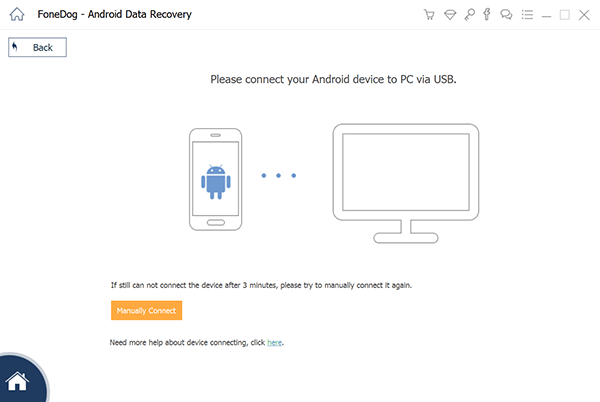 Select which type of data you want to recover. Here, we are restoring Gallery pictures as an example. Select the Gallery option from the menu and let the software scan from data.
Once the scan is complete, select the files that you want to recover from the gallery and click Recover.
Can I recover my app data without root?
Up until 2017, Android devices used to have USB mass storage protocol for transferring data to computers. The only alternative was to root the phone and use a recovery application to recover the data.
With the recent focus on cybersecurity, smartphone manufacturers have prohibited rooting, so developers had to find a way to recover data without root access.
As a result, most applications now do not require root access. They simply bypass the MTP (media transfer protocol) of the android OS to extract user data without rooting your phone.
Some of the best software for that purpose are Dr. Fone, EaseUS MobiSaver, Video Recovery, DiskDigger Photo recovery, to name a few.
Can you trust EaseUS Data Recovery?
EaseUS data recovery app has mixed reviews from the customers. Although the app has more than 5 million downloads on Playstore, the average rating of the application is only 2.9 stars.
While most of the customers complain about the price of the application, there are some reviews saying that the application was unable to recover the deleted photos as it is supposed to do.
On the other hand, none of the customers reported any data theft issues.
It is best to try the free version of the application first to try out some of the features before buying.
How much does Android data recovery cost?
Prices for online data recovery services range from $400 to $500 depending on the file types you want to recover.
For example, Flash fixers charges $400 for recovering data from Android phones with Android OS 6.0 or above. These charges includes recovery of photos, videos, texts, and contacts from an Android phone.
Geek Squad from Bestbuy offers different pricing options for data recovery depending on the state of your device. Prices range between $250 and $550.
Paid Android data recovery tools typically cost between $20-$100. Price depends on how many file-type formats that you can recover and how effective the tool is. Higher priced tools also have a lower risk of losing your data permanently.