If you're considering getting a Garmin watch, you may be wondering if it will operate as a standalone device for your outdoor activities and if you can use it for your workout sessions without having to carry your phone as well.
See also:
Why Are My Steps Not Showing On Garmin Connect?
Will Apple Watch Cellular Work if iPhone is Off?
Can you use a Garmin watch without a phone?
Garmin's activity tracking feature keeps running in the background, logging data even if it's not connected to your phone. When you launch Garmin Connect on your smartphone or desktop/laptop after an activity, the software will automatically start to sync your stats from the watch.
Along with activity tracking, Garmin watches can also operate other features without a phone such as GPS and accelerometer. Although the exact features will depend on your watch, most watches will support the ones we cover in the next section.
Which Garmin features can you use without a phone?
Garmin watches in general have the capacity to function with or without your phone.
Thus, depending on the specific model you're using, and its internal storage, you could go days without syncing your watch to your phone but without compromising on effective activity tracking.
This is especially true for the Adventure/Outdoor watches which come pre-equipped with an altimeter, barometer, compass, solar charging, and integrated GPS.
Let's look at specific Garmin features and how they work without a phone.
Can your Garmin watch track your activity without a phone?
As mentioned earlier, Garmin watches continue to track and log your activities in the background, without needing phone connectivity.
That means as long as your watch software is up to date, it'll keep logging your step count, sleep metrics, heart rate, and stress levels on its own.
Garmin Connect will start to sync these metrics with your watch and transfer all data when you launch the app, provided Activity Tracking is enabled on your watch.
The watch will also record metrics such as training load (intensity and duration of your activities) and training effect (aerobic stats) from an activity session and your planned workouts.
Do you need your phone for GPS on Garmin?
GPS-enabled Garmin watches work in one of two ways – either using an integrated GPS receiver or through connected GPS.
Most high-end Garmin watches such as Forerunner, Instinct, and Fenix
come with an Integrated GPS Receiver built into the watch, which lets you navigate without using your phone.
Some older Garmin models such as Lily, Vivoactive 4 & 5, and any of the Vivomove watches use Connected GPS and need to rely on a phone for location and GPS data.
However, even if your watch has GPS built into it, there are situations where it may not be enough to track and log your route.
Firstly, Garmin's Tactical watches (Instinct Tactical, Tactix, and MARQ Commander) come with Stealth Mode. It's essentially a kill switch designed to turn off logging and location tracking features of the watch when you're in secured areas where wireless connectivity is not permitted.
Once you turn on stealth mode, you can still start logging activities to track distance, time, elevation, and pace, but storage and sharing of GPS data will be turned off for as long as stealth mode is on.
Although this is an advanced feature and won't be of concern for most recreational athletes, it's important to remember in case you use a tactical watch and suddenly find yourself unable to use GPS.
Secondly, if you use Garmin LiveTrack, you'll need to carry your phone with you. LiveTrack shows your real-time location on a map shareable with someone in case of an emergency, so that person can monitor your location.
For LiveTrack to work, you need to carry your paired phone with Garmin Connect running in the background, except for Forerunner 945 LTE which can operate LiveTrack without a phone.
Thirdly, if you're using Garmin Explore to map out your route for runs or hikes, you need to carry your phone with you to access your downloaded maps.
Adding routes to your Garmin watch for phone-free navigation
Downloading Garmin maps is almost always a paid feature, but you can find maps from websites such as OpenStreetMap and sync them on your watch for free.
You can add a route manually to navigate without a phone.
To manually add maps on your Garmin watch, press Menu > Settings > Navigate.

Next, select Courses followed by Create New.


Enter your coordinates and press Add to save the route on your watch.
You can access your saved routes by selecting Saved Locations from the Navigation window.

Will the accelerometer in a Garmin watch work without a phone?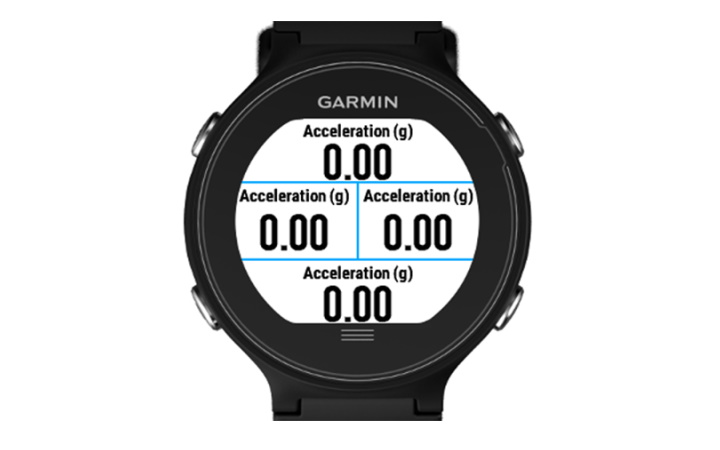 Whether you're using an accelerometer outdoors along with other sensors to determine your speed and direction, or indoors without GPS, the accelerometer in your watch will continue to work without a phone.
Garmin's all-in-one electronic sensors are powerful enough to work seamlessly in the background while you go about your day.
Some Garmin watches (such as Coros) have an integrated self-calibrating accelerometer that works even when the GPS signal is lost.
Garmin pre-calibrates its accelerometers with default values derived from average metrics of runners and athletes. The sensors will then adapt to your personal metrics over time and display more accurate speed and distance stats for you.
Can you play music on your Garmin when it's not connected to your phone?
Are you wondering if you can listen to your playlists directly on your Garmin watch without using your phone? The answer is yes you can. Garmin watches allow you to listen to music, audiobooks, and podcasts standalone.
Many Garmin watches come with internal storage that lets you save hundreds of audio files for phone-free listening, including most of the high-end models in the Forerunner, MARQ, Fenix, and Tactix series, as well as Venu and Vivoactive.
You can use your watch to listen to music in two ways: by transferring audio files onto the watch, or using Spotify.
You can load your favorite music on your watch using Garmin Express on your laptop/desktop and then access to it on the watch at any time.
For this, the best approach is to create your playlists on your desktop ahead of time using Windows Media Player or VLC.
You must ensure that none of the files you want to transfer are DRM protected. Protected files won't be recognized by Garmin Express or synced with your phone.
Next, connect your watch to your laptop/desktop using the USB cable and launch Garmin Express. If you're using the software for the first time, let Garmin Express recognize your device and click on Add a Device.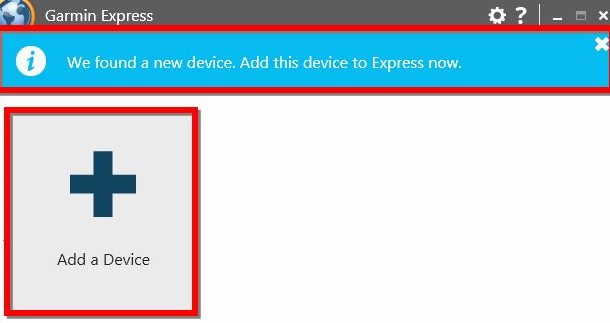 The software will notify you when your watch has been synced properly.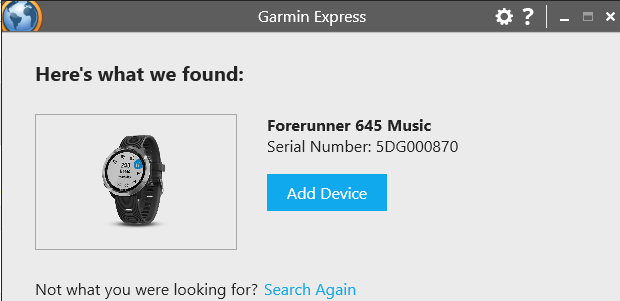 Next, on the home page, click on Music followed by the file category – Songs, Playlists, or Podcasts.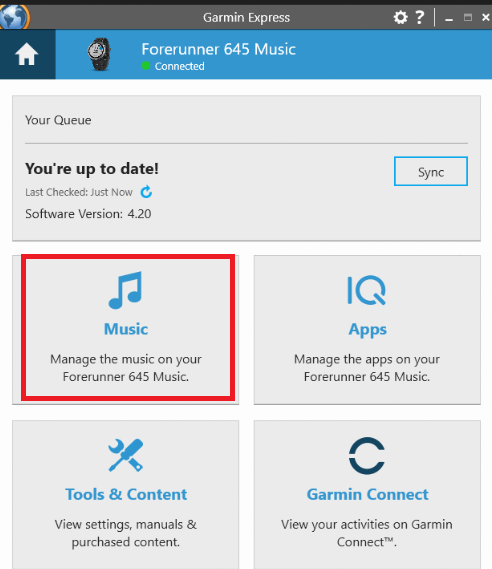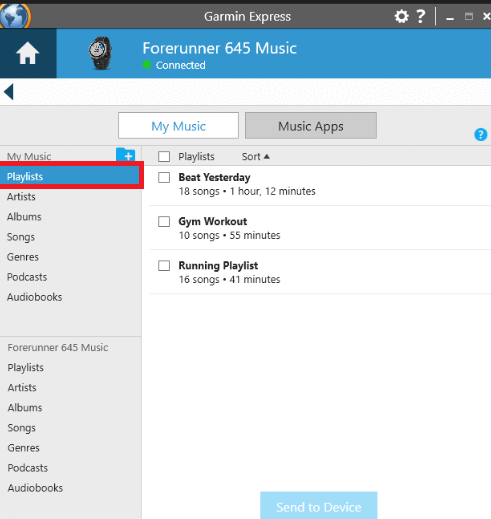 Finally, select the files you wish to transfer and click on Send to Device.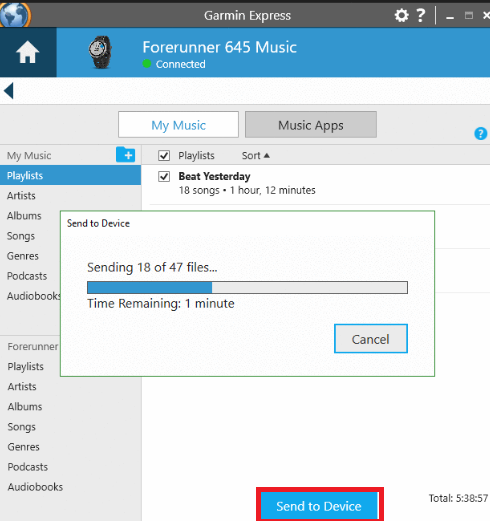 Alternatively, if you want to use Spotify on your watch, you'll need to install the Spotify Connect IQ App on your smartphone or use Garmin Express on your PC. This step is only needed for the initial set up phase. Your watch needs to be compatible with the IQ store.
Once you've finished installing the app, select Spotify on your watch > Your Library > Add Music and Podcasts. Select the tracks/playlists you want, and tap Add to finish the download process.
If you're unable to see your downloaded tracks on your watch, tap Update Downloads to refresh your watch.
And, there you have it. You can now connect your Bluetooth headphones and enjoy music during your workout without needing to use your phone.
It's important to note that you need a Spotify Premium account along with a compatible Garmin watch for using the phone-free listening feature.