With a dual sim phone, you can use two SIM cards in one mobile at the same time. This comes in handy when you want to keep separate work and home numbers.
The difference between SIM1 and SIM2 slots depends on the phone model. You should verify whether both SIM slots are the same before purchasing a phone. Depending on the device, you may have:
Both SIM slots with the same capabilities
Different network limitations (4G/3G/2G)
Different SIM card sizes
Different 5G connectivity limit
In this article, I will help you understand the difference between SIM slot 1 and sim slot 2.
Why does my phone have two SIM slots?
Dual SIM slots allow users to use two different numbers on one mobile. You can keep a separate number for your home and business, and manage a separate contact list on each sim card.
If you're a frequent traveler, having two sim slots allow easy roaming. You can keep using your local sim card while accessing a foreign network with the second sim slot.
Does it matter which SIM card slot I use?
In some mobiles, the two SIM slots have different capabilities while in others, both SIM slots are equivalent. If your mobile phone supports the same capabilities on both SIM slot 1 and slot 2, it doesn't matter which slot you use. Here are a few differences between sim slot 1 and 2 in various dual sim mobile phones:
No difference between the two SIM slots
In an ideal scenario, both SIM slots in the phone have the same capabilities. Companies are introducing this feature in most newer smartphones including Samsung Galaxy S9/S9+, and Huawei P20 Pro. Older smartphones often don't support that feature.
The most common capabilities in both sim slots include:
Both 3G and 4G are supported on both sim cards
Sim card sizes are the same
If the phone is dual voLTE capable, bot sims support that
Different network Limitations
This case is not very common, but in some mobile phone models, only the primary sim card can support 4G LTE speed. While the secondary sim only reaches 3G or 2G connectivity and speed.
Different SIM card size
Another common difference in SIM slots is in the SIM card size difference. The difference may be in the actual size of the card slot or one of the card slots is embedded.
The size difference between SIM slots happens when one of the sim cards supports micro-sim while the other allows for a nano-SIM card (or vice versa). There's a strong chance the difference in sim size comes with a difference in network limitations.
Embedded SIM slot aka "eSIM" is a feature introduced in many recent smartphones including iPhone 11 Pro max, iPhone SE, and more. In this case, one sim slot comes with a sim that you cannot remove. All you can do is insert another sim in the second slot.
5G Connectivity Limit
5G is still a rather new feature and available only in higher-end models including Samsung Galaxy S21 Ultra, Motorola One 5G, iPhone 12 Pro Maz, etc. Most mobiles that have a 5G feature offer the same capabilities in both sim slots 1 and 2.
Can dual SIM phones be on different networks?
It doesn't matter which mobile network you use. The two sim slots do not depend on each other in any way. You can use two different numbers from two different networks, and receive phone calls and messages on both numbers on the same device.
Keep in mind you do need to select a default SIM slot for your mobile data connection – it can be changed at any time from mobile settings.
Do you need to have two SIM cards for a dual SIM phone?
A dual SIM phone can support two SIM at the same time, but you don't need to have two SIM cards to use a dual SIM phone. Whether you use one or two SIM cards – or even none – is up to you.
However, in most dual SIM smartphones, only one SIM card can be active at a time. It means that while you can receive messages on both SIM cards, when you're engaged on a call on one SIM card, the other one is unreachable.
As soon as you finish the call, the second number becomes active once again.
However, some recent "dual SUM dual active" (DSDA) smartphones like Samsung Galaxy S20 come with two transceivers, which means you can receive calls on both sims at the same time.
On these phones, you can receive calls on the other SIM even when one of the SIMs is engaged on a call. This keeps you from missing any calls as you can easily put the first call on hold to take the second call on the other SIM.
Does internet speed depend upon the SIM slot?
In some mobiles, the internet speed depends upon the sim slot, while in others it doesn't. Dual sim mobile phones come with switchable network bands. If you put a 4G sim in sim slot 1 and use that slot for data connection, then there shouldn't be any difference in speed.
On some phones, however, the internet works faster if you insert the sim in the first sim tray. This happens in phones that have 4G only on a particular sim slot. In this case, it's best to use that slot for mobile data.
If in doubt, putting your sim card in SIM slot 1 is recommended as it's typically the slot where 4G is enabled by default.
How to change mobile data from SIM1 to SIM2 in Android?
To change mobile data from SIM1 to SIM2 in Android:
Go to Settings > Mobile Network > Sim Cards and Mobile Networks.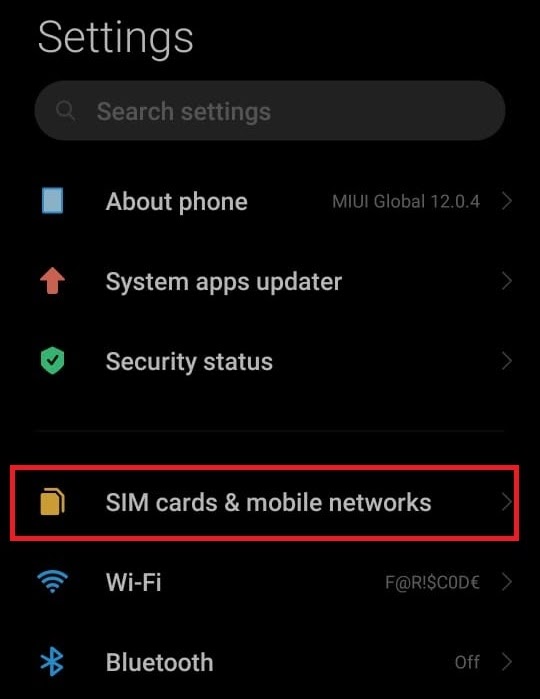 Set SIM2 as the default sim for calling and mobile data.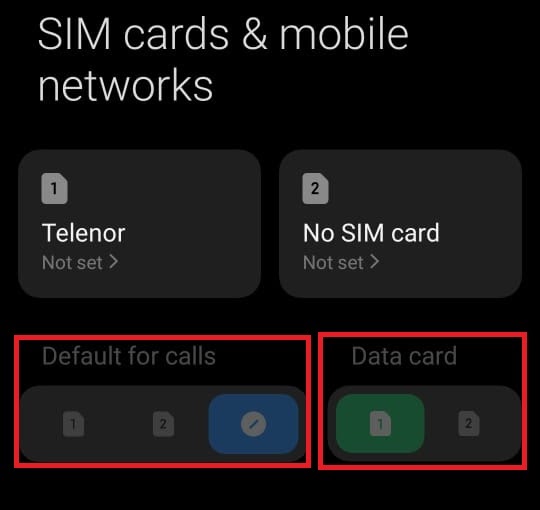 Changing mobile data from SIM1 to SIM2 may be slightly different from one device to another. Simply search the settings for SIM Management and change the settings to make the switch.
Some mobile phones offer smart data switch options. With this option, the phone automatically switches mobile data sim card based on network quality.
Do dual SIM phones support 4G LTE in both SIMs at the same time?
If you have a dual SIM dual voLTE phone, then both SIM slots will support 4G or 4G VoLTE SIM cards. However, both sim cards will generally not have an active, 4G LTE connection at the same time. You can use 4G on one sim card while the other stays in standby mode.  
See also: How Can I Use Internet And Call At The Same Time?
Is it possible to connect mobile internet on both SIM cards in a dual phone?
You can connect mobile internet on two SIMs simultaneously only in DSDA (Dual Sim Dual Active) smartphones. You can even double the LTE internet speed by combining two different LTE networks.
Examples of DSDA smartphones include Samsung Galaxy S21 and Oppo Find X3 Pro.
In older (DSDS) smartphones, you can only connect to mobile internet on one SIM card. You must select which card will be used for internet access from the SIM card settings.
How to turn off data on a dual SIM?
In a dual SIM phone, you need to select one SIM for data and calls. To change the default SIM card settings, go to Settings > SIM Cards and Mobile Networks and work from there. Turning off data on a dual sim phone is not very different from a single sim phone.
To turn off mobile data on a dual SIM:
Swipe down from the top of the screen to open the status menu.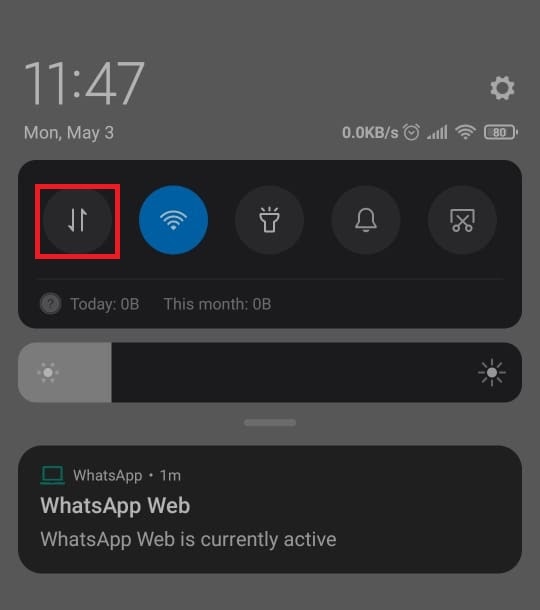 If mobile data is turned on, then turn it off by tapping on it.
Why is my SIM 2 mobile data not working?
Mobile data may not working on SIM 2 for a few reasons. Start by checking if you have mobile data assigned to SIM 1 instead of SIM 2. If you've selected SIM 1 for mobile data, then SIM 2 data will not work simultaneously, unless you have a DSDA smartphone.
To resolve the issue, assign mobile data to SIM 2, and it should start working.
Here are a few things to try if SIM 2 mobile data is still not working.
Check whether you've reached your mobile data limit
Check whether your phone is on airplane mode
Restart your phone
Check if you're using the right mobile network
Re-insert your sim card
Switch to another network mode