In the Subway Surfers game, Top Run is a weekly chart for top score racers of a specific country. Top Run acts as a leader board.
Using the Top Run feature, you can race against all the Subway Surfers players from your country in different categories. Each Top Run session expires after a week (7 days).
How do you get medals in Top Run?
The Subway surfers game has a special feature called Top Run. You need Wi-Fi or a data connection to use this feature.
See also: Does Subway Surfers work offline?
Top Run servers are divided by countries. Here you can select your country and compete against players from your country in 5 different categories: Bronze, Silver, Golden, Diamond and Champion.
Top Run rankings reset every week. If you manage to get into these rankings chances are you will get a medal of that rank at the end of that week.
Why is the best score under a given category less than mine?
Top Run scoreboard ranking has a total of 6 categories. The required points for each categories are:
| | | |
| --- | --- | --- |
| Category | Point Requirements | Awards |
| Unranked | 0 | No awards |
| Bronze | < 166674 | 2000 coins |
| Silver | > 166674 | 3000 coins |
| Gold | > 711804 | 5000 coins |
| Diamond | > 1833230 | 10000 coins |
| Champion | Highest score in a country | 15000 coins |
This requirement range shows that each category consists of players with different points. So the best score under a different category could be lower than you. As the required point to qualify for that category is different.
The above table shows each category has different point requirements. Someone in a lower category than you may be the best scorer while having fewer points than you. The player will nonetheless have the highest score in his/her category.
Likewise, you can have a higher score than another player who is in another category, but rank lower in your category than that player. This is because many players in your category may have higher scores than you.
The point requirements of another category may be lower than your category, so all the players in that category, including the top ranking ones, will have lower points.
How do I claim weekly Top Run medals?
At the end of that week follow these steps to claim your weekly Top Run medals and other rewards:
Make sure you have a secure Internet connection. Enter the game.
Click the crown sign on the top left side of your screen.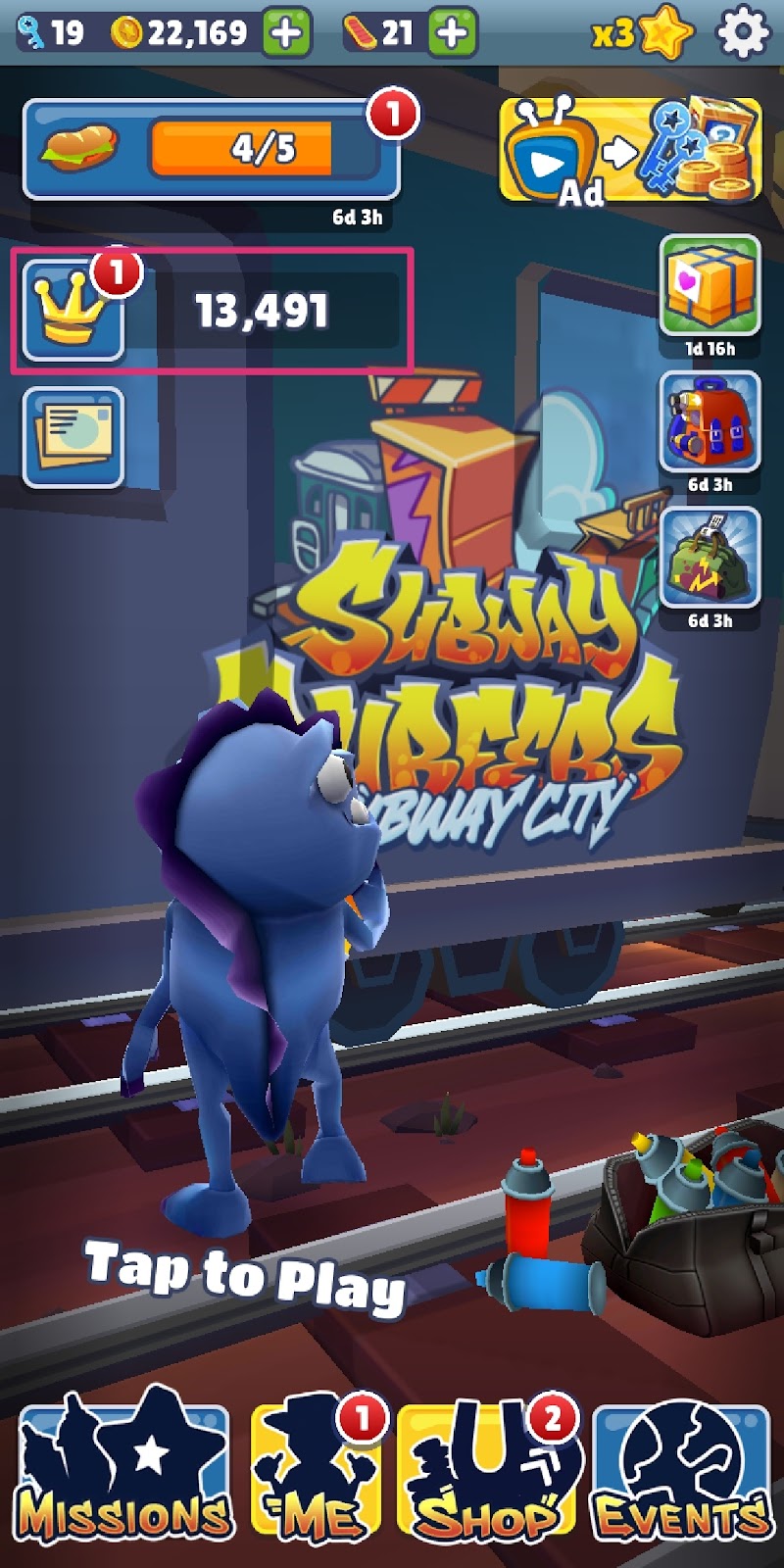 Tap on the "Get Result" option.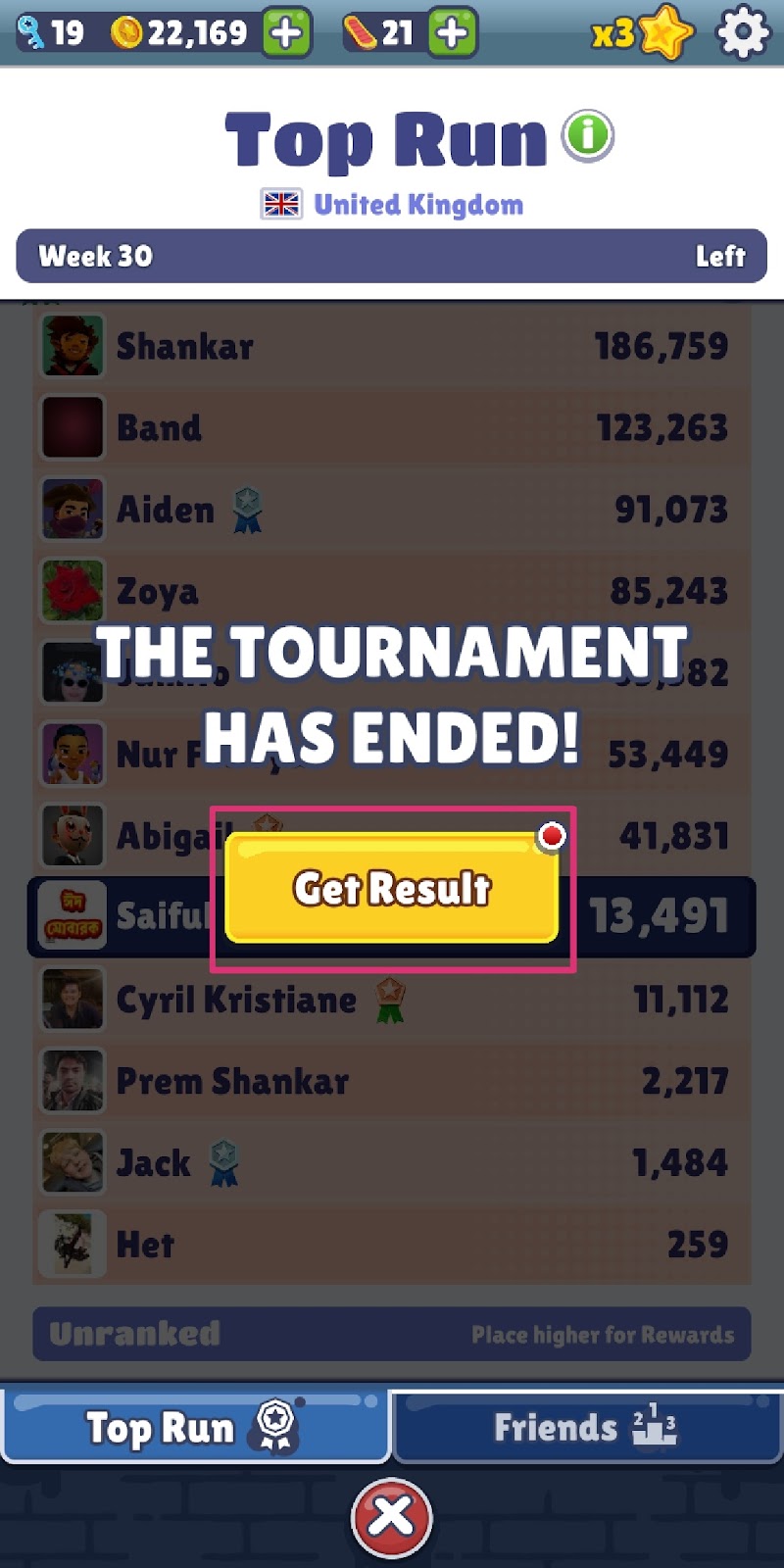 Tap once again on your screen and collect your medal and rewards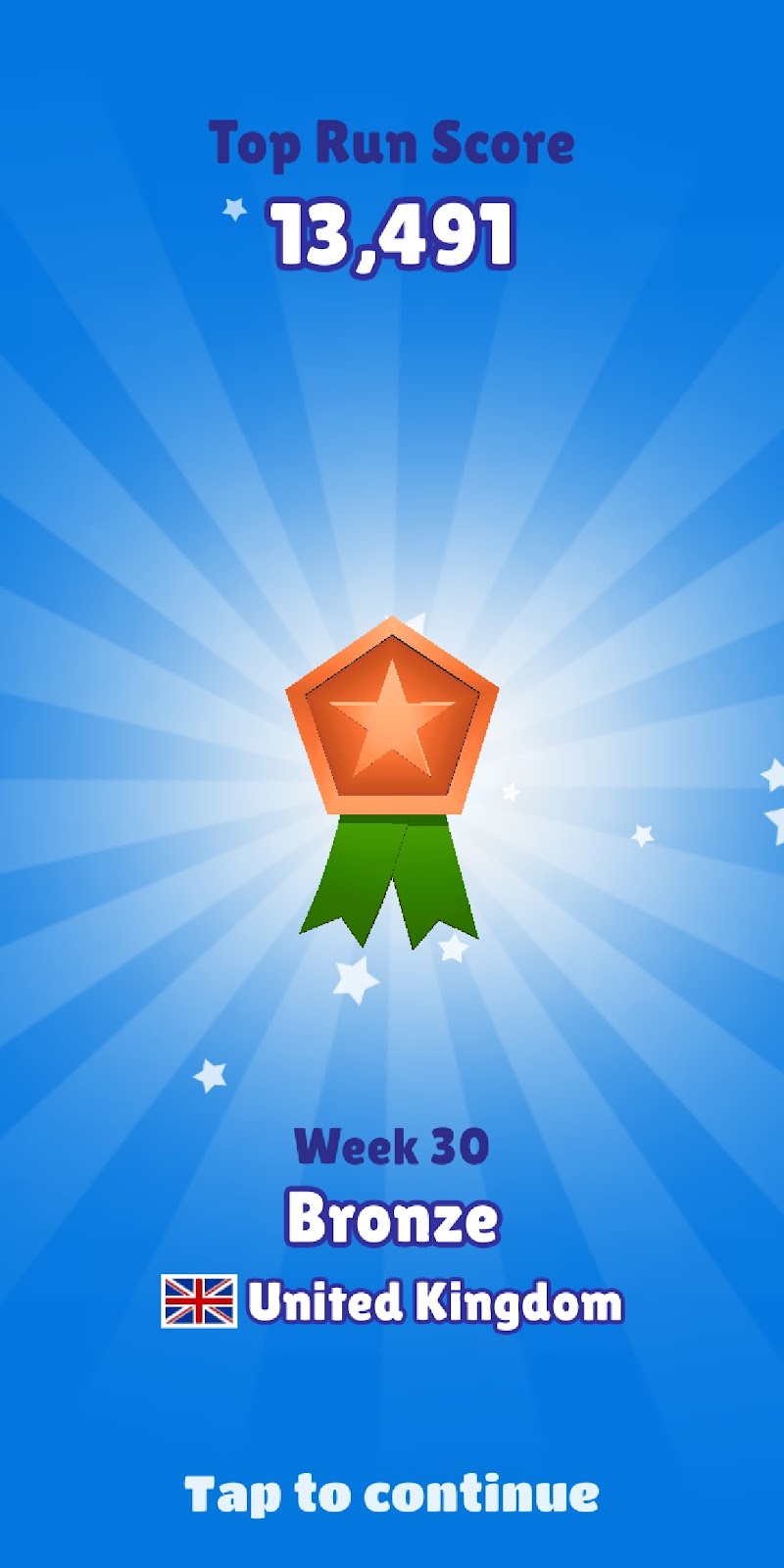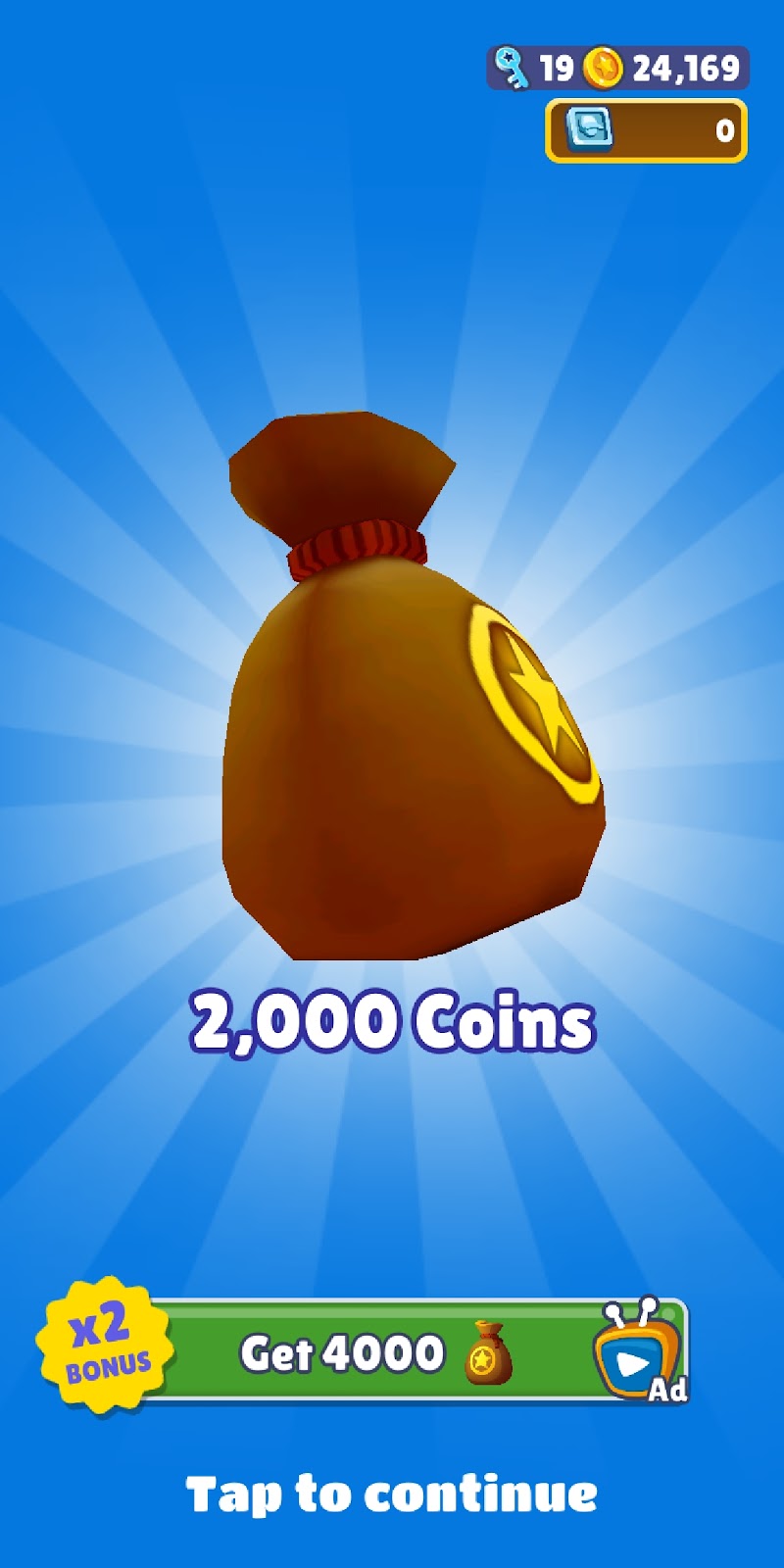 After collecting the medal and coins click once on "Tap to Continue" to return to the lobby.
How to improve your score to obtain Top Run medals?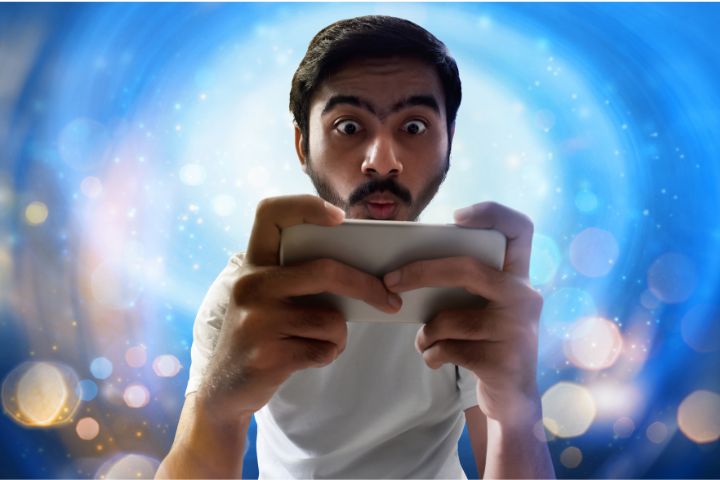 Not every Top Run ranking player gets weekly medals. You can increase your chance of getting medals by qualifying for the Top Run weekly medals. To qualify you need to get a higher score – see previous section for the exact points requirements.
Here are a few helpful suggestions to get top scores in Subway Surfers:
Collect coins
collecting coins increases your points significantly in a run. So collect as many coins as you can. Sometimes you may need to take a harder path or face more obstacles to collect more coins. Do not be afraid of facing difficulty in order to get more coins.
See also:
Can I Earn Money From Subway Surfers?
Use Power-Ups
Subway Surfers has a lot of Power-Ups features including Coin Magnet, 2X Multiplier, Jetpat, Super Shoes etc. You should always try to get these special abilities in your run. These Power-Ups will give you a lot of advantages and you can score more points.
Utilize your Keys
Key is a rare item in Subway Surfers. Subway Surfers also uses Keys as a payment currency. You can use your Keys to get extra lives in your run. So you should use your keys wisely. Do not waste your Keys and only use them when necessary. Only by properly utilizing your Keys can you score higher points.
After you follow these suggestions you can get yourself qualified in a ranked category.
What are the medals for Top Run?
The Top Run feature has different categories. Each category has different point requirements. After qualifying for any of the categories, at the end of a Top Run session you may get the medals or may not.
Originally Subway Surfers had three medals. Two more were added later. The following table recaps key information about these 5 medals:
| | | |
| --- | --- | --- |
| Medal | Aspect | Remarks |
| Bronze | Orange color with a star | Tthe lowest and easiest medal you can get in Subway Surfers Top Run |
| Silver | Silver color with a staretc | 2nd medal in Subway Surfers |
| Golden | Gold color with a star | Regarded as the first honorable medal |
| Diamond | Diamond shaped medal | Last added medal |
| Champion | Bronze color with a diamond crystal on top | Players with highest score in Top Run get this medal |
Is there a bug with my Top Run?
If your Top Run score is not showing or showing incorrect information, you can check the following:
First check if your Internet connection is working properly. If not, change your Internet connection and check the rankings again.
Check that you are logged in with the right account.
Millions of people play this game everyday. So it takes the server some time to store everyone's data. Wait for a few moments and check again.
The server may be down due to the developers working on it and showing the wrong information. Patiently wait for a while and check again.
If still not solved, close the game and enter again.
Restart your device and enter the game again.
The above points may help with any problem regarding the Top Run feature. If your Top Run is still not working properly or you are still facing any bugs, contact the Subway Surfers game officials and developers.Use the following details for contact.
Take screenshots of your issue and briefly explain using these email addresses. They will help you instantly with any problems.
What are the highest scores in Top Run charts?
Thanks to the Top Run feature on Subway Surfers, people in any country can compete with each other for the highest scores on Top Run charts.
When you reach the top score in your country you become the champion, and get the champion Medal.
Sometimes the competition doesn't stop with the championship. Players all over the world seek for the ultimate glory and try to create the record of most points in a single run.
At the time of this writing, the highest scores recorded in the Top Run charts are:
| | |
| --- | --- |
| Player Name | Points scored |
| Harshal gavali | 2147483647 points |
| Karim Mayur | 2000001660 points |
| Ruhanul i | 1706059214 points |
Achieving these high scores is not an easy task. It can take you a few days of nonstop gaming to even get close to these top scores. You can only imagine how dedicated and hard working players they are.
What does Top Run country mean in Subway Surfers?
The Top Run feature in Subway Surfers is a scoreboard that shows the top scores of all the players who use this feature.
Each country has its own Top Run chart. Any player with an active Internet connection can use this feature.
You can choose any country you like. Top Run takes the data of every player with an active internet connection within that specific country and collects their highest score.
Top Run then places those scores in their respective ranks and shows the overall scoreboard.
How do I change my Top Run country in Subway Surfers?
Selecting your country plays an important role in this game. Subway Surfers selects a random country for you at the very start of your game. You'll be competing against that country's players for rankings on the Top Run.
However, you can change your country every 7 days to any country you want. Follow these steps to change your country in Subway Surfers:
Open the Subway Surfers app and wait for it to fully load > open the lobby
Click on the ''Settings'' button on the top right side of the screen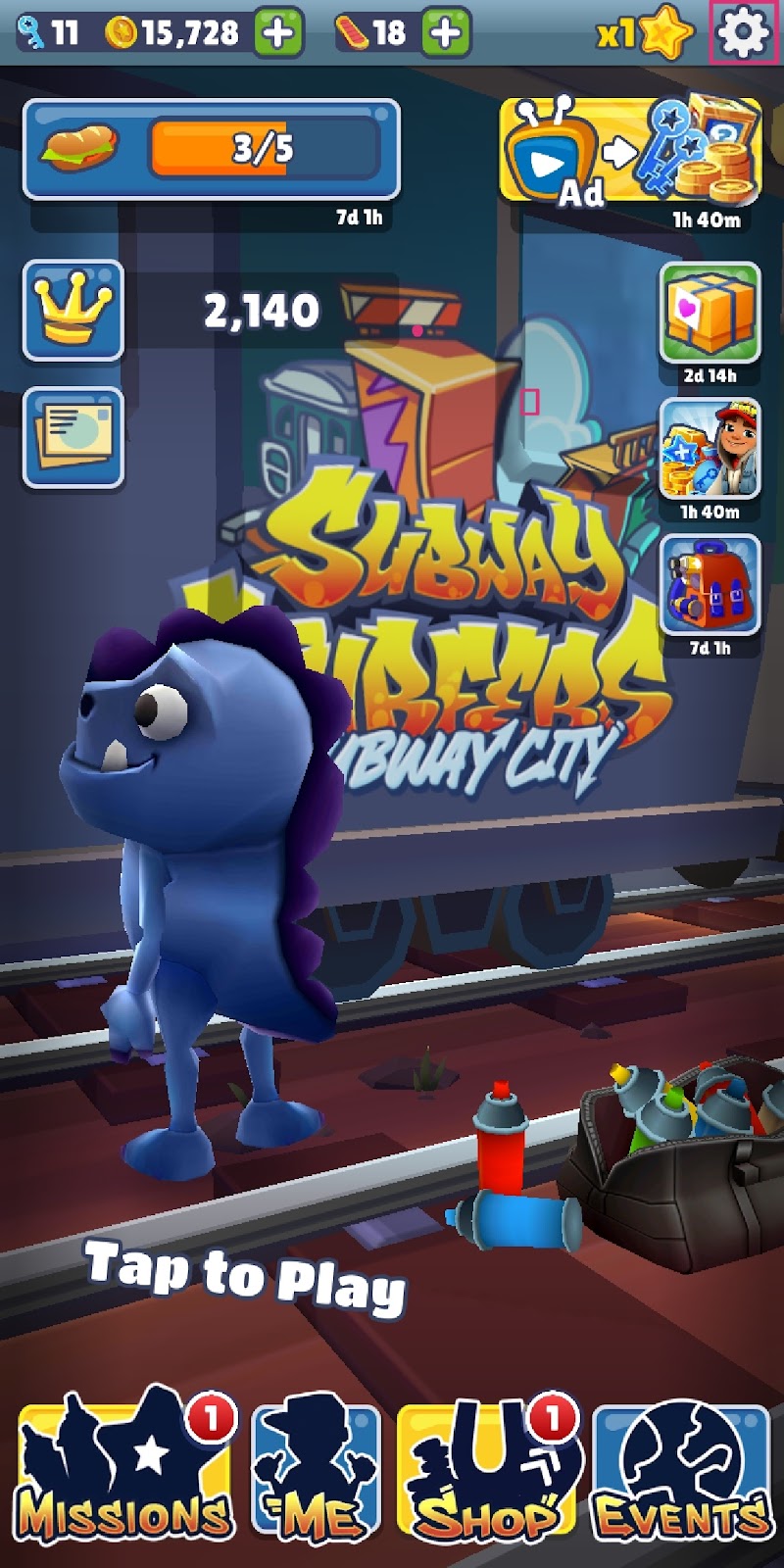 A list of country names is displayed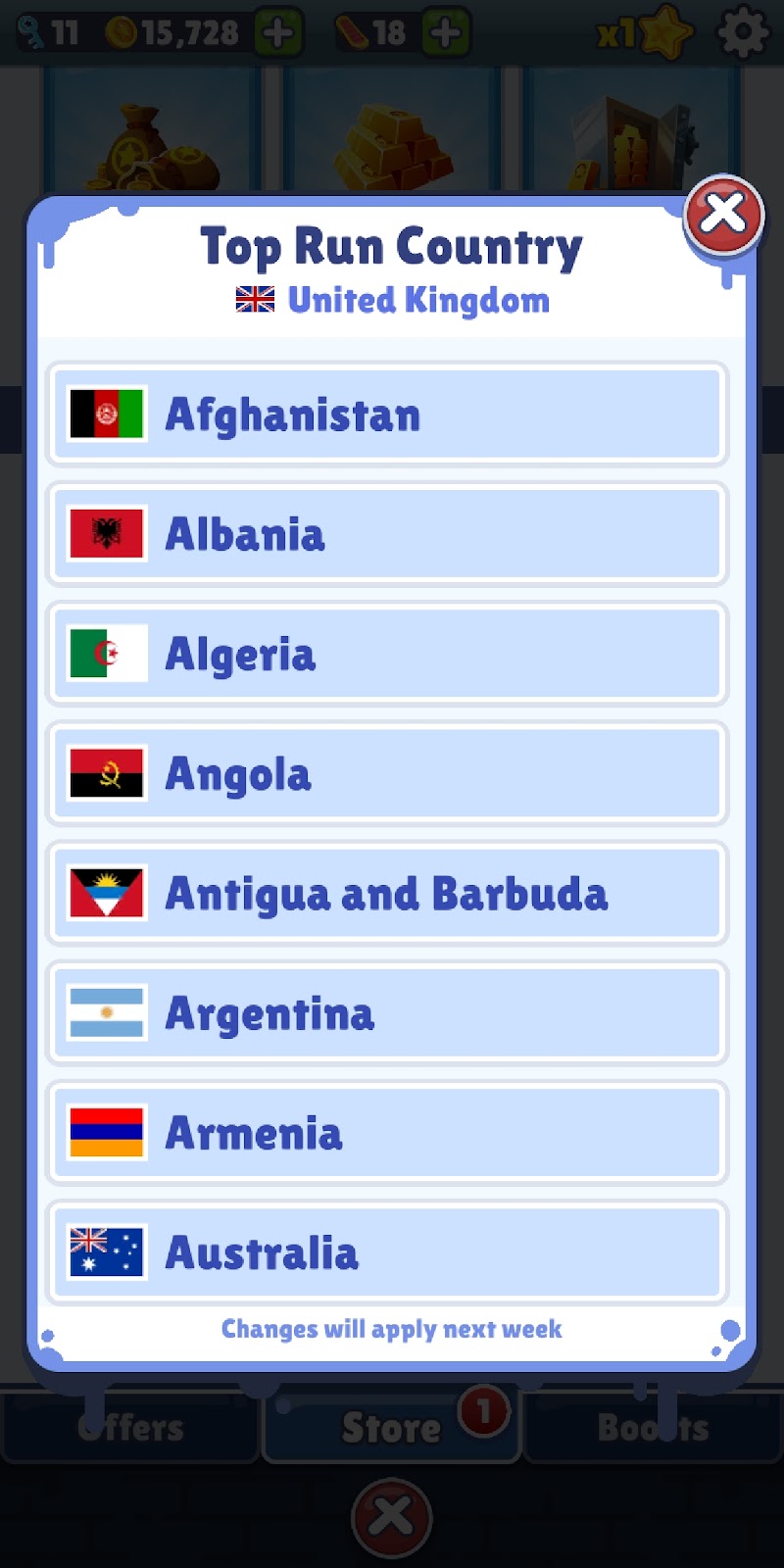 Search for the country you want and select it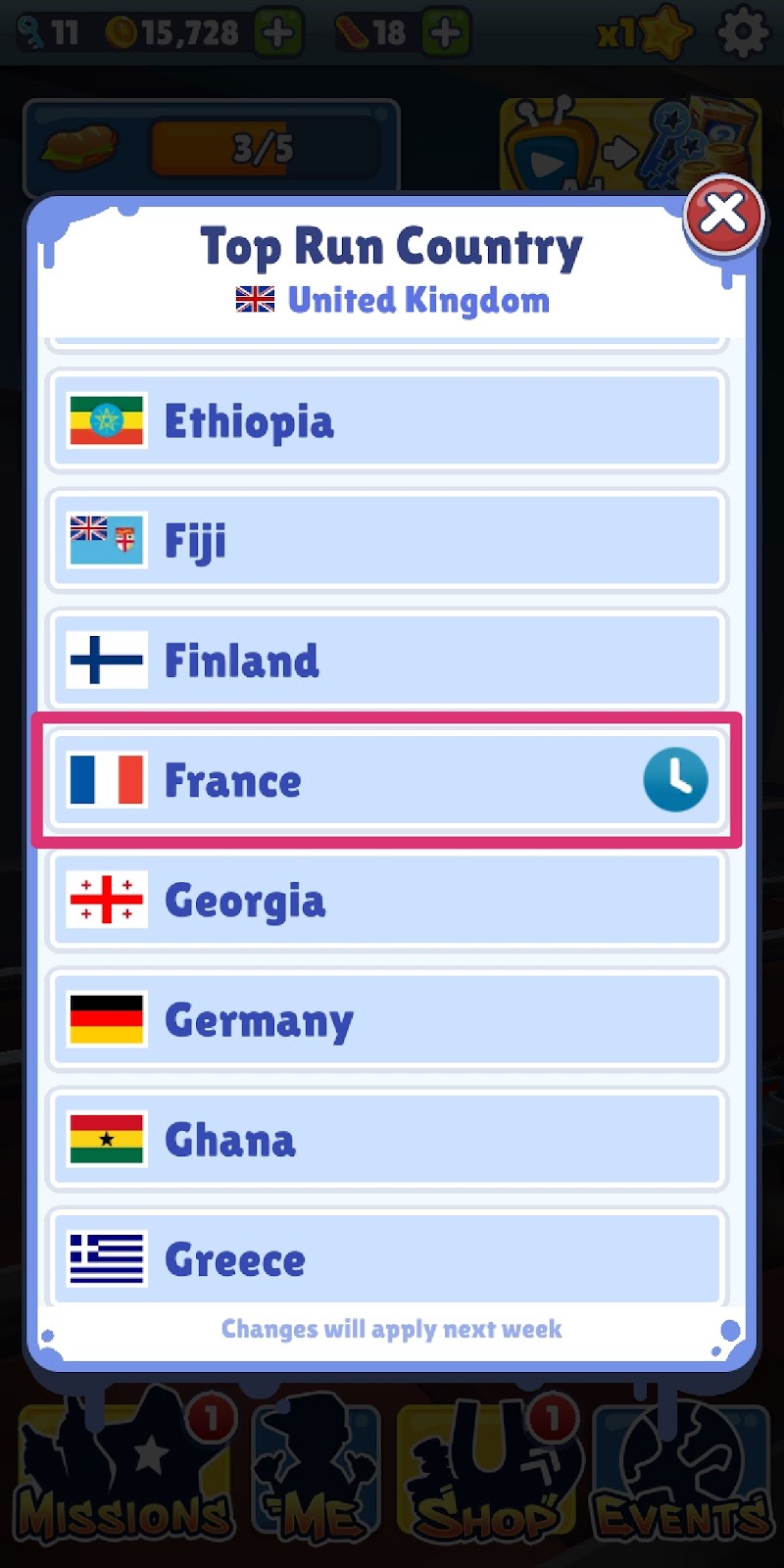 After the selection a "clock sign" will appear on the right side of the country's name.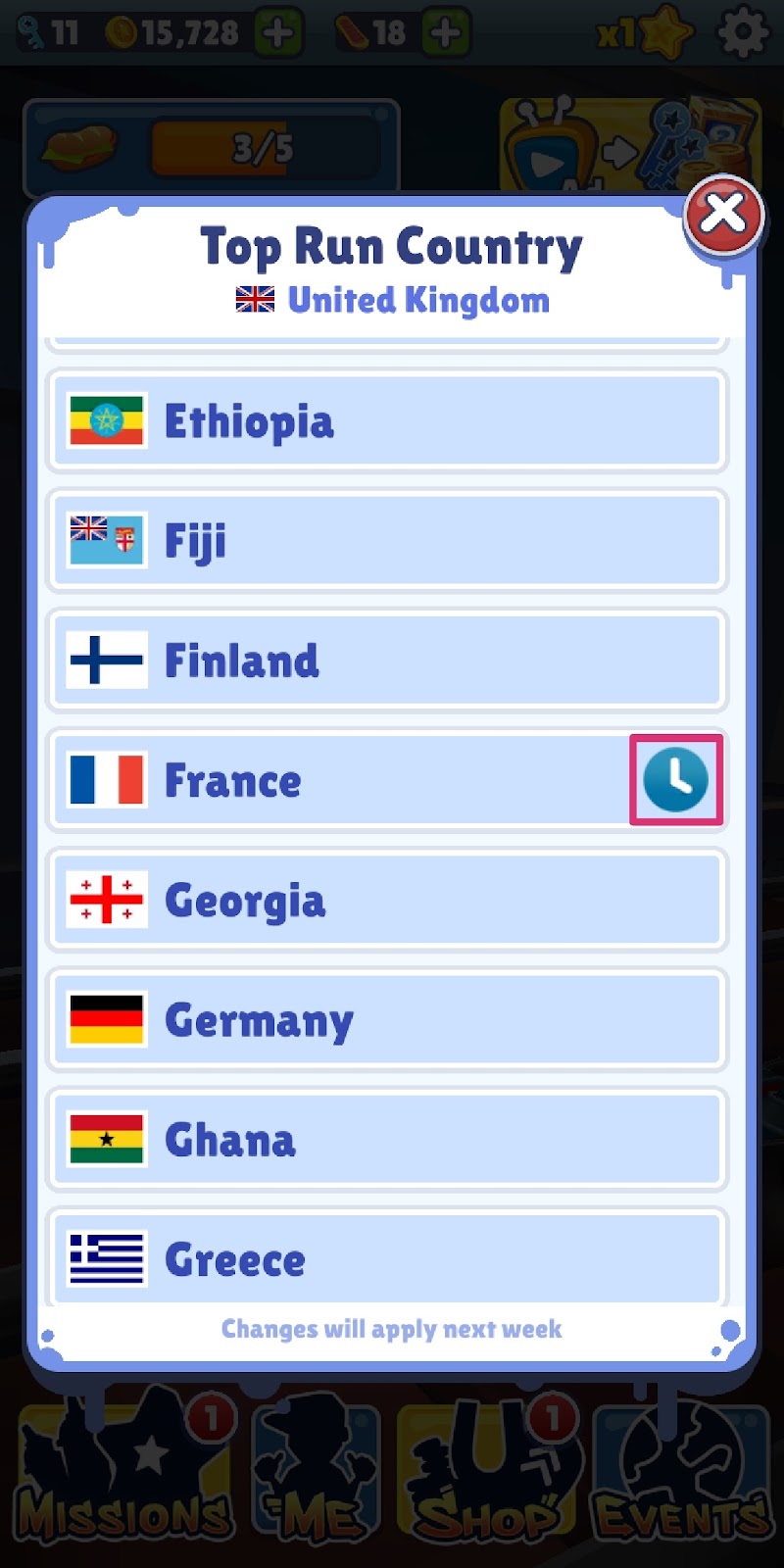 Scroll down further > a message box displays saying "Changes will apply next week."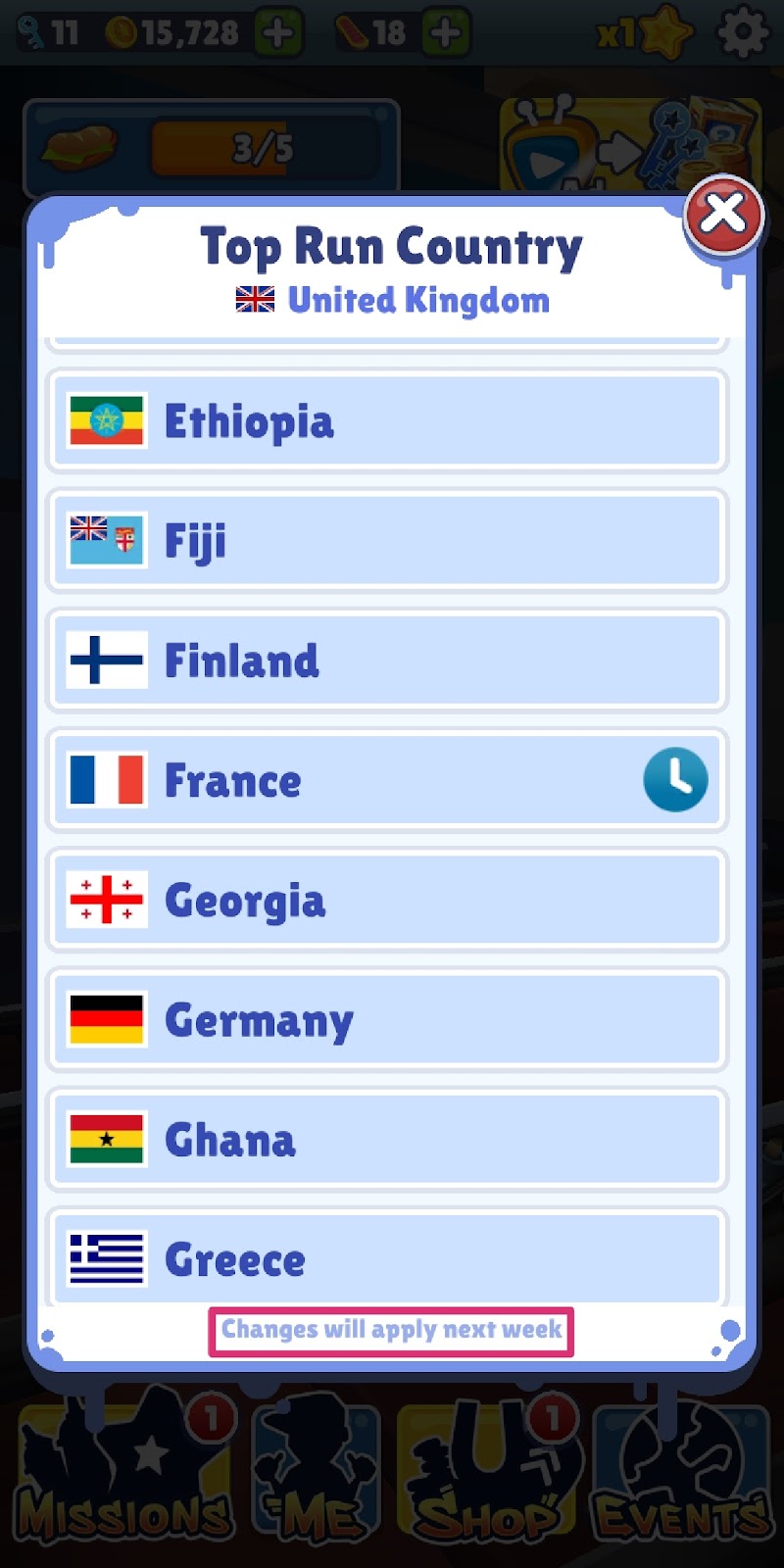 Click on the red cross sign on the top right side of the screen to return to the main lobby.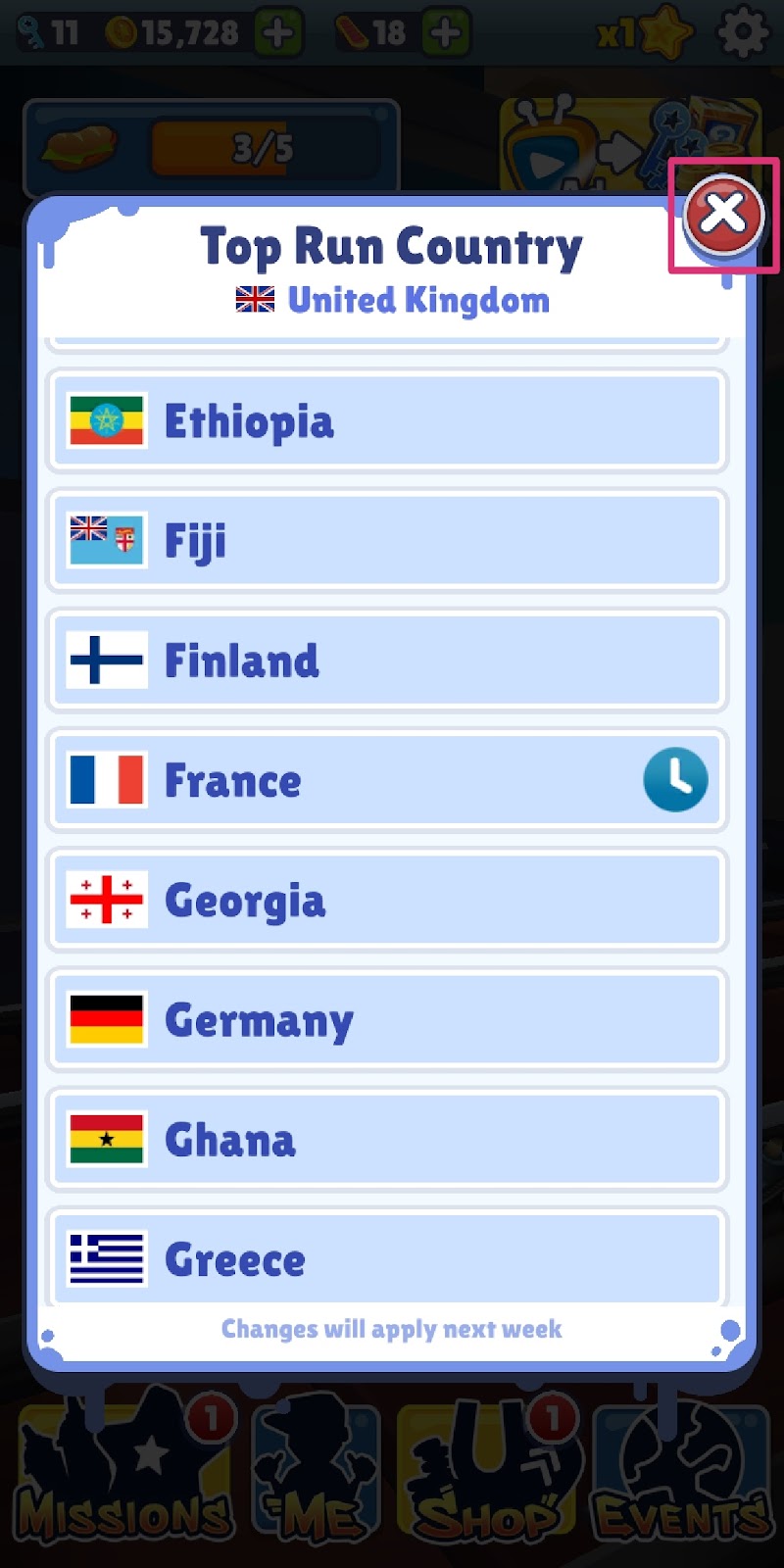 After following the above steps your Top Run country will be changed. You'll compete against your new country's players starting the following week. Your Top Run scores will also appear within that country's ranking list.